Safari suitability:

9/10
Find your tour
Abundance of wildlife but remote location and limited lodging options.
Total area:
54,600 km² (21,100 mile²)
Anti-malarial:
Not required
---
What YAS members think
* Crowded parks have a lower rating
---
Highlights
Renamed Nyerere in 2019 but formerly known as Selous Game Reserve
Big five are here, but some are not as easy to spot
Thick foliage obstructs wildlife viewing
A vast, untrammeled wilderness
Largely untouched wildlife and vegetation
Opportunities for boat safari on Rufiji River
Miombo woodlands
About Nyerere National Park
Situated in southern Tanzania, 200 km (124 miles) west of Dar es Salaam, the 54,600 km² (21,100 mile²) Selous Game Reserve (now Nyerere National Park and Selous Game Reserve) is known—among those who know it—for its wide-ranging, untrammeled wilderness and unspoiled wildlife and vegetation.
Selous Game Reserve history
Originally set aside by German colonialists, Selous was protected in the late 1800s, in 1917 named after hunter/explorer Frederick Courteney Selous and in 1982 declared a UNESCO World Heritage site.
In two highly-criticized turns of events, 2012 saw UNESCO agree to shrink Selous' southern boundary to allow uranium mining, and a Memorandum of Understanding was signed to begin work toward construction of a hydroelectric power plant and dam at tourist-heavy Stiegler's Gorge. Critics of each fear that these measures will spoil the currently unspoiled, harming the environment and keeping tourists at bay.
Large numbers of animals live, hunt and are hunted within this reserve, most of which was reserved for game hunting and fishing. In addition, a small portion of the park's northern land was set aside for tourism and photography, and safari in the form of game drives, walking safaris and boat trips down the Rufiji presented opportunities for viewing wildlife.
Nyerere National Park
Selous was the largest protected area in Tanzania. In 2019, the Tanzanian government declared roughly 67% of it to be have national park status.The park was named Nyerere National Park, in honor of Tanzania's first president, Julius Nyerere. The main tourists areas and safari camps now fall in Nyerere National Park, with around 31,000 km² in total allocated to the new park. The remaining 24,000 km² continues to be Selous Game Reserve, putting a much smaller focus on game hunting.
Nyerere National Park wildlife
Elephant, lion, cape buffalo, black rhinoceros, cheetah and wild dog, giraffe, antelope, hartebeest, greater kudu, eland, wildebeest, crocodile and hippo are among the beasts that roam Nyerere.
Nyerere is home to Stiegler's Gorge, which feeds the marvelous Rufiji River and its many wandering tributaries and lakes. Grasslands, savannah, wetlands, thickets and swamps constitute its truly biodiverse acreage, and Miombo woodlands root here.
When is the best time of year to visit Nyerere National Park?
The dry season, July to October, offers strong game-viewing opportunities. During the wetter months, January through May, the predators are dispersed throughout the reserve and the dense foliage makes it harder to spot them. It is also more humid during this time of the year.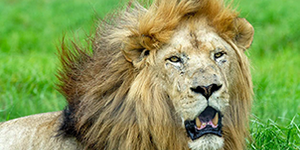 Visited: Aug. 2022
Reviewed: Aug. 20, 2022
Submitted in:

Nyerere, Sealous and Pemba Island We found Sue at Track Safaris following a google search and then our holiday of a lifetime was born through several conversations and some emails. Sue tailored our safari adventure to suit our requests and budget and we really appreciated how available and knowledgeable she was throughout the planning stage – this was so reassuring. We stayed at the Siwandu camp on the Sealous game reserve and then moved on to Jongomero camp in the Nyerere game reserve. Both camps exceeded our expectations, and it is difficult to do them justice through a review! The welcome we received and the way we were looked after by the incredibly friendly staff was second to none and in both camps, the game drives did not disappoint – our guides (Mporto in Siwandu and Giovanni in Jongomero) were knowledgeable and friendly, sympathetic and their knowledge of the area and experience meant that we were fully immersed in the whole safari experience. Both camps expertly 'matched' us with people for the game drives – we have friends for life in the couple we met at Siwandu! We never felt rushed or bored and saw the most incredible sights from really close vantage points. In both camps the food was outstanding and the accommodation akin to our experience of 5*. With the Masai escorting us and patrolling the camp at night we felt very safe, and a lasting memory will be falling asleep to the sound of hippos guffawing in the lake nearby! We celebrated our 30th Wedding Anniversary whilst at Siwandu camp and the staff went above and beyond to make us feel very special. We finished our holiday with 5 nights at The Manta Resort on Pemba Island. This was an ideal way to relax and reflect after the safari experience. Again, the staff were really friendly and could not do enough for us, the resort was quiet, the accommodation (beach side villa) superb and the food was outstanding. We saw a pod of dolphins and a humpbacked whale, and my husband went scuba diving under the excellent guidance of Mohammed. I am so glad my husband pushed me out of my comfort zone for this experience of a lifetime. We have both fallen in love with Africa.
* Crowded parks have a lower rating
---
None

United Kingdom
Visited: Aug. 2022
Reviewed: Aug. 20, 2022
Getting to Nyerere from Dar es Salaam
Most people who visit Nyerere-Selous do so via plane. All domestic flights go through Dar es Salaam, so even if you are coming from Arusha or Zanzibar, you will go via Dar. The flight is about an hour, non-stop, and the views en route are of gorgeous, thick treetops. The Rufiji River will then come into view and, if you're lucky, you'll see hippos in the water.
The following airlines travel to Nyerere National Park