Mahale Mountains National Park
Safari suitability:

8/10
Find your tour
Park is very remote, four out of the big five, but the chimpanzee refuge is one-of-a-kind.
Total area:
1613 km² (623 mi²)
Anti-malarial:
Not required
---
What YAS members think
Most-visited month:
December
* Crowded parks have a lower rating
---
Highlights
Famous for its chimpanzees
Climb the Mahale Mountain Range
Large lake fishing and snorkeling
About Mahale Mountains National Park
Mahale Mountains National Park is located in eastern Tanzania, and is one of the smaller parks of this country. Bordered by Lake Tanganyika and diverse with jungles and plains, Mahale Mountains National Park's main attraction is its chimpanzees. It is the pre-eminent chimp habitats in all of Africa.
Along the water and beaches, there are countless fishing options and snorkeling. Just inland from the water is the Mahale Mountain Range. Its summit at Mt. Nkungwe is a three day trek and worth the trip for its exquisite terrain, adventurous camping, and spectacular views.
Out on the plains, walking safaris can last for days, where giraffes and hippopotamuses can be spotted. Four of the big five are also common—lion, elephant, buffalo and leopard—in Mahale.
Visiting with the chimpanzees
Mahale maintains strict regulations on tours to help ensure the survival of its endangered residents. When visiting the chimps, it is forbidden to bring any food, drink or belongings. Backpacks will be left with guides at a safe distance to ensure curious primates are kept safe. The group size is kept small. No more than six people plus a guide are allowed in one group and viewing times are kept to one hour maximum. These rules are very similar to other primate trekking experiences, such as the mountain gorilla trekking in Rwanda and Uganda.
Access to the 1613 km² (623mi²) park is most difficult by car. The recommended route is through Kigoma, and most trips in Tanzania originate in Dar se Salaam. From Kigoma, speedboats can reach the park in about three hours and freight boats can take as long as a day. There are regular flights from Dar es Salaam to Kigoma. A three day cross country train or car ride from Dar es Salaam is the most feasible terrestrial route to and from the park.
When is the best time to visit Mahale Mountains National Park?
May through October dry season is the best time to go. October and November, the start of the rainy season, is not terribly wet.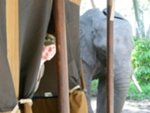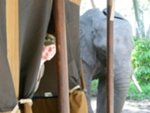 Travel writer
Safari guru
African traveller

United States
95 kudus
Reviews (4)
Visited: Dec. 2010
Reviewed: Jan. 04, 2016
One of my favorite spots in Tanzania, this park is a bit of a slog to get to (on light aircraft via Tabora and Katavi, then by dhow on Lake Tanganyika), but totally worth the journey. Probably the best chimp trekking experience I've had on the continent, and a fantastic overall experience to boot. The chimp trekking is somewhat strenuous (it's called Mahale *Mountains* National Park), but if you're fit, it's quite enjoyable, albeit HOT. The jungle is fascinating in its own right (with fascinating insects, as well as other primates such as colobus monkeys), but the time with the chimps is absolutely incredible. Overall, I think gorilla trekking is tops for primates in Africa, but this is a close second. We stayed at Greystoke Mahale on the shores of the lake. The chalets look like they came out of the pages of Robinson Crusoe and are fun, funky and comfortable. One night there was a roiling storm that came from DRC, and we got to listen to waves crashing into the beach while watching one hell of a light show - just an added bonus to our stay. The beach is also nice and while swimming has risks (crocs and hippos live in the lake), puttering around the shallow water with snorkel gear is nice and a good way to cool off on a hot day. This is also home to the very best sushi I've ever had. A few times a week, the camp has permission to fish, and they come back with kuhe, which is then made into sashimi, sushi and later, dinner. Out-of-this world! All in all, it's a very unique, very special place. I'd go back in a heartbeat.
* Crowded parks have a lower rating
---
Safari guru

United States
Visited: Dec. 2010
Reviewed: Jan. 04, 2016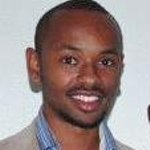 Visited: Dec. 2011
Reviewed: May. 27, 2013
Deep inside Tanzania, along the shore of lake tanganyika, lies Mahale National Park. A park famed for "chimping". A bit interior and expensive to visit, our stay was at the greystoke mahale lodge, which is set in the park. From the mahale airstrip the lodge is only accessible by boat on the beautiful lake tanganyika. After an hour of amazing scenery during the boat ride we arrived at the lodge. We were welcomed by resident warthogs. The facilities here are top notch and after an excellent meal we rested paving energy for our trek. Prepared for some long trekking, we put on our safari boots, jungle trousers, packed food and carried some bottled water. We came for chimping but deep in to the trek we saw a wide diversity of flora and fauna, troops of monkeys crisscrossing through the branches, picturesque arrays of colored birds chirping over us completing the scenery.The gallery of trees, lush green vegetation around us was also a sight to behold. After hours of trekking our talented tracker Hassan led us to the chimpanzees. This was the payoff. Habituated chimpanzees of over 100 plus, named group M. It was amazing to see them together. The complex intelligent creatures were unperturbed by our presence. We could only smile and take pictures of them--a joyous sight indeed. Its sad, however, since only 1hr in a day is allowed in the chimps presence. Apart form chimping we did some fishing as our camp was located near the shore of lake tanganyika and some boat riding. There is a beautiful waterfall with an awesome pool where you can swim. The trip was a bit expensive but if you want privacy, tranquility , excellent scenery and awesome trekking, then this is the place.
* Crowded parks have a lower rating
---
Safari guru

Kenya
Visited: Dec. 2011
Reviewed: May. 27, 2013
Domestic flights to Mahale Mountain
Due to its remote location, it is not advisable to drive from any international airport. Precision Air offers daily flights from Dar as Salaam to Kigoma, and the flights are roughly three hours in duration. From Kigoma, the drive is about two hours, in normal conditions.
The following airlines travel to Mahale Mountains National Park