Kirindy Mitea National Park
Safari suitability:

4/10
Find your tour
Kirindy is a great place for those who wish to explore a quiet, intimate park on foot, and who are primarily looking to see lemurs and reptiles. Those expecting a big five game safari will be sorely disappointed.
Total area:
722 km² (280 miles² )
Anti-malarial:
Not required
---
What YAS members think
* Crowded parks have a lower rating
---
Highlights
Home to the world's smallest primate, Berthe's mouse lemur.
Close proximity to Avenue des Baobabs. Heaven on earth for anyone with even one photographic gene.
Walking safaris only. Good for those who want exercise and to get close to nature.
About Kirindy Mitea National Park
Located on the southwestern coast of Madagascar is the tiny Kirindy Mitea National Park. The park is a mere 722 km² (280 miles²) in size and is far enough from the capital city of Antananarivo that is does not get high volumes of visitors. Kirindy is a lemur-lovers delight. Those wishing to see lemurs such as the Verraux sifaka (dancing sifaka), red-tailed sportive, ring-tailed and the red-fronted brown lemur will be happy to know they all reside here. Kirindy is even home to the world's smallest primate—Berthe's mouse lemur—but this cinnamon-colored little guy is endangered and will most likely be hard to spot. The only predator of the lemur (aside from humans) also resides in Kirindy. The fossa is a cat-like in appearance but is a relative of the mongoose. It has a long tail nearly the length of its body and is primarily a nocturnal hunter. Unfortunately, the fossa is also an endangered species and is rarely seen in the wild.
Due to the park's small size, there is no lodging within the park and most people get an early start to their day and come from neighboring towns. The absence of large animals in Kirindy and its small size mean tours are done on foot, with a local guide. The tours can be as short or as long as desired, and an early start is recommended.
When to visit Kirindy Mitea National Park
There are two distinct seasons for Kirindy: a hot, rainy season and a dry season. The dry season can see temperatures soar and the land become parched. Despite the heat, travel during this time is easier as the roads are passable and the foliage is reduced. The dry season runs for about nine months and starts in March. During the hot, rainy season, the foliage becomes green and dense and the animals become more active, but the roads are more difficult to manage.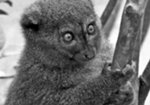 Visited: May. 2010
Reviewed: Apr. 15, 2013
Kirindy was the first park I visited on my trip to Madagascar. It's a good 2-3 hour drive from Morondava, so we had to get up very early to ensure we had a full day of hiking there. En route to the park you pass along the famous Avenue des Baobabs. It was just past sunrise and the shadows of the trees were spectacular. I asked the driver if he would stop and he did, but he also told me that we would stop here on our way back, for sunset. I am glad I got him to stop, though, as the lighting was different in the morning. We finally got to Kirindy and our guide was waiting for us. His name was Jean Baptiste and he was such a great guy! We are pretty fit, so we asked to do as much walking as possible. We spent about four hours walking with him. We saw several species of lemur, some crocodiles and some snakes. It was very hot and dry and we were happy to see there is one very small restaurant at the park entrance. The prices were high, but our choices were limited, so we ordered some soup and rice. I was happy with the choice as the soup was homemade. Just as we were finishing our lunch, JB came over and asked if we wanted to see the resident fossa who would come around to eat the table scraps. He was under a building but I could see him sitting there. It was pretty amazing. We then headed back and stopped for photos. I ended up spending nearly three hours there snapping pics as the sky turned different shades of pink and yellow. I thoroughly enjoyed this place and the people and would love to return. I hope it doesn't get overrun with tourists, though, as the locals were so shy and friendly.
* Crowded parks have a lower rating
---
Safari enthusiast

United Kingdom
Visited: May. 2010
Reviewed: Apr. 15, 2013
Driving to Kirindy Mitea National Park
Driving to Morondava, which is the closest town to Kirindy, from Antananarivo is only recommend if you have ample time on your holiday. The drive is on rough roads and, under normal conditions, will take around 12 hours.
Domestic flights to Kirindy
Domestic flights, while expensive, are around an hour in duration. It's important to check flight schedules as they often change.
The following airlines travel to Kirindy Mitea National Park
---

National air carrier of Madagascar. The Air Madagascar network covers 21 destinations from Madagascar to the Indian Ocean, Africa, Europe and Asia. Since 1961 Air Madagascar has been the reference airline to fly to 11 Malagasy cities. Visit website
Also flies to:

---

At evoJets, our charter specialists are available to ensure your itinerary is as personalized as possible, to suit the needs of your party. Many of the island's national parks are highly distinguished sites to fly over and observe from a bird's eye view. Visit website
Also flies to: