Getting to Rwanda
One of only three countries in which the mountain gorilla can be found
Rwanda safari guide
Total area:
26,338 km² (10,169 miles²)
Languages:
English, French
---
Recommended vaccinations
Hepatitis A is a liver disease caused by the hepatitis A virus. The virus is primarily spread when an uninfected (and unvaccinated) person ingests food or water that is contaminated with the feces of an infected person. The disease is closely associated with a lack of safe water, inadequate sanitation and poor personal hygiene. Every year there are an estimated 1.4 million cases of hepatitis A worldwide. Hepatitis A vaccines are given in two doses. Anyone two years of age or older may receive the first dose. The timing of the second dose depends upon which manufacturer's vaccine is administered. Both hepatitis A vaccines have pediatric and adult formulations.
We recommend this vaccination when you go to:
Botswana
DR Congo
Gabon
Kenya
Madagascar
Malawi
Mozambique
Namibia
Rwanda
South Africa
Tanzania
Uganda
Zambia
Zimbabwe
Chad
Hepatitis B is transmitted from one person to another through blood and body fluids, and primarily infects the liver. Worldwide, it is most commonly spread to infants by their infected mothers. Most people should get three doses of the hepatitis B vaccine. All newborns should receive a dose of hepatitis B vaccine at birth.
We recommend this vaccination when you go to:
Botswana
DR Congo
Gabon
Kenya
Madagascar
Malawi
Mozambique
Namibia
Rwanda
South Africa
Tanzania
Uganda
Zambia
Zimbabwe
Chad
---
Measles, mumps and rubella are highly infectious viruses that can have serious complications, including meningitis, swelling of the brain (encephalitis) and deafness. They can also lead to complications in pregnancy that affect the unborn baby and can lead to miscarriage. As a general rule, adults born before 1957 are considered immune to measles and mumps. For many adults born in 1957 or afterward, the MMR vaccine is advised. Most people who receive the MMR vaccine will have no problems from it. Others may have minor problems, such as soreness and redness where the shot was given, or fevers. Serious problems from receiving the MMR are rare.
We recommend this vaccination when you go to:
Botswana
DR Congo
Gabon
Kenya
Madagascar
Malawi
Mozambique
Namibia
Rwanda
South Africa
Tanzania
Uganda
Zambia
Zimbabwe
Chad
Tetanus (Lockjaw) is caused by toxin-producing spores of a bacterium, Clostridium tetani that inhabit the soil and the bowels of animals and humans. When they enter a deep flesh wound, spores of the bacteria may produce a powerful toxin, tetanospasmin, which actively impairs motor neurons, nerves that control muscles. The tetanus toxin causes severe muscle contractions, or spasms. Fever, sweating, elevated blood pressure, and rapid heart rate may also occur. A multitude of tetanus vaccines are available.
We recommend this vaccination when you go to:
Botswana
DR Congo
Gabon
Kenya
Madagascar
Malawi
Mozambique
Namibia
Rwanda
South Africa
Tanzania
Uganda
Zambia
Zimbabwe
---
Voltage and plug type

Type C (220V)

Type J (220V)
---
About Rwanda
Located in eastern/central Africa, Rwanda is the ninth smallest country in Africa and is located only a few degrees below the equator. Tiny Rwanda has suffered a difficult past and tourism is now slowly and steadily growing since the end of horrific genocide in 1993. Rwanda consists of many hills and mountains and the lowest point in the country is at 950m or 3117ft. Five of Rwanda's mountains are volcanoes, which provide stunning backdrops to the lush, green hills and vegetation. Its climate is classified as a temperate tropical highland and has two rainy seasons roughly between the months of March and May and again between the months of October and November. Rwanda is home to Nyungwe Forest, which is home to thirteen species of monkeys. In fact, over 25% of Africa's monkey species are found in this one park.
Volcanoes National Park, also called Parc des Volcans, is part of the Virunga (Birunga) Conservation area and is the highlight for many visitors. This park is home to over half the world's population of mountain gorillas. Rwanda's verdant, stunning backdrops and lush vegetation also make for excellent photo opportunities and many safari visitors select Rwanda for its photogenic scenery. Rwanda also offers a range of lodging options from very high end luxury lodges to more basic accommodation.
The gorillas are endangered and highly susceptible to human illnesses. To help protect and preserve the mammals, the number of daily tourists allowed within close range of the animals is severely restricted and day passes are steeply priced. The journey to reach the habitat of the mountain gorilla includes hiking through steep terrain which is often quite wet and slippery. It also required walking through very dense foliage, including large amounts of stinging nettles. Visitors are advised to dress appropriately and ensure all limbs are well-protected. A safari in Rwanda is very different to a safari in neighboring Kenya or Tanzania, as one is required to be in good enough shape to walk for at least four hours to where the animals are located. It is for this reason that Rwanda is recommended for those who are physically able to handle the trekking conditions of the parks and who are free from any contagious illnesses. Those who meet the aforementioned requirements will be rewarded with an intimate safari experience.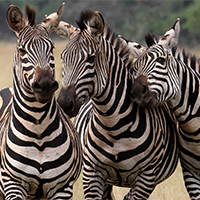 Akagera National Park lies at the northeast corner of Rwanda, 110 kilometers (68 miles) from the capital, Kigali. The park is named after the Akagera River, the most remote source of the Nile, which flows at… read more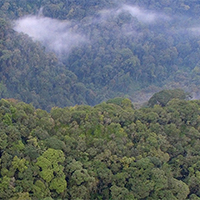 Nyungwe Forest National Park is located in the southwest of Rwanda, 55 kilometers (34 miles) from the town Cyangugu, and 90 kilometers (55 miles) from Huye. It covers a vast area of approximately 970 km&sup2… read more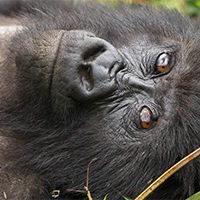 Situated in the northwest corner of Rwanda, Volcanoes National Park, or Parc National des Volcans, is one of three parks that encompass the Virunga Mountains. The other two parks to include this chain of nin… read more
Flying to Rwanda
There are currently no direct flights from any North American city to Kigali. All require at least one stop, with most major cities, including New York, Toronto, Sao Paolo and Montreal only requiring one stop.
Direct flights are available from Amsterdam and Brussels. There are also direct flights on Turkish Airlines, from Istanbul, and from Dubai on Rwanda Air. There are no direct flights from Doha, Qatar.
Flights from major cities in Asia, such as Hong Kong and Singapore, also require one stop. Flights from Sydney, Australia presently require two stops.
Getting to Rwanda from within Africa
Kigali is easily accessible from most major cities, with Nairobi, Dar es Salaam, Johannesburg, Entebbe and Windhoek all having direct flights. Other cities will require one change, most likely in Johannesburg or Nairobi.
Driving to Rwanda
Many safari tours combine trips to the neighboring countries of Kenya and Uganda. Border crossing between either of these countries are normally quite painless, especially now with the single East Africa tourist visa. It is also possible to drive to Rwanda from Tanzania, but a separate tourist visa will be needed for Tanzania.
The following airlines travel to Rwanda