Baby gorilla in Bwindi Impenetrable

Mountain gorilla permits for 2021
Highlights
Mountain gorillas are found in DR Congo, Rwanda and Uganda

Roughly 1000 mountain gorillas remain in the wild. This number is slowly increasing

Virunga is home to six gorilla families

Volcanoes is home to 12 gorilla families

Bwindi is home to 19 gorila familes

Mgahinga is home to one gorilla family

Bwindi offers four habituation permits per day
Trekking mountain gorillas is an exhilarating activity that can only be experienced in three countries: DR Congo, Rwanda and Uganda. An estimated 1000 mountain gorillas remain in the wild as of June 2021. Although this number is low, it is trending in the right direction. The mountain gorilla population has enjoyed a gradual uptick, thanks in part to tourism. For each permit sold a percentage is given back to local communities. Part of the fee also goes to the rangers, who fearlessly work to protect them from poachers. The pandemic shutdowns greatly impeded the critical stream of tourism funding, which gave rise to some creative new sources, such as WallStreetBets. Now that parks are open again to tourism, let's revisit the options for mountain gorilla trekking, including what makes each destination unique.
Gorilla trekking in Uganda
Uganda is the only country to have two national parks with mountain gorillas. Mgahinga is the smaller park and has one habituated family—Nyakagezi. Eight gorilla permits per day are sold for those wishing to track gorillas in Mgahinga.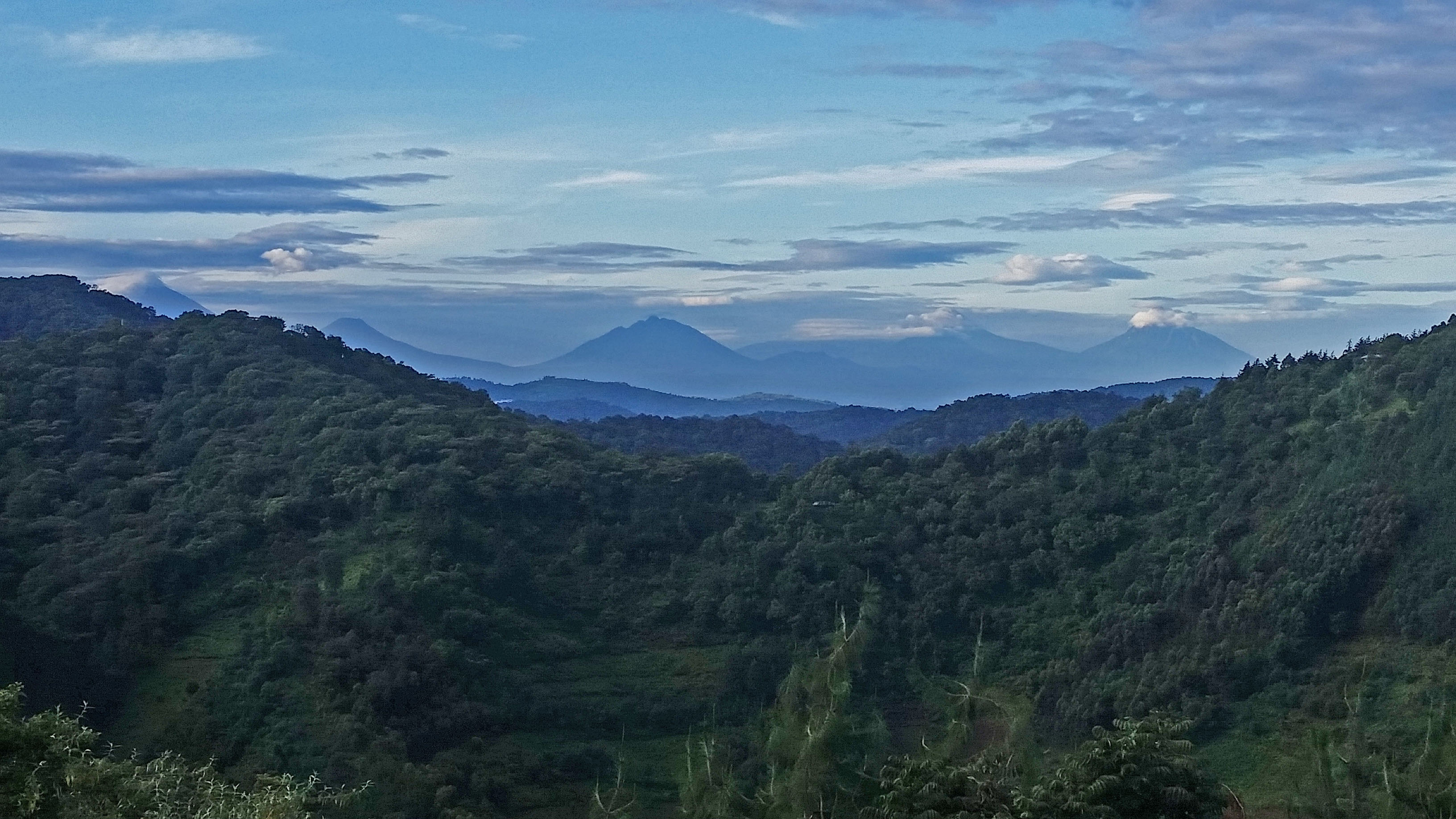 Bwindi Impenetrable National Park is home to the most gorilla families. These gorilla families reside in four sectors: Buhoma, Nkuringo, Ruhija and Rushaga. With 19 families and 8 people per family per day, Bwindi can have up to 152 visitors per day. The gorilla familes in Bwindi are: Bikyingi, Bitakura, Bushaho, Busingye, Bweza, Christmas, Habinyanja, Katwe, Kahungye, Kyaguriro, Oruzogo, Mishaya, Mubare, Mucunguzi, Mukiza, Nkuringo, Nshongi, Rwigi and Rushegura.
Bwindi gorilla habituation
Before gorilla families can be exposed to tourists they need to be used to having humans present. This process is called habituation. Mountain gorilla habituation takes several years and involves the introduction of primates to humans for four hours a day. Roughly five years ago, Uganda opened the process to tourists by issuing four habituation permits per day. Not surprising, demand is high, with permits sold out months in advance. Gorilla habituation permits are only issued for two gorilla families—Bikyingi and Bushaho—in the Rushaga sector of Bwindi.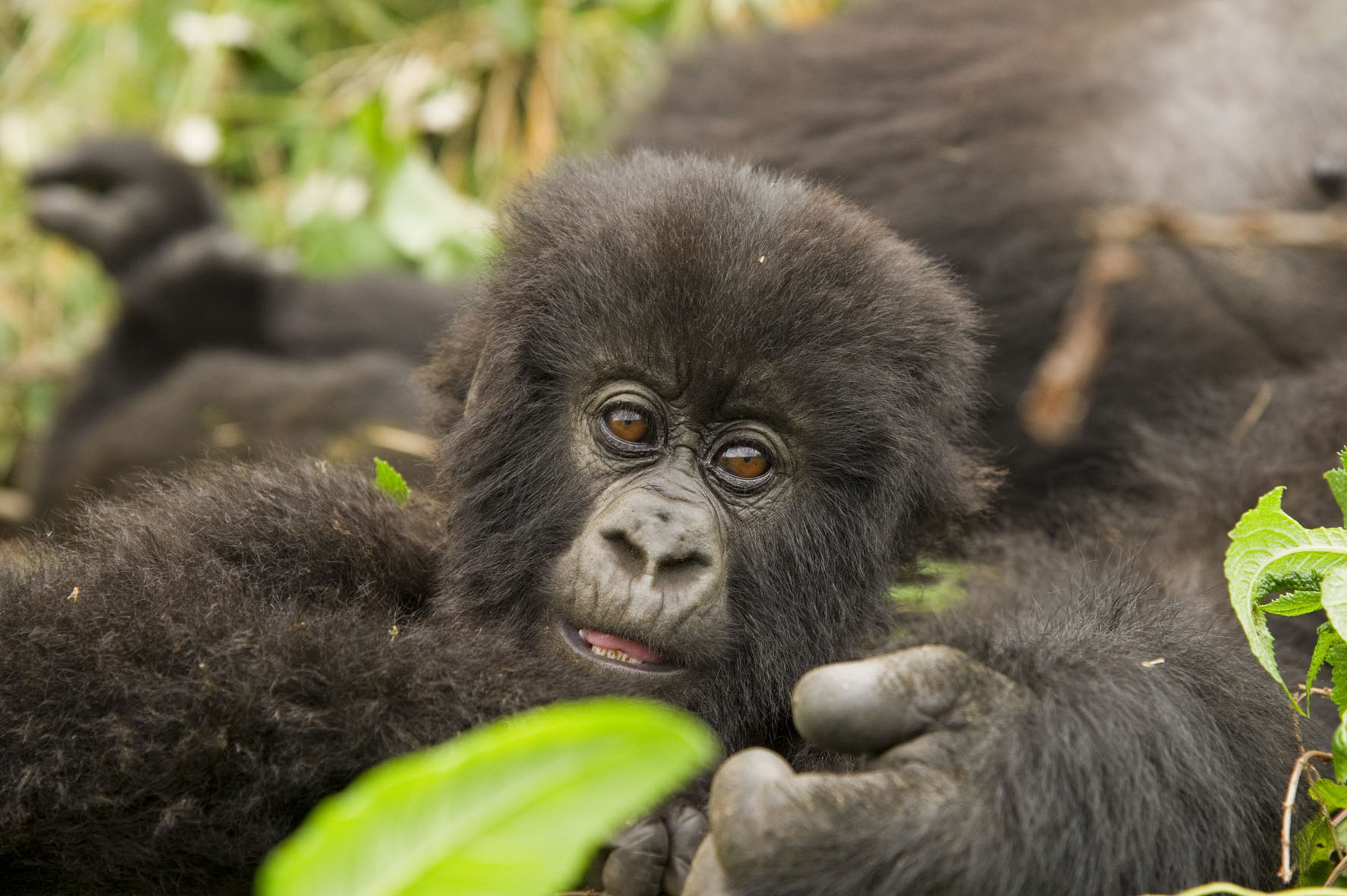 Those able to purchase a habituation permit will be educated on the process and on the risks before heading out. Finding and reaching the gorillas often takes several hours, on steep and slippery terrain, and an appropriate level of fitness is needed. Once the gorillas are located, guests spend four hours with the primates, working and watching alongside conservationists, rangers and researchers. Gorilla habituation trekking is a full-day and permits cost $1500 per person.
Why visit Uganda for mountain gorillas
Uganda has two national parks that mountain gorillas call home.
If you'd like to trek more than one gorilla family, Uganda's permit fees make it more of a reality.
Uganda has the most mountain gorilla families in the world.
Bwindi is at a lower elevation than Volcanoes. If you struggle at high altitude, you may find trekking in Bwindi more to your liking.
Gorilla habituation is only possible in Bwindi. Four permits are sold per day and allow visitors to spend four hours helping habituate mountain gorillas.
Those on a budget will appreciate Uganda's selection of budget lodging options.
While Uganda also gives a portion of its permit revenue to local communities, the impact of its reinvestment efforts is not as palpable as that of Rwanda. As they recently raised permit prices, this could change.
Gorilla trekking in Rwanda
If trekking (or tracking) mountain gorillas is something you've always dreamed of doing, and you'd like to know you're helping contribute to their conservation, then Rwanda may be for you. Rwanda's Volcanoes National Park is where the endangered primate can be found. Aptly named, Volcanoes National Park contains five of the eight volcanoes that comprise the Virunga Massif. At 4500m / 14,760 feet, Karisimbi is the highest. The other four peaks are Bisoke, Gahinga, Muhabura and Sabinyo.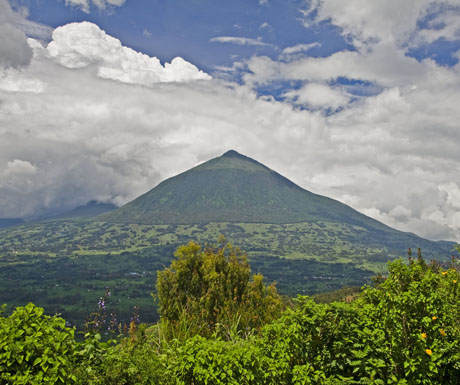 Volcanoes is home to 12 gorilla families: Agashya, Amahoro, Bwenge, Hirwa, Igisha, Karisimbi, Kwitonda, Muhoza, Sabyinyo, Susa, Ugyenda and Umubano. A maximum of eight people per day can spend one hour with each family, capping the daily number of permits sold at 96. Gorilla permits come at a premium in Volcanoes. At $1500 per permit, they're double the price of Uganda's and the most expensive trekking permit available.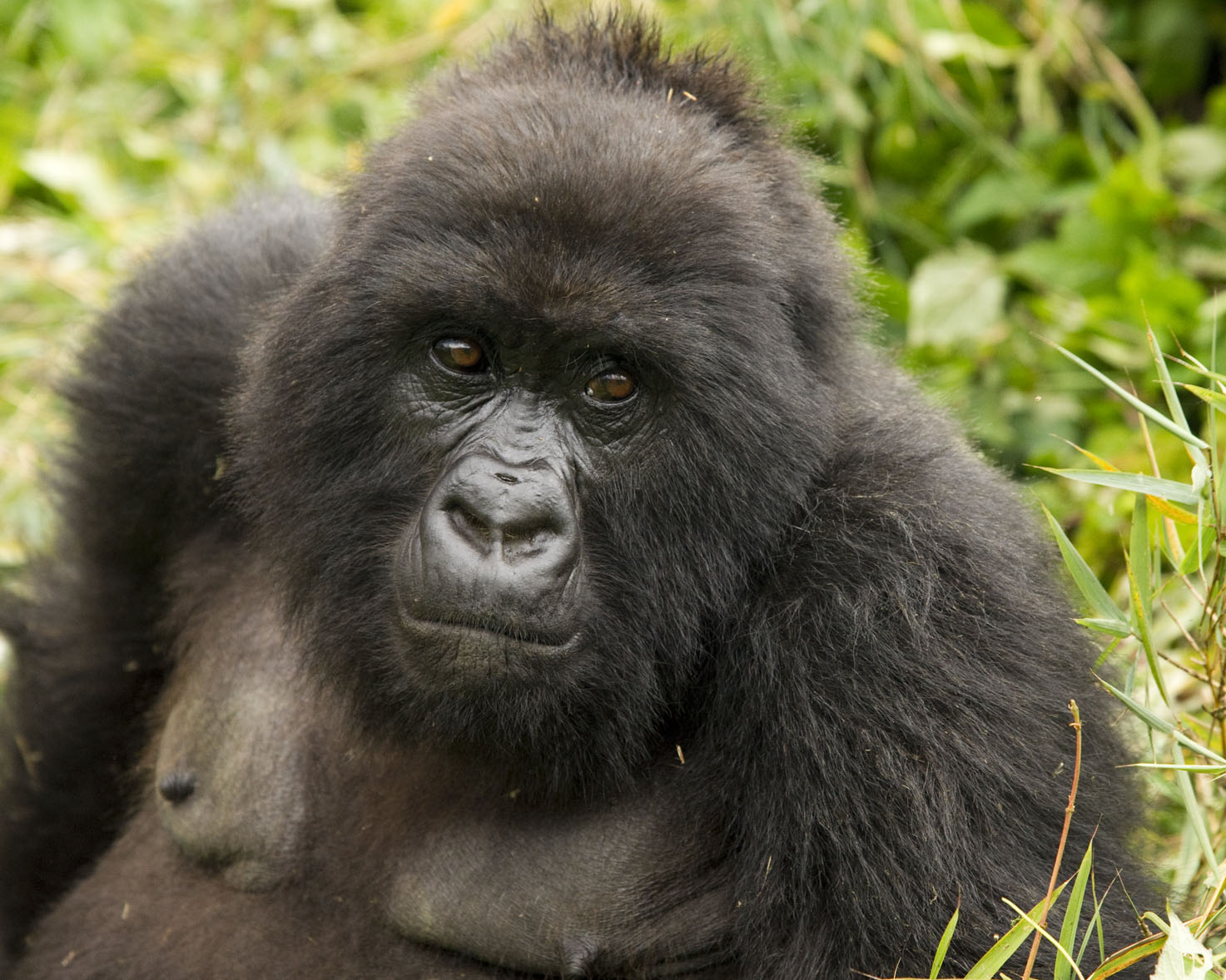 Rwanda takes its conservation efforts seriously, noticeably so. Its highways are, by and large, pockmark free. Rubbish and plastic are conspicuously absent from its verdant landscapes. 10% of permit costs go to local schools, healthcare and farmers, and the impact is noticeable, especially as one approaches the park gates. But, it doesn't stop at the national parks. Kigali's international airport is clean, efficient and safe. Of the three countries, Rwanda is arguably the safest. It also boasts the most luxury lodging options, including the option to take a helicopter from Kigali to Musanze airstrip, which is very close to the park headquarters.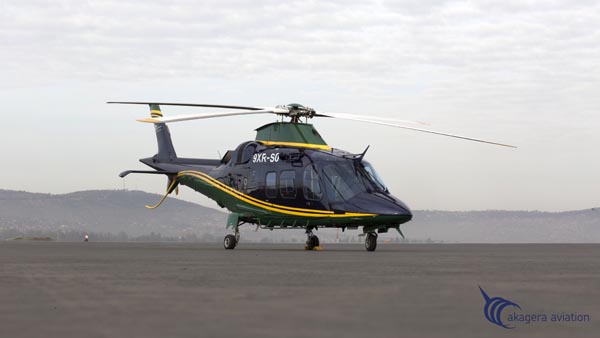 Why visit Rwanda for mountain gorillas
If cleanliness and safety are a top priority, Rwanda's reputation is hard to beat.
Luxury—Rwanda has the most luxury lodging options.
Time—if time is more limited than money, Rwanda is your choice. Volcanoes is a three-hour drive from Kigali or a 40 min helicopter ride, which will set you back around $1000pp, round trip. If you're staying at the exclusive Virunga Safari Lodge you can ask the pilot to take you to your room— they have their own helipad.
Time, again—if you're after the most efficient way to track gorillas in Rwanda and Uganda, Rwanda is the most expedient option. A helicopter to Musanze is 40 minutes. The drive from Volcanoes to Bwindi is around three hours. Note that at this time, the land border between the two countries remains closed but is expected to open sometime in 2021.
10% of permit fees go local communities, in various forms. If making a positive impact and contributing towards conservation initiatives are important to you, Rwanda's efforts are tangible and laudable. Rwanda is the most expensive option for gorilla trekking.
The $1500 permit fee and smaller pool of budget lodging options may be a deterrent for some travelers.
Gorilla trekking in Virunga
For the intrepid mountain gorilla trekker looking to boldly go where not many have gone before, DR Congo stands alone. At 7800 km2, Virunga National Park is more than 20 times larger than Bwindi Impenetrable. Virunga is home to six gorilla families Humba, Kabirzi, Lulengo, Mapuwa, Munyaga and Rugendo. Eight permits per gorilla family are sold daily, capping Virunga's daily permit limit at 48. Permit fees are the lowest, at $400 per person.
Why visit DR Congo for mountain gorillas?
Although Virunga has the lowest gorilla permit prices, and the tourism infrastructure is not very developed, travel to DR Congo is not advocated at this time. Rangers protecting wildlife continue to be killed by poacher, with six dying in January 2021. In May of this year, Mount Nyiragongo erupted, killing at least 30 people. Thousands of homes in the neighboring town of Goma were destroyed. As the situation ameliorates in DR Congo, this article will be updated accordingly.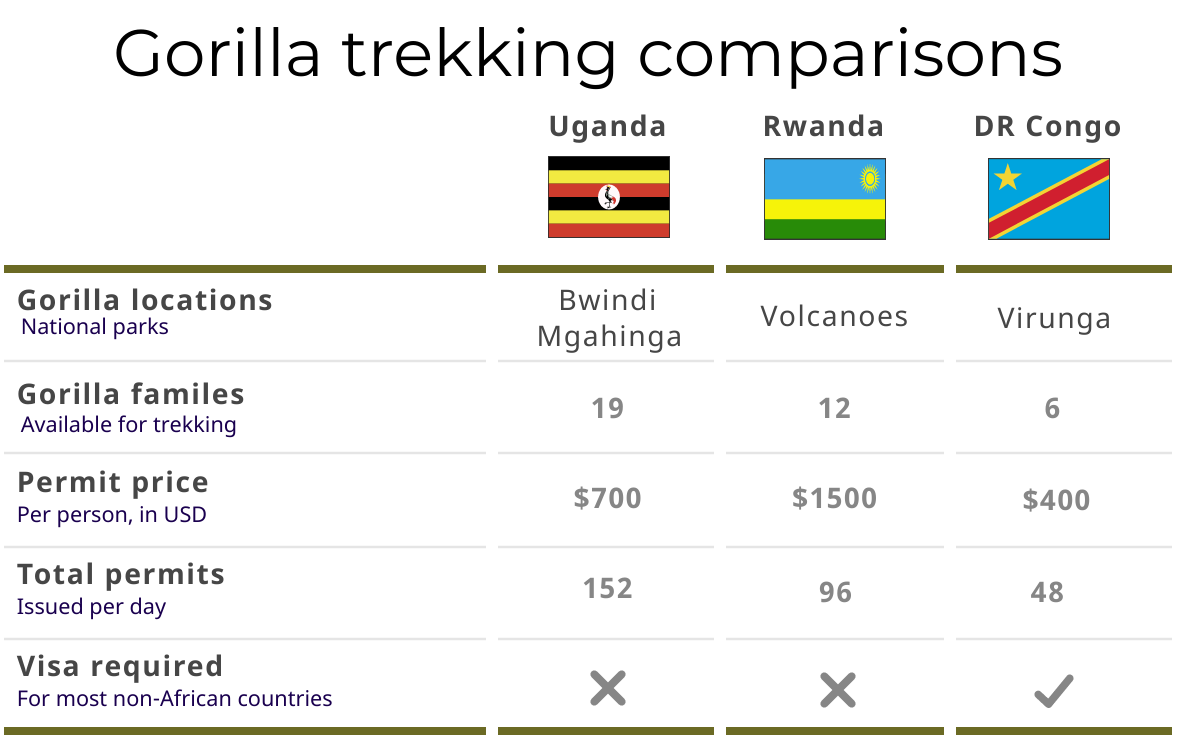 2021 COVID entry and exit travel requirements for Uganda, Rwanda and DR Congo
Uganda entry requirements
Travelers need to provide a negative COVID-19 test certificate, issued no more than 120 hours before boarding the aircraft or crossing land borders. Foreign nationals without a valid negative test certificate will be denied entry. Infants aged three and under are exempt when accompanying parents arrive with a negative test certificate. From 8 May 2021 all travelers from the United Kingdom, Ethiopia, Kenya, South Africa, South Sudan, Tanzania, Turkey, the United Arab Emirates and the United States are required to undergo PCR testing at the border at their own expense, including at Entebbe International Airport, unless they have received their full COVID-19 vaccination and show no COVID-19 symptoms. The cost of the PCR test can be up to $65 USD.
Uganda exit requirements
The Government of Uganda requires that all departing passengers present a negative PCR COVID-19 test taken not more than 120 hours before departure. This requirement is mandatory for all departing passengers out of Uganda, even if the destination country does not require it. COVID-19 tests for departing passengers must be taken at an accredited laboratory or a COVID-19 sample collection point approved by the Ministry of Health.
Rwanda entry requirements
All travelers arriving in Rwanda are required to have a negative COVID-19 certificate. The only accepted test is a SARS-CoV2 Real Time Polymerase (RT-PCR) performed within 72 hours prior to departure for Rwanda. All other forms of COVID-19 tests are not permitted. A second PCR test will be conducted upon arrival, with results delivered after 24 hours during which time they will remain in designated hotels at their own cost.
Rwanda exit requirements
Travelers departing Rwanda must test negative for COVID-19. The only accepted test is a SARS-CoV2 Real Time Chain Polymerase (RT-PCR) performed within 72 hours before departure. All other tests are not permitted.
DR Congo entry and exit requirements
A valid, negative PCR test taken within 72 hours before entering the Democratic Republic of Congo is required for all travelers over the age of 10. Once in the country, guests must take another COVID test with a cost of $45 USD. Quarantine is required until results are in, which can take up to 24 hours. All passengers over 10 must present a negative COVID-19 test from the INRB, or a laboratory approved by the Ministry of Health, from within 3 days prior to departure. The cost of a test through the INRB is US$30.
About the author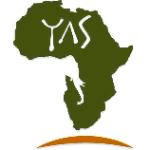 yourafricansafari.com

Has been on: 15 safaris
Your African Safari (YAS) is a safari-planning resource for anyone planning an African safari. It features information on over 2600 tour operators including company and vehicle descriptions, user reviews, safari itineraries and photos. It also features detailed information on 14 countries and 84 parks and game reserves.
Share on:
© Your African Safari Ltd, All rights reserved.
---
1 Comments
---
Said on 10 June 2021 11:15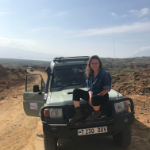 Unique country to visit!
---
Log in to leave a comment
About YAS
Your African Safari is a safari-planning and safari review site. It was created to help support a healthy African wildlife population. All reviews are vetted before being approved and only ethical tours are published