Author Neil getting soggy with primates in Rwanda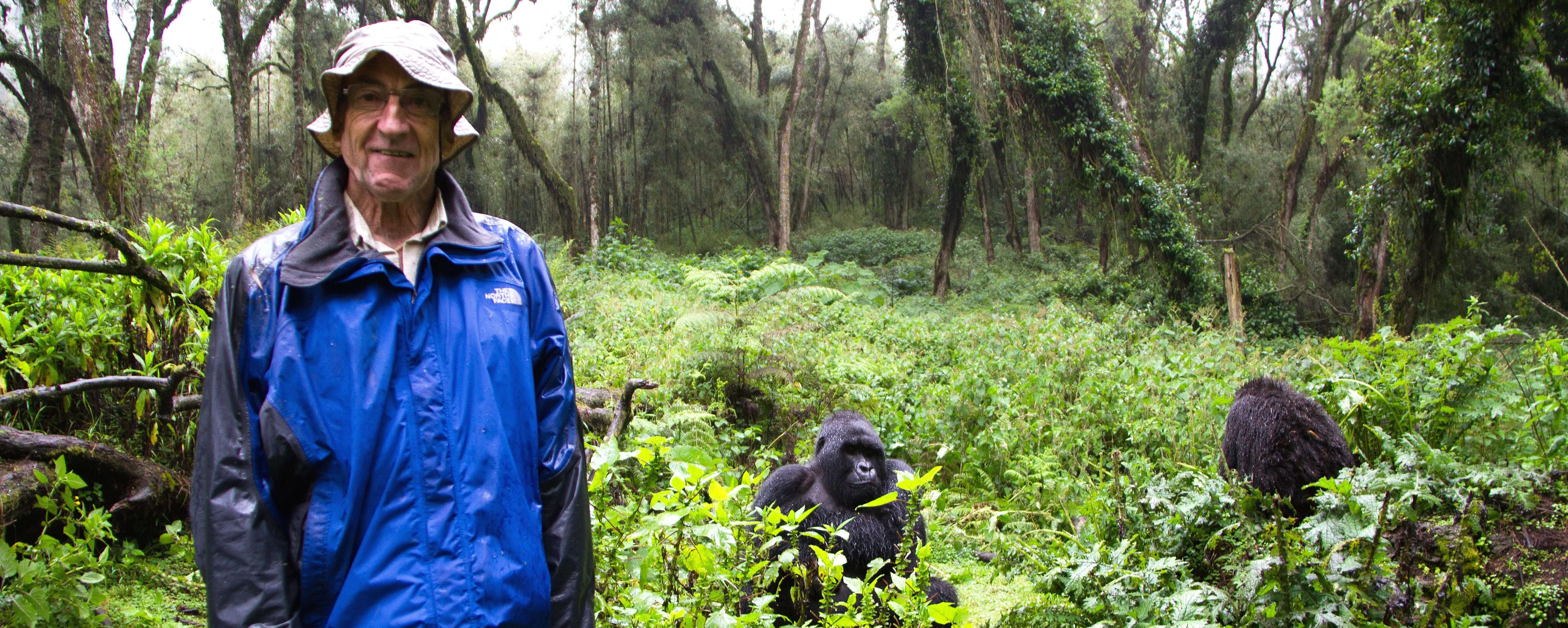 Published on May 21 2018
Written by: Neil Raffan
1538 views
Finding Guhonda, the oldest silverback gorilla in Rwanda
My take on meeting the oldest silverback gorilla in Rwanda—Guhonda
We arrived at the Five Volcanoes Villa as the heaven's opened … truly torrential. I immediately thought of the terrain for the next day's gorilla trek. Having felt somewhat below par prior to departing for Rwanda I did keep telling myself that I would give it my best shot and that it would not be the end of the world if I could not do it.
Several people had advised me that they thought Rwanda gorilla trekking would be easier for me than I had found Bwindi to be in Uganda. However, March may have been on the cusp of the dry and wet seasons. I did not have a good night's sleep, fear of failure, what was I doing even attempting this, all churned round and round in my sober head (no alcohol at altitude). The wake-up call moment arrived and off we went to the Volcanoes National Park headquarters. We had been joking with Afrika (our driver/guide) about being allotted the easiest to trek family group where the whole thing would take two hours—half of which would be one's hour with the gorillas. Bring it on!
Trekking the Sabyinyo Group
The Sabyinyo group was allegedly the easiest to reach and we had been assigned to them. So far so good. Due to the extent of the gorillas' range and the number of family groups within the park, stage two is for us to get back into our vehicles and drive to the relevant park entrances, where we would also hire our porters. I, like at Bwindi, hired two—Emmi and Theo. We took up the rear of the trek, Fidel and an armed ranger leading with the other seven tourists and their porters following, then us three with Lois, one of four female park guides, right at the back. She and my porters were brilliant, giving me plenty of rest stops.
The Sabyinyo group, like the easy Mubare group at Bwindi, decided to move … so it was three hours of ups and downs before we reached six out of the 17 gorillas this family consists of. My two porters did an excellent job in keeping me on the move and, writing this a couple of weeks after the event, I really and truly don't know how I managed. I feel weak just thinking about it. They didn't actually carry me but they for sure kept me upright. The porters had to stand back and aside once the gorillas were reached. We were now amongst them. Yes, amongst gorillas, who were either busy feeding as if we were not there or looking pitiful in the case of the mother and baby as the rain kept coming down.
Guhonda
Then I saw him, Guhonda, the forty-seven-year-old silverback. He was a short distance away from the other five gorillas I was observing. He was eating away quietly on his own; and was less in the open than the others who were getting as drenched as myself. He still looks magnificent, even at 47. Having peacefully abdicated leadership to his son, he survives as the grand elder statesman so long as he is able to eat sufficient food. Though only being amongst a third of the family group, it seemed a harmonious group with no ructions from blackbacks, mothers or infants.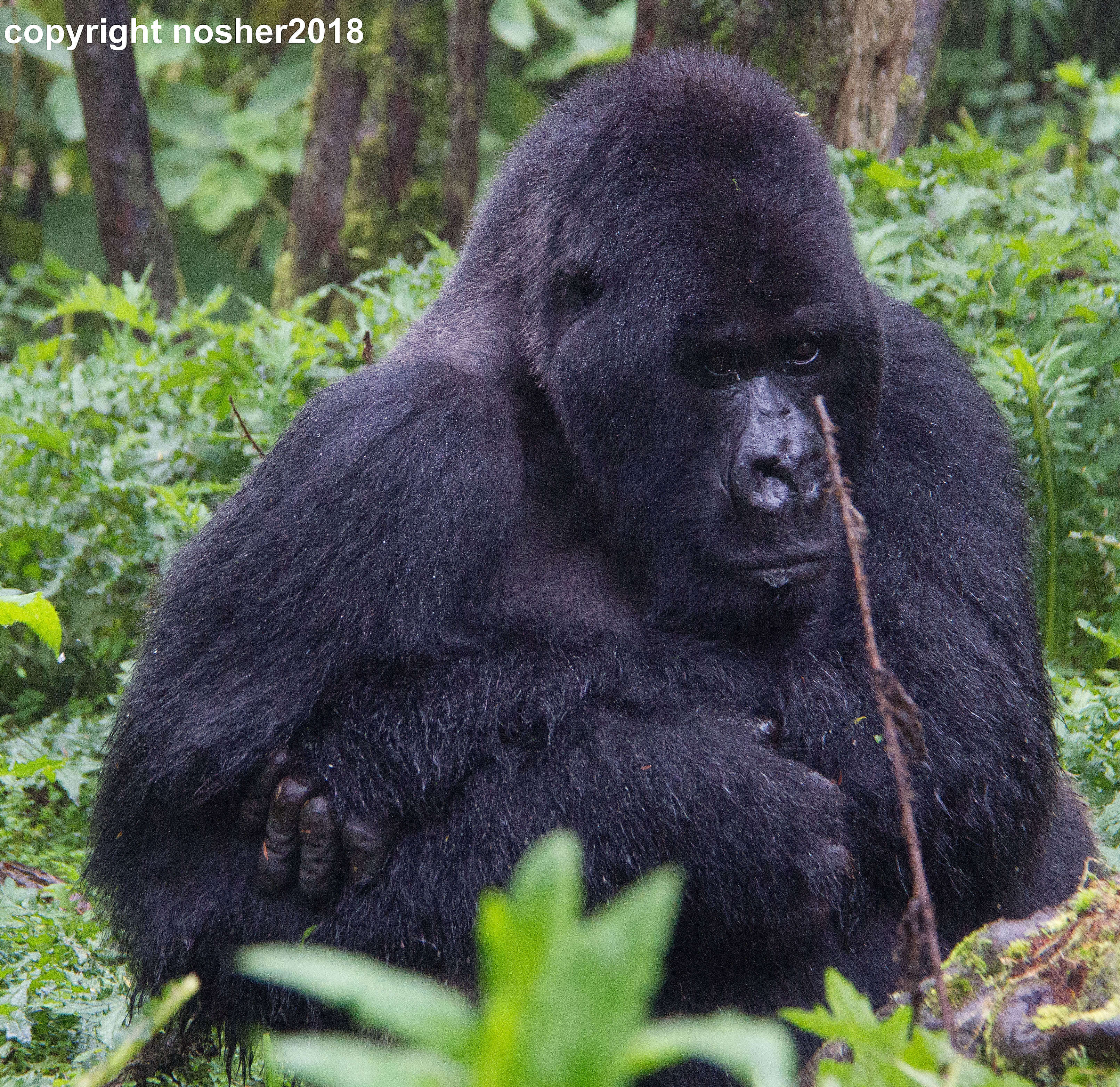 Fidel advised that three others were a little way further up the mountainside, but yours truly decided to be content with his six. So, Lois and I were actually left with the six to ourselves. Unlike at Bwindi, where my gorilla time was spoilt by my concerns about the trek back, here I was able to so enjoy the time watching these amazing creatures and feel the privilege too. I was pleased that I achieved this, as it had been why I had returned to see gorillas, to actually enjoy the HOUR. The sighting here, despite the rain, was much more within an open area than had been the case in Uganda in 2015. It was magical.
I had done it, seen gorillas for the second time in my life and this time truly enjoyed the experience of being in their midst.
---
Sources and credits
All content and images are courtesy of Nosher.
About the author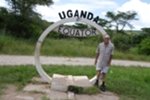 Neil Raffan

Has been on: 20 safaris
Though born in Mauritius, some years ago, it was not until 1996 that I first went on a safari holiday. I have been back to Africa at least once every year since - a bit of an addiction. In my particular case Arthrogryposis Multiplex Congenita affects my arms and legs - most noticeably hands and feet. I hope to share experiences and how a disability does and does not affect safari travel. Named Neil Raffan Andrews I write under the name of Neil Raffan. The ease with which one can self-publish has not only allowed me to publish my back catalogue of novels but also more recent pieces which include travel writing.
Share on:
© Your African Safari Ltd, All rights reserved.
---
1 Comments
---
Said on 19 June 2018 15:28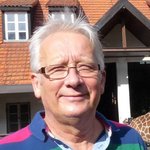 super
---
Log in to leave a comment
About YAS
Your African Safari is a safari-planning and safari review site. It was created to help support a healthy African wildlife population. All reviews are vetted before being approved and only ethical tours are published