Safari suitability:

10/10
Find your tour
All five of the Big Five can be seen here, including the very rare white rhinos, which have been reintroduced to the Moremi Game Reserve. A large number and variety of accommodations from luxury lodges to tented camps are available.
Total area:
15,540 km² (6,000 mile²)
Anti-malarial:
Not required
---
What YAS members think
* Crowded parks have a lower rating
---
Highlights
Kwara Concession
Moremi Game Reserve
One of Africa's greatest concentrations of wildlife
Perfect for viewing Africa's big five
Large herds of buffalo and elephant
One of the largest packs of the endangered African wild dog
Best time to visit is between June and October.
About Okavango Delta
The Okavango: The river which never finds the sea
The Okavango Delta, unlike so much of the surrounding Kalahari Desert which covers most of Botswana, is a vast interconnected web of 15,540 km² (6,000 mile²) of marshland, lagoons, channels and islands formed by seasonal flooding. The Angola highlands to the northwest of Botswana receive three times the rainfall that Botswana does. Starting around November, this life-sustaining nourishment drains down the Okavango River, filling the fan-shaped delta throughout the months that follow. This welcome flood peaks between March and April, during which time the delta swells to three times its usual size.
The Okavango Delta is part of the vast Makgadikgadi Basin, the remnants of the great Makgadikgadi Lake that dried up 10,000 years ago. Although other parts of the basin consist of dry, barren salt pans, the Okavango Delta is a large inland river mouth that is incomparable for its lush, green beauty and unrivaled as an inviting home to one of Africa's greatest concentrations of wildlife.
The Okavango Delta is called "the river which never finds the sea." The majority of its waters are sucked up by plants or evaporated into the air, and only 2% of the floodwaters ever make it to the river's destination, emptying into nearby Lake Ngami.
The resulting marshes are the playground of a huge variety of species including hippopotamus, blue wildebeest, giraffe, Nile crocodile, black rhinoceros, white rhinoceros, plains zebra, warthog and Chacma baboon. Large herds of elephant refresh themselves in water sometimes deep enough for them to swim through. Buffalo crowd together in the safety of the swamp. The lions which pad silently through soft sand make a ruckus in the shallow water and the noise sends the wary buffalo crashing through the marsh churning its water to white foam as they escape their predator.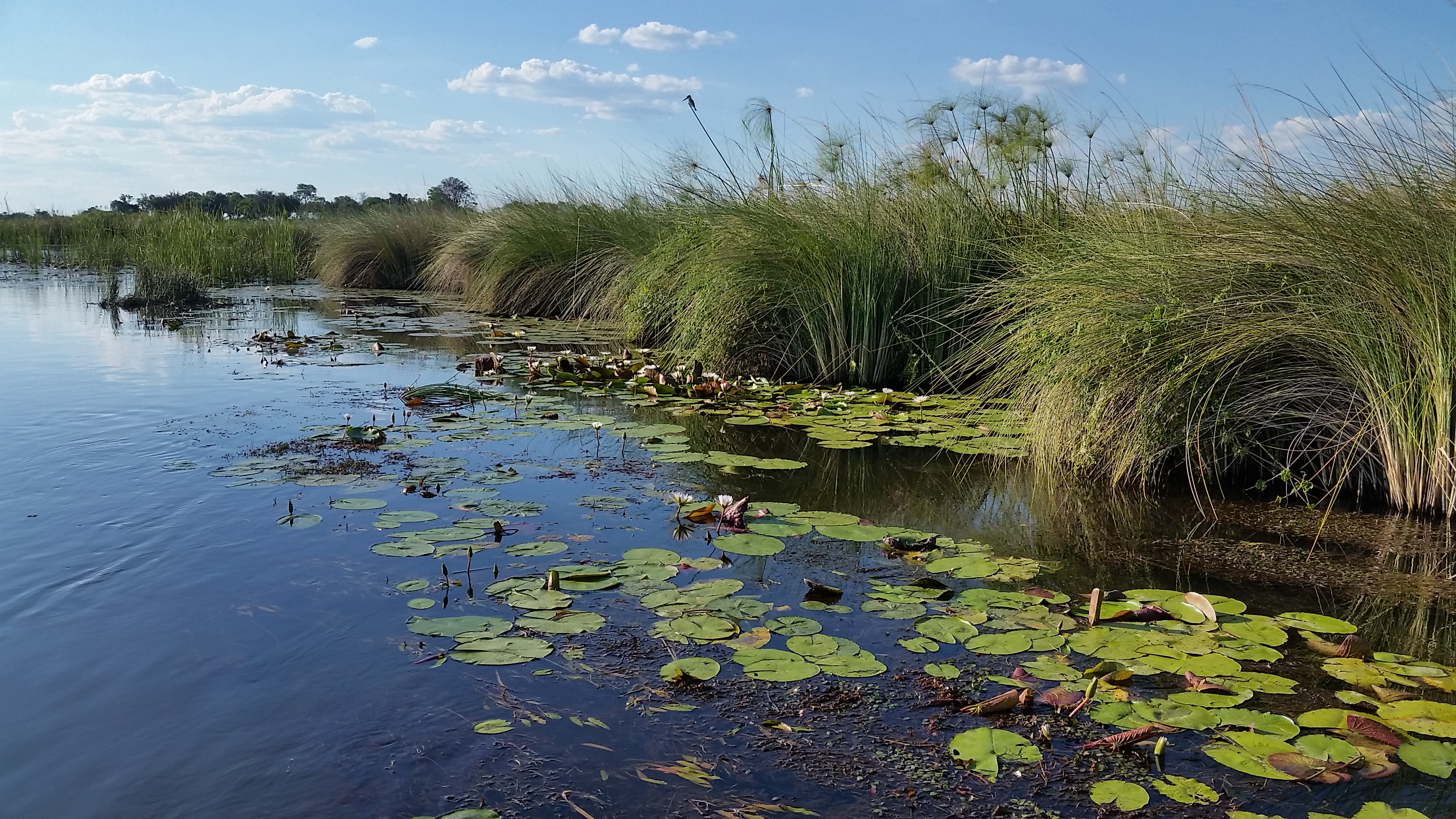 One of the best places to view wildlife is Moremi Game Reserve at the eastern end of the delta. It was named after Chief Moremi of the BaTawana tribe. The delta's largest island, Chief's Island, is an area of slightly higher ground lifted up by a fault line. Originally dedicated as the chief's personal hunting grounds, it is now a wildlife sanctuary considered to be the most beautiful location for viewing the abundance of African flora and fauna. This is a significant protected area for African wild dog, making it a great place for viewing this endangered species. White rhinos have been re-introduced to Moremi Game Reserve, the only place to see them in the delta.
Private concessions in Okavango Delta
The Botswana government has also given some of the land in the Okavango Delta to outfitters who can then manage the land and offer private safaris.
Pros of doing a safari in a private reserve.
One benefit of visiting a private concession is that the number of visitors is limited to only those staying at the concession's camp. Most concessions limit the number of vehicles at an animal sighting to three, which makes for more intimate game viewing.
The wildlife, particularly the predators, tend to be in better condition than in public reserves, possibly due to a more hands-on management.
Because the number of visitors, and guides, is limited, the caliber of safari guides tends to be very high in privately managed reserves.
Cons of doing a safari in a private reserve
The biggest downside of private concessions is they tend to be more expensive, as they are all-inclusive and often accessible only by charter plane.
Private concessions in the Okavango Delta include:
Kwara Concession
Kwara borders Moremi Game Reserve to the north. Its location allows for Mokoro (hand-dug canoe) rides on one of the many Okavango Channels, or for motorboat rides on the delta. Kwando Safaris operates three luxury camps here. Splash Camp was opened in 2018 and offers well-spaced out 'tents' of a very high caliber. Kwara and Little Kwara are also owned by Kwando, with Kwara being closed for renovations through the middle of 2019. This area offer spectacular bird-viewing opportunities and, in addition to the big cats, is known for its wild dogs.
The Okavango Delta is home to a large variety of antelope including lechwe, tsessebe, sitatunga, roan antelope, reedbuck, greater kudu, sable antelope, springbok and impala. The lechwe antelope is the most common large mammal, with more than 60,000 inhabiting the delta. These swamp-dwelling antelopes, slightly larger than an impala, bound effortlessly through the swamp due to the natural water-repellent quality of the fur on their legs. They frolic freely in the water, seeming lighter than air as their dancing leaps provide not just forward movement but raise them to heights from which they can spy danger. The rarest aquatic antelope found in the Okavango is the demure sitatunga, which hides from predators by sinking into the water with just its nostrils showing. It can even sleep under water like this!
A completely unique experience of the Okavango Delta is a mokoro safari. Mokoro are traditional dugout canoes, and although the modern incarnations are made of fiberglass, the experience of gliding soundlessly through the swamp is as old as the waters themselves. Canoe trips through this Venice of Africa bring you face to face with wildlife. As the rhythmic poling sends the boat skimming across the tranquil surface, your awareness shifts, slows and settles as silence and stillness give way to the bustling activity of life in the marsh. Over 400 species of birds, including African fish eagle, Pel's fishing owl, ducks, geese, heron, crested crane, lilac-breasted roller, hammerkopf, ostrich and sacred ibis, fly above or wade through the delta. Fish flit through the waters of the lagoons, darting in between reeds and papyrus.
Surrounding the swamps is a forest that provides shade for herds of larger game and extending beyond the forests is open savanna where the greatest numbers of game exist, stalked by lion, leopard, cheetah, brown hyena, spotted hyena, and wild dog. Leopards can be seen lazing in trees during the day. The endangered African wild dog still survives in the Okavango Delta, which is home to one of the largest packs in Africa.
When to visit The Okavango Delta
Dry season: The best time to visit is in the dry season where game viewing is at its peak from June to October.
Rainy season: December to March. Because the delta is created from flood water not rain, the rainy season is the time that the delta is smallest. Animals tend to move away from the delta as other areas of the desert become green and lush. But with such an embarrassment of riches, fewer animals than usual still means many animals, migrating species arrive, and the birds love the rainy season.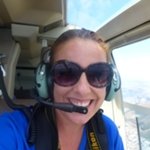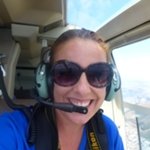 Safari guru
African traveller

Australia
103 kudus
Reviews (2)
Visited: Dec. 2014
Reviewed: Feb. 13, 2015
I had the luxury of five nights in Botswana in December and discovered who the big boys of this country really are! I also smashed a lot of my own safari misconceptions... First stop, Kalahari Plains Camp and the endless desert that I thought may not be that exciting for a safari old hat like me. Misconception number one... of many to come. It's true that you won't see masses of wildlife at all times of the year. We were there before rains had come meaning wildlife was really spread out. When the rains come, the plains in front of this camp TEEM with wildlife... so for us it was more of a challenge but boy were we rewarded. From the denning cape foxes in front of camp to the thousands of red-billed quelea swarming and shifting across the plains to the elusive yet very vocal Kalahari lions... this place rocked and I have a new found appreciation for desert landscape and the smaller species. Oryx are truly the big boys in town here, their large herds and dominant males strutting around were enough to impress the most experienced safari-goer. My favourite experience here was a wheel blow out and being 'stuck' in 35 degree desert heat just watching the plains horizon and the wildlife appear through the heat haze and disappear again. Then a surprise bush lunch - well deserved after that I can tell you... and we literally dined under beautiful trees alongside a few wildebeest and oryx escaping the heat. They were literally a few metres from my buffet lunch table! So my top tip for Kalahari - go in green season, so January through to around March I think for big hitting wildlife, afternoon storms and those endless plains alive with animals. Big Boys of Botswana's Okavango Delta greeted us next the moment we tried to land. It's not the elephants or lions - that was my misconception too for many years. It is the buffalo. These animals mean business, they don't muck about as solo grazers unless they are old males and instead stay in herds, usually quite impressive numbers and move like a football pack through the bush. As luck would have it, they were crossing the landing strip as we were approaching. A few fly bys and we eventually moved the big boys on and landed. The herd stared us down as if angry at the intrusion. It wasn't the first time they would demonstrate their discontent with us. The next few days were action packed at Duba Plains as we watched for the well documented lion versus buffalo confrontation. From here, we flew up to the Selinda region and had our last few nights in two luxury camps, Selinda Camp and the outstandingly memorable and 'take me back tomorrow' Zarafa. Up here, the big boys are led by the ladies... wild dog. Another of my misconceptions busted... for this region is famous for its huge elephant herds... they are literally 'big' but it is the wild dog that dominate the safari scene right now. This species believe in Alpha females (hooray) and I feel so blessed to have had the opportunity to watch them rest, play, hunt, catch and kill multiple times over. The kill is not a pretty event to witness, but it's over in an instant as they literally rip the animal to pieces leaving nothing behind. But the hunt is the most adrenaline rush wildlife experience I have ever had. Their pack precision and ambush tactics are outstanding to watch all whilst in a 4x4 that is open-sided and belting through the bush at break neck speed. Our last night at Zarafa was unforgettable, and not just for the luxury and beautiful setting. Whilst sitting on our private deck with feet in plunge pool and gin and tonic in hand, we saw a young impala bolt past within metres of us. Unusual to be alone and running so fast. We wondered what it was running from. It wasn't long before we saw the familiar markings of wild dog sprint right up to us, pause for moments arms length away and then continue the hunt. Our hearts raced as fast as the wild dogs could hunt. They then double backed to look at us and one even came running down the path towards us. Did we become the prey? Has wild dog ever eaten a human before? Not that we know of... it was merely responding to the sounds of broken twigs under our feet as we were sprinting to get our camera. So what did I take from my Botswana experience? The big boys of any safari are not always your usual suspects. Go into every safari experience with open mind, no expectations and you shall be rewarded. For it's the opportunity to truly immerse yourself in a wilderness that surprises you. Its residents will fascinate, surprise and overwhelm you. Thanks to Wilderness Safaris for showing me a new side to Botswana and breaking many of my misconceptions.
* Crowded parks have a lower rating
---
Safari guru

Australia
Visited: Dec. 2014
Reviewed: Feb. 13, 2015
Most people visiting the Okavango Delta will be visiting Moremi Game Reserve. The southern entrance to Moremi is roughly 100 km from Maun. The first part of the journey is on a paved road, but the last part of the journey requires a 4x4, as it's mainly a sandy, wide-track road. The northern gate, Khwai, is roughly 2.5 hours from Maun. Khwai is where the current headquarters of the reserve are situated. It's important to note that there are no petrol/gas stations within the park.
In Khwai you will find a large public camping ground situated in a well-shaded area overlooking the river. At Khwai, a long bridge constructed entirely out of mopane poles, forms a picturesque entrance to the reserve for visitors arriving from the north. This bridge, which rattles and shakes as vehicles pass over it, must be one of the most photographed structures in the northern areas of Botswana and is so much a part of the character of Moremi. (Courtesy of Dept of Wildlife and National Parks). It's advisable to bring a jerrycan or two for reserves.
It is also possible to do a fly-in safari using a private charter. Many visitors use charter companies based in Maun to fly to the various lodges in Botswana. These include Delta Air, Mack Air, Moremi Air Services, Wilderness Air, Wildlife Helicopters and Kalahari Air Services.
The following airlines travel to Okavango Delta