Lake Manyara National Park
Safari suitability:

6/10
Find your tour
It may have four of the big five and stellar bird life, but its small size means guests have seen it all after spending only one day in the park.
Total area:
325 km² (126 mi)
Anti-malarial:
Not required
---
What YAS members think
* Crowded parks have a lower rating
---
Highlights
The elusive, tree-climbing lion
Over 400 species of migratory birds – a bird lover's paradise!
Close proximity to Tarangire National Park and Ngorongoro Crater make it a perfect addendum to a larger safari.
Its lush, verdant groundwater forest is truly unique and worth a visit or two.
It is within a few hours' drive from Arusha.
About Lake Manyara National Park
Located about 130 km (80 miles) southwest of Arusha, Lake Manyara National Park is a compact, verdant park that is highly prized by bird lovers from around the globe. Although small in size, Manyara packs a mighty punch. It starts the moment visitors drive through the entry gates and encounter the amazing groundwater forest. Here, guests can see all types of flora such as mahogany, sausage trees, ficus and wild mango trees.

Bird lovers are sure to be astounded by the vast array of birds, with over 400 species of migratory bird being found here. The saline waters of Lake Manyara are often dotted with bright-pink flamingos and stodgy pelicans. In addition to the large number of birds found at Lake Manyara, it is also possible to see several types of animals here, including the elusive tree-climbing lion.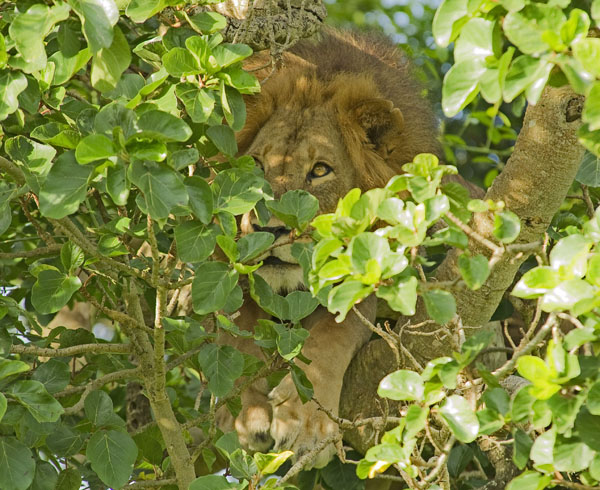 For some reason, the lions of Lake Manyara and Tarangire National Parks have a penchant for climbing up into the branches of a sausage tree and lazing around in the heat of the day. Photographers will relish the opportunity to snap a photo or two, if they're lucky enough to encounter one. It is possible to see four of the big five at Lake Manyara—buffalo, elephant, leopard and lion—with the rhino being the missing fifth animal.
When is the best time to visit Lake Manyara National Park?
Lake Manyara is recommended year-round, with only the months of April and May being a bit wet and difficult for travel. Due to its small size, most lodges are located outside of the park, en route to either Tarangire or Ngorongoro Crater. There is one lodge inside the park and it is of very high standard.
Safari guru

South Africa
288 kudus
Reviews (5)
Visited: Nov. 2014
Reviewed: Feb. 03, 2017
I had visited Lake Manyara National Park as a day visitor before, as most people on the northern circuit in Tanzania do…just passing through. The day visits are rewarding, there is no doubt about that. The easy-to-reach areas are enough to allow a rewarding day visit. But there is more and I didn't fully realise this until I had experienced it for myself. If you can spare the time, you will not be disappointed. Lake Manyara National Park has lots to offer. I saw my first silvery-cheeked hornbill here, my guide thought I had seen a leopard such was the level of my excitement! I spent two nights in the park and we seldom saw other vehicles. Once we started to go deeper into the park there were no other vehicles. In peak season I am sure there will be more vehicles but with just two camps in the park offering accommodation, even in peak season once you get to the area of where the camps are, there is little chance of crowds. The park is most famous for its tree-climbing lions, thanks to social media we know that there are 'tree-climbing lions' in many other parks! If you plan to visit only to see the tree-climbing lions, most likely you will be disappointed. I did see lion but they were not in trees. Perhaps it was the rain, when I asked my guide he did comment that he had seen plenty of lion, but the 'tree-climbing lions'. If you want to fall asleep to the sound of a lion calling and wake up to the cheerful chatter of birds and the smell of fresh Tanzania coffee brewing, this is the place for you. If you want to take the time to enjoy a lake shore walk and watch the sunset from the shores of the lake, this is the place for you. It doesn't have the herds of wildebeest like the Serengeti, nor does it have the visibility of the Ngorongoro Crater. What it does have is excellent birding, a variety of fun activities that gets you out of the game drive vehicle, tall trees, herds of elephants and something exciting around every corner. Even when the bush is thick as it was when I visited in November, the wildlife enjoy the clearings as much as we do and you often come across open areas where the wildlife gather. You never know what is around the corner. We had great elephant sightings, lots of giraffe, zebra, waterbuck, hippo out of water, impala, a large (and entertaining) troop of baboons, blue monkeys and countless birds.
* Crowded parks have a lower rating
---
Safari guru

South Africa
Visited: Nov. 2014
Reviewed: Feb. 03, 2017
Driving to Lake Manyara NP from Arusha
At under two hours, Lake Manyara NP is the shortest drive from Arusha. The road, in general, is in good condition and it is easy to combine a safari that includes Tarangire and Ngornogoro Crater.
Domestic flights to Lake Manyara
In addition to charter flights, a few domestic airlines also offer scheduled flights to Lake Manyara.
The following airlines travel to Lake Manyara National Park