Safari suitability:

10/10
Find your tour
Big five, excellent lodging options and the ability to self-drive. Come one, come all!
Total area:
19,485 km² (7,523 miles²)
Anti-malarial:
Not required
---
What YAS members think
* Crowded parks have a lower rating
---
Highlights
April through July are the best times of year to visit
Home to the big five game
Many safari options, including self-drive.
Over 500 species of birds await bird lovers from across the globe
About Kruger National Park
Kruger National Park is one of the largest, most famous and most-visited parks in all of Africa. Located in the northeastern corner of South Africa, it forms the border between South Africa and Mozambique. It is 19,485 km² (7523 mi²) in size, making it the seventh largest national park in Africa, and was established in 1926. Kruger offers superb wildlife viewing opportunities and it is possible to see the big five here. The big five are: buffalo, elephant, leopard, lion and rhino. The big five are only the icing on the safari cake, though, as Kruger is home to a stunning array of flora and fauna and boasts over 500 species of birds and nearly 2000 species of plants.

Kruger is also one of the most developed national parks in terms of tourism infrastructure, and it offers the full gamut of lodging options, from very basic accommodation up to luxury levels that rival the top seven star hotels of the world.
When is the best time of year to visit Kruger National Park?
Like many game parks in Africa, Kruger generally has two seasons: a wet and a dry season.

The wet season occurs during the southern hemisphere summer, roughly between the months of October and March. During the summer months, the daytime temperatures tend to be higher and the humidity levels rise. It is not uncommon for a daily thundershower. The Kruger landscape at this time of year is green and lush, and towards the end of November and into early December is the calving season for many of the herbivores. Due to the surplus of water and the dense foliage at this time of year, animal viewing may be more difficult than in the dry season. The animals have ample selection for their water and may be even less active during the day due to the warmer and stickier conditions. That said, some people prefer to travel at this time of year to see the lush foliage and newborn animals that the winter months bring.

The dry season occurs during the winter months of the southern hemisphere – roughly April through mid October. During this time of year the daytime temperatures are slightly lower than those of the summer months and the humidity levels are lower. The precipitation levels drop substantially from those of the summer months and many of the waterholes dry up during this time of year. The lack of accessible water makes for better game viewing as the animals must gather round what remains. The game viewing is also easier to see without the dense foliage of the summer months. The winter months are very popular with visitors from the northern hemisphere as they coincide with school holidays. The months of July and August see a large number of visitors to Kruger.

Kruger is highly recommended for any level of safari visitor. It offers a wide range of safari options, from standard driving and walking safaris to safari options not often seen in the more northern countries such as elephant back safaris, open-sided safari vehicles and self-drive safaris.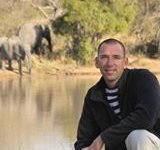 Visited: Nov. 2014
Reviewed: Nov. 25, 2014
South Africa's Kruger National Park is arguably the most affordable and most accessible major African game park. Because of this and because of the consistently good all-year game viewing, it is also one of the most popular game reserves in Africa. There are basically three ways to "do" Kruger: 1) You can go on your own and self-drive. 2) You can go with a tour operator on a guided safari. 3) You can stay at a private safari lodge. Option 1 (self-drive) is the cheapest option and preferred by many locals, who come every year on their annual family holiday. For this reason, school holidays are busy and the main camps and roads (especially in the south of the park) can get quite crowded. To avoid the crowds, head for the lesser known dirt roads or go to the north of the park. I've personally visited Kruger like this many times. Option 2 (a guided open vehicle safari) is also an affordable option and preferred by many first time visitors, because of the benefit of having an experienced guide who can help you not only to spot the animals, but interpret their behaviour and explain many interesting things about the bush. Also, being able to enjoy game drives from an open safari vehicle (rather than a small, closed, regular car) definitely enhances the game viewing experience and offers better visibility. The quality of this option depends on your choice of tour operator and the quality and experience of the guide who leads your safari. This is my favourite way of visiting Kruger. Option 3 (a private safari lodge) is the most expensive option but these lodges normally include all meals and game drives, and the accommodation is more luxurious than the typical Sanparks bungalows found in Kruger's public camps. Here you also have the benefit of a qualified safari guide and open safari vehicles for game drives, but each lodge will have their own concession area and a limited traversing area for game drives. There are many different safari lodges in different price brackets, many situated in concession areas within Kruger, and many situated in the private game reserves adjacent to Kruger. I've been to both types of lodges and they are both great. For first time visitors, a good choice is to combine option 2 with option 3 - explore Kruger in the company of an expert guide, and then spend 2 or 3 nights at a private safari lodge as well. For those on a very tight budget, option 1 is perhaps the best option. For me the best thing about Kruger is that it is much less seasonal than other major game parks in Africa. It is possible to have excellent game viewing all year round, even during the rainy season from December to March.
* Crowded parks have a lower rating
---
Safari enthusiast

South Africa
Visited: Nov. 2014
Reviewed: Nov. 25, 2014
Driving to Kruger National Park
Driving from the Johannesburg International Airport to Kruger takes roughly four hours in normal conditions.
Driving from Gabarone, Botswana, takes just under eight hours, not including time spent at border crossings.
If you're considering driving from Maputo, Mozambique to South Africa, the drive is around two hours, not counting border crossings.
Flying to Kruger National Park
There are several flights daily from Johannesburg to Kruger. The flight is about an hour in duration.
The following airlines travel to Kruger National Park
---

Air shuttle and charter services throughout Africa, former name - Pelican Air Services. Federal Airlines (Pty) Ltd. Trading as Federal Air, is the preferred aviation partner for the top safari destinations in Southern Africa, and the market leader in Aviation Shuttle and Charter Services. Taking guests to the most beautiful and remote parts of Africa is our specialty and a market segment which Federal Air innovated in the late 1990s. We partner with world leaders in luxury safari experiences, and are committed to raising the bar in aviation to play our part in delivering a unique and seamless travel experience unparalleled anywhere in the world. Visit website
Also flies to:



---

Majestic Air provides a highly efficient service to travelers who wish to avoid the tedium of travel on South Africa's congested roads and in railways. Majestic Air is owned by David Maree who, as a businessman and commercial pilot, has used aircraft for business travel within South Africa and neighbouring countries. He has personal experience of the practical and cost-effective benefits of the use of aircraft as an alternative to travel by car and train. Majestic Air is operated by Multimedia Entertainment Group Air (PTY) Ltd) trading as MEGA Air as Air Charter & schedule Company in South Africa. The Company was established in the year 2004. Their aircrafts are capable of operating to smaller or rural airports where scheduled services are not able to. Visit website
Also flies to:



---

Airlink is a privately-owned, BBBEE Level 4 business and regional airline serving a comprehensive network of smaller destinations throughout Southern Africa. We are now operating independently under our own unique 4Z flight code offering more freedom, more choices and more travel opportunities. Visit website
Also flies to: