Layover in Johannesburg? We've got you covered!
Highlights
Gautrain is a highspeed rail that connects OR Tambo to downtown Johannesburg. It has 24 hour security and CCTV

O.R. Tambo is located roughly 25 km (16 miles) from Johannesburg's city center

A minimum layover time of four to five hours is recommended. Many attractions are accessible via the Gautrain and can be reached within 20 minutes.
If you're heading on safari to a country in southern Africa, such as Botswana, Namibia, Zambia or Zimbabwe, there's a good chance you'll transfer planes in South Africa. Johannesburg is the primary entry point for international flights bound to these destinations. On the flight(s) to Africa you're keen to get started on your safari and want as little delay as possible. Luckily, there's generally minimal layover time on arrivals into Johannesburg. European flights tend to arrive in the morning, with enough time for travelers to catch a connecting flight to their final destination. Direct flights from the United States get in at night, affording weary travelers a chance to get a good night's sleep before catching their connecting flight in the morning.
The return trip is a different story. The morning game drive on your last day of safari is usually combined with a ride to the local airstrip. Since many international flights depart O.R. Tambo International Airport in the evening, you'll find you've ample time on your hands. This is especially true if you've a late night/early morning departure. Of course, what you do on your layover depends on how much time you have. Layovers under five hours are tricky. O.R. Tambo is located roughly 25 km (16 miles) from Johannesburg's city center and, depending on your mode of transportation, travel times alone can quickly eat into your time. Unless you've a high risk threshold or are certain of your travel times, you may be better off sticking around the airport. Besides, there are some nice shopping and dining options in the international departures area, and people watching is always a great way to pass time at airports!
Wherever possible, we've indicated which locations are easily accessible by Gautrain. Gautrain is a high-speed express train linking OR Tambo to select areas in Johannesburg. It also connects to Pretoria and Kempton Park. If you've a shorter layover and will be traveling during peak rush hours, you might want to seek out locations that you can reach via Gautrain. Gautrain has CCTV surveillance and 24 hour security at all stations. It is generally considered a safe mode of transportation.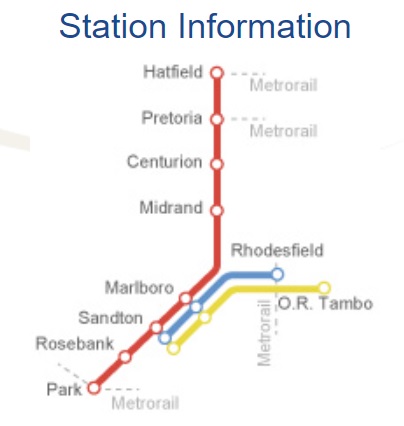 The Gautrain connects to the larger Gauteng Metrorail. While there is mixed feedback on the overall security of the metrorail, it is not considered as safe, or fast, of an option. For this reason, we've only noted when destinations are easily accessible via Gautrain and not via Gauteng Metrorail.
Ideas for shorter layovers in Johannesburg
Do you have a Johannesburg layover longer than five hours? Check out these suggestions offered by local tour operators on Your African Safari. These destinations are all within an hour drive of the airport, barring any major traffic incidents, and many can be reached via public transportation and/or a combination of public transportation and taxi/Uber.
This Sandton-based boutique hotel was once the home of Nelson Mandela. The former president's home is owned by The Nelson Mandela Foundation and is managed by the Motsamayi Tourism Group—the oldest black-empowered South African tourism group. Visitors include Magic Johnson, Michael Jackson and Oprah Winfrey.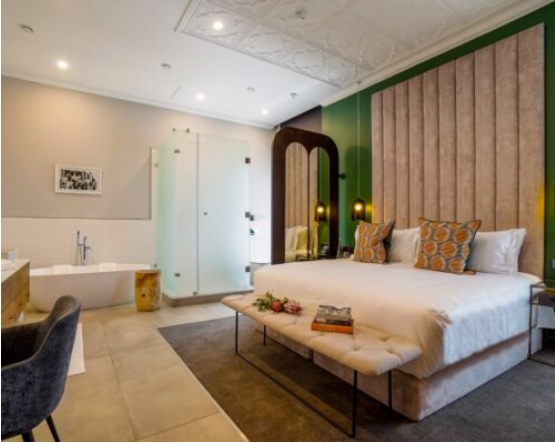 Enjoy a meal at Insights restaurant or, if your layover falls on a Sunday, stop in for some live jazz. If your schedule allows for more than just a layover, why not spend a night or two in one of the lavishly appointed rooms? The sanctuary is within walking distance to Nelson Mandela Centre of Memory. Here you can immerse yourself in an archive of the life and times, works and writings of Mandiba.
High tea
Fancy a bit of indulgence prior to squeezing into an economy class seat for your upcoming long haul flight? A spot of high tea may be just the ticket.
54 on Bath offers two high tea experiences at their restaurant—Level Four. The first is a weekday afternoon tea. Monday through Friday high tea is served between 14h30 and 16h30 and comes in three tiers: traditional afternoon tea, royal afternoon tea, which includes a kir royal, and champagne afternoon tea—which includes a glass of Perrier-Jouët Champagne.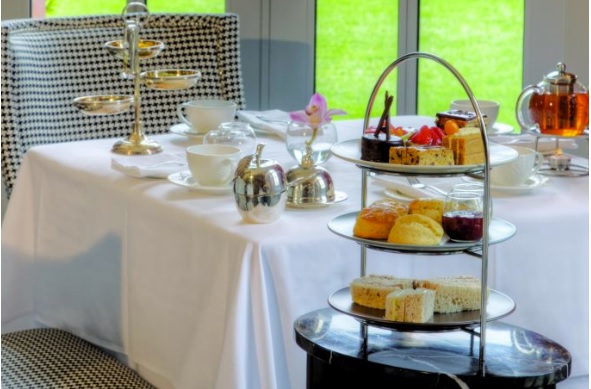 A high tea buffet is available on Saturdays. It runs from 13h30 until 16h30 and includes a complimentary glass of bubbles and live entertainment.
If you're after something a bit stronger and perhaps more effervescent, the Perrier-Jouët Champagne bar may be just the ticket.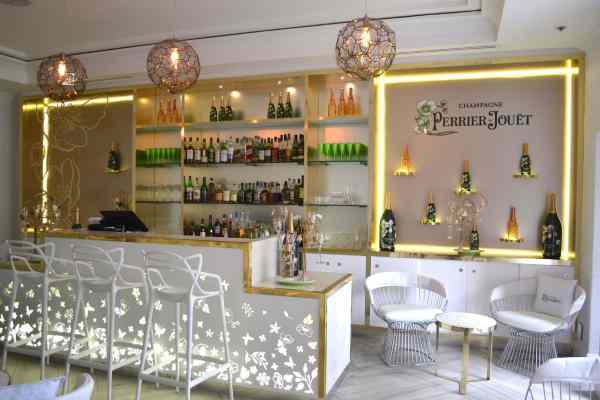 Sip a cool flute of champers while overlooking the terrace garden. You can also partake in cocktails and local wines. The champagne bar is open from noon until 22h00.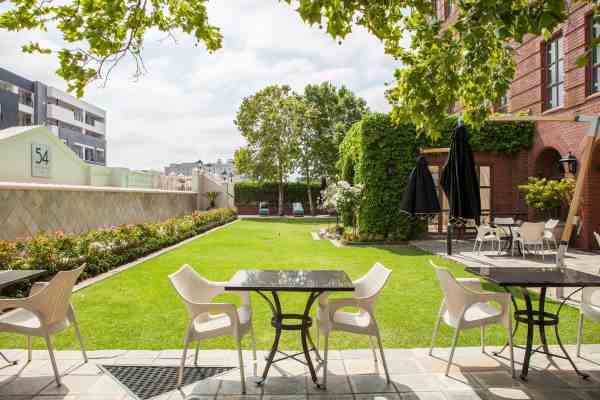 54 on Bath is located in Rosebank and is a short walk from the Gautrain Rosebank Station, making it easily accessibly by public transport or car.
The Saxon Hotel has a mountain of options for afternoon and morning tea. Morning tea is served between 9:30 and 11:30 am. Afternoon tea is between 13h30 and 15h30. The menu is extensive and elaborate, with afternoon tea including southern fried chicken sliders, lemongrass and chili crab cakes and caramel pots de crème.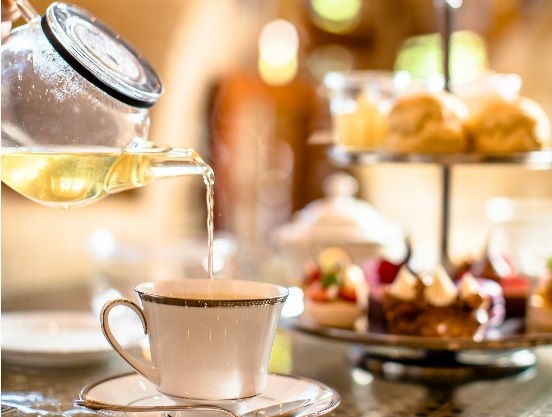 You can wash it all down from a selection of seven types of teas, including their signature rooibos and chocolate truffle tea. There are also vegetarian, vegan and pescatarian menus for morning and afternoon teas, and the menus look rather tempting. Chili caramel southern fried white beans, anyone? This hotel is located in Sandton and isn't within easy walking distance of the Gautrain, so it's best accessed via automobile. It's also a 15 min drive north of Sanctuary Mandela.
Shopping and sightseeing in Johannesburg
Located in Sandton, Amatuli is a shop for those looking for souvenirs made in Africa. From local textiles and wood carvings to furniture and artefacts, Amatuli has it all. This is best accessed via car.
Explore Johannesburg from atop a double decker red bus. You can take the Gautrain for this attraction. Alight at Rosebank Station and take the north exit to reach the tour office. Just look for KFC and head in that direction. The offices are next door to Hamley's toy store.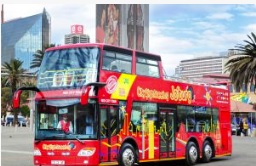 Many of the tours are hop on and off, allowing you to explore the city at your own pace. City Sightseeing also offers tours to Gold Reef City and Soweto. This is a great option for those who would like to explore the city at their own pace. The tour goes through many bustling areas, including Braamfontein Square, where you easily find great restaurants, breweries and cafes. Marble restaurant was recommended by some tour operators, particularly due to its extensive views over the city. The bar is open to everyone and reservations are not required.
A graffiti walking tour was also recommended by a couple of tour operators, with chief storyteller Charlie Moyo from Joburg Places as the guide. We were unable to find a website for this activity. Charlie, if you're out there and reading this, drop us a line and let us know where people can reach you.
There are many walking tour companies in the Johannesburg area, should an activity of this nature interest you
The Maboneng Precinct is a rejuvenated, hip neighborhood with a good art scene. It's known for its cafes, restaurants and art galleries. It's best to reach this neighborhood via car.
Conveniently located within a five minute walk from the Sandton Gautrain metro station, Nelson Mandela Square is an open-air piazza overlooking a six meter high statue of Nelson Mandela.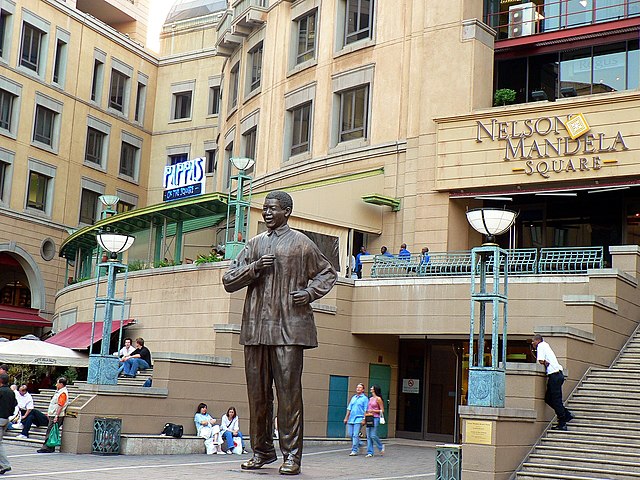 It is home to more than 60 stores and several restaurants ranging in cuisine and price range. According to the website, the journey time from OR Tambo to Sandton Station via Gautrain takes only 12 minutes, making this an excellent choice for those with limited time.
Spa treatments
Located north of the city center, the Four Seasons Westcliff hotel boasts the only outdoor spa lounge in the city. If you've only an hour to spare, the Tension Release Vigour Massage could work wonders for any post-safari aches and pains. Essential oils are coupled with deep tissue massage to relieve pain and tension throughout the body. It's particularly aimed at active individuals and frequent travelers in need of a circulation boost. There's also the Skin Instant Lab to help get you ready for the dry environment of the airplane cabin. In this 20 minute treatment you'll have your skin's hydration, elasticity, pigmentation and sebum levels analyzed. Once your results are obtained, you'll be matched up with products to meet your skin's specific requirements.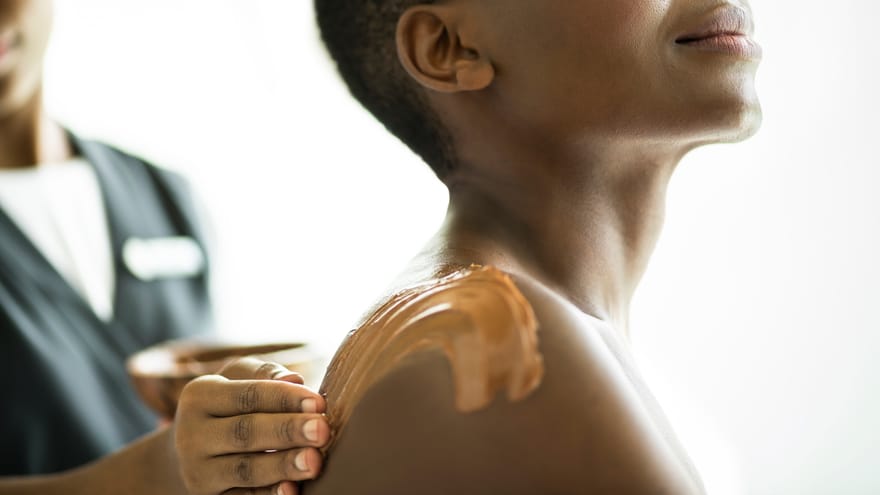 The Four Seasons also provide longer massages, an on-site running trail and full day spa experiences, should you wish to pamper yourself even more.
Irene Farm and Camdeboo Day Spa
Located between Pretoria and Johannesburg, Camdeboo Day Spa offers a wide variety of pampering treatments. There's also a steam room and an open air gym. The spa is located 700 meters from Irene Farm.
Irene Farm is a great option for those looking for some tranquility and who wish to spend time outdoors. The farm is set on some magnificent grounds on which guests can do a self-guided tour. There are restaurants, a deli and even a tasting room. Guests can purchase their food outside and dine at one of the many picnic tables, too.
Want to get in a workout before hopping on a plane? Located north of the city in Upper Houghton, the Residence Hotel features pools, tennis and spa treatments. Swimming some laps in the pool, or just relaxing under the African sun, is not a bad way to enjoy a layover.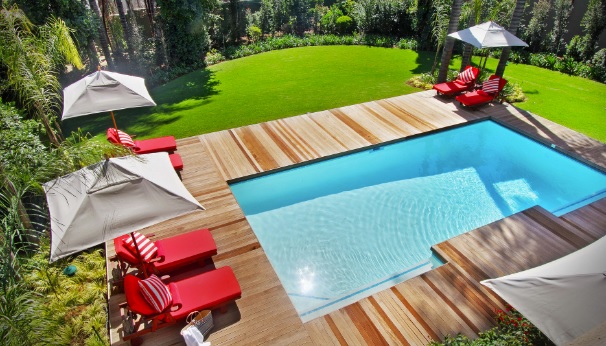 Back to nature
No, this isn't an expletive. Modderfontein is a 265 hectare (655 acres) public nature reserve. It is open year-round from 6am to 18h00 and is about a 30 min drive from the airport. There is a nominal entrance fee which is currently 40 Rand or $2 USD. Guests can learn about the indigenous trees and shrubs that have been planted, or enjoy activities such as bird watching and fishing.
Taroko Farm is also located here. It includes a restaurant, cycling and running trails and an organic garden. This is a great option for those who would like to enjoy their layover in the great outdoors.
Ideas for long layovers in Johannesburg
In addition to the ideas mentioned above, here are more options for those with layover of more than eight hours.
The Apartheid Museum opened in 2001 and is open Wednesday through Sunday from 7am to 17h00.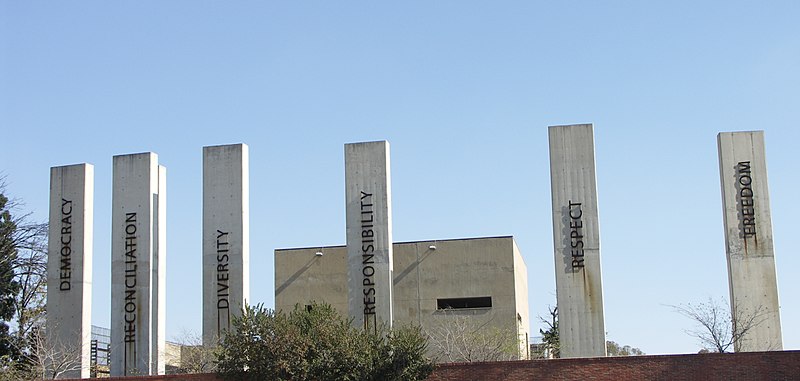 As Onne from Wild Wings Safaris put it, "this attraction needs no introduction. It's a hefty activity, requiring at least three to four hours inside the museum to take it all in. It can be emotionally draining".
The Apartheid Museum is located near Gold Reef City.
Located just south of Johannesburg, this theme park is based on the gold rush of the 19th century in Johannesburg. It has 16 thrilling rides and 21 dedicated kid rides. There's also a casino, hotels and restaurants, live shows and, of course, shopping.
Horseback riding
It's possible to get in a few hours of horseback riding on a long layover. One tour operator offers two hours rides at 9 and 11am. They can collect guests from the airport and take them to a nature reserve, about 1.5 hours away.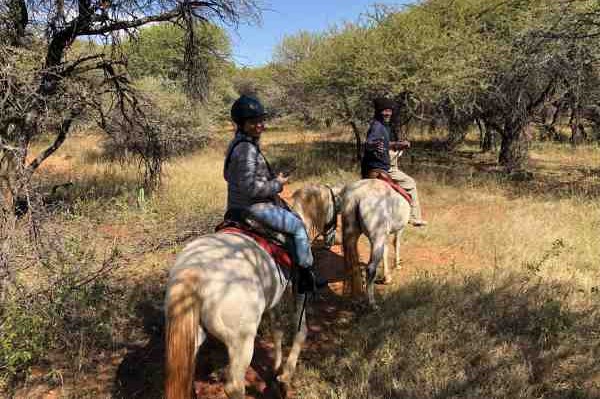 Your layover would have to be in the morning for this tour, but it's a nice option for those who would like to explore the surrounding area on horseback. For more information, contact Jason at Deeprift Ventours.
Soweto
A trip to Soweto is one of the most popular activities for Johannesburg day trips. This activity was mentioned by nearly every tour operator who participated in this article.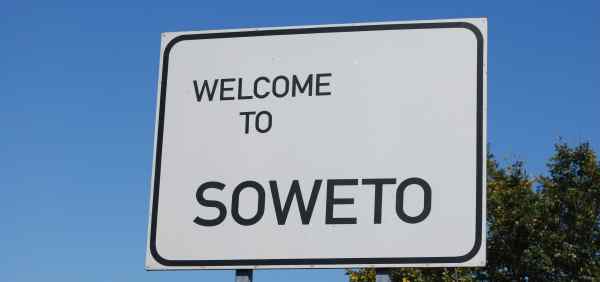 Soweto is located to the southwest of Johannesburg, with the name coming from south west townships. Soweto was created as a black township and became the largest black city in South Africa. It experienced a great deal of civil unrest during the apartheid regime, with the riot of 1976 injuring more than 1000 people. Most tours will touch on the main historical points and sites.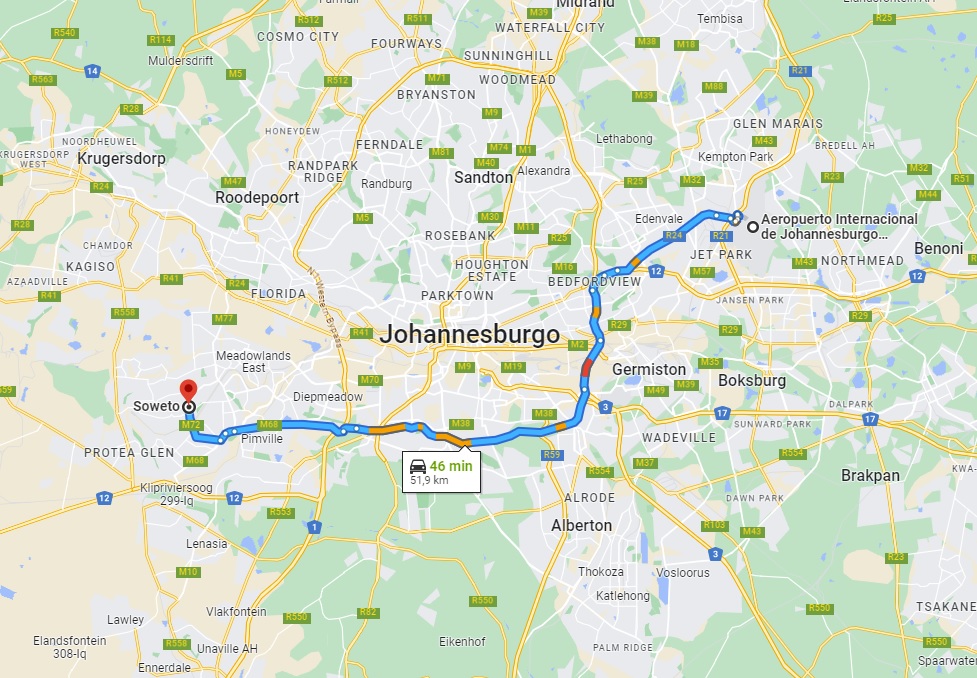 A wide variety of Soweto tours are available, from walking and biking tours to driving tours. It is recommended that you visit Soweto with a guide. Most tour companies can collect you from the airport.
The Cradle of Humankind
The Cradle of Humankind is a UNESCO World Heritage site located roughly 50km northwest of Johannesburg.

Two world famous sites—Gladysvale and Malapa—are key attractions visited on this tour. They are situated within the Greater Cradle Nature Reserve which comprise the core of the UNESCO-designated Cradle of Humankind World Heritage Site. The Malapa Human Origins Tour is the only private guided tour designated to conduct an exclusive and unforgettable journey of storytelling as you walk in the footsteps of ancient human relatives and learn more about the story of human origins. It affords guests the unique opportunity of experiencing, firsthand, active fossil digs in the heart of the Cradle of Humankind. Onne of Wild Wings Safaris recommends you ask for Howard Geach as your guide.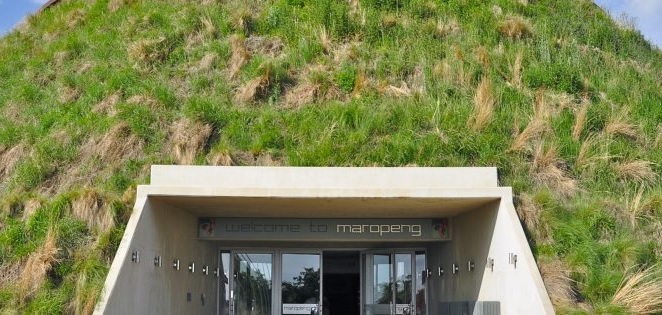 At the Maropeng visitor center guests can take a guided tour through 2 km of the site. Tours are at set times and require a ticket which can be purchased on site or online. Maropeng means 'the place that we come from'.
Interested in booking a tour to Johannesburg?
These tour operators contributed to this article, are extremely knowledgeable about the Johannesburg area and can help you with your planning and booking.
Africa Inside Out
Deeprift Ventours
Springbok Atlas Tours and Safaris
Wild Wings Safaris

About the author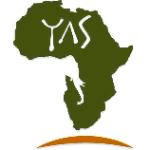 yourafricansafari.com

Has been on: 15 safaris
Your African Safari (YAS) is a safari-planning resource for anyone planning an African safari. It features information on over 2600 tour operators including company and vehicle descriptions, user reviews, safari itineraries and photos. It also features detailed information on 14 countries and 84 parks and game reserves.
Share on:
© Your African Safari Ltd, All rights reserved.
About YAS
Your African Safari is a safari-planning and safari review site. It was created to help support a healthy African wildlife population. All reviews are vetted before being approved and only ethical tours are published