Safari suitability:

9/10
Find your tour
Four of the big five can be seen in Ruaha National Park on long and short wilderness walking safaris and game viewing expeditions.
Total area:
22,000 km² (8494 miles²)
Anti-malarial:
Not required
---
What YAS members think
Most-visited month:
August
* Crowded parks have a lower rating
---
Highlights
Located between the northern and southern hemispheres, where migrant birds and east and south African mammals meet
There is an abundance of wildlife, including 10,000 elephants
The park is not a very busy tourist destination, keeping its ecosystem largely pristine
Ruaha National Park is an excellent location for bird watching, with over 550 species of birds
About Ruaha National Park
Centrally located in Tanzania, Ruaha National Park is one of the country's largest parks covering about 22,000 km² (8494 miles²). Established in 1910, the park is part of a larger ecosystem that includes Rungwa Game Reserve, Usangu Game Reserve and other protected areas. It is made up of mountains and escarpments, grassland plains and riverine areas and contains over 1,650 plant species. Because of its unique location at a joining point between the northern and southern hemispheres, where migrant birds and east and south African mammals overlap, it is exceptional in that visitors can experience an abundance of wildlife all in one place. In short, Ruaha National Park is perfect for migration enthusiasts. The park is somewhat remote and is not on a main tourist circuit, offering visitors an opportunity to experience its pristine and unexplored ecosystem. Though there are some natural springs throughout the park, the main water source and "life line" is the Ruaha River, which also serves as a resource to lure game out into the open.
Wildlife of Ruaha Natioal Park
The park is best known for its large population of elephants. To date there are about 10,000 elephants residing within its boundaries. Ruaha National Park also is home to a variety of other mammals including large prides of lions, cheetah, buffalo, zebras and giraffe and a variety of reptiles including crocodiles, agama lizards and both poisonous and nonpoisonous snakes. The park is considered to be a birdwatchers' paradise with more than 550 species of birds including the purple heron, grey-crowned crane and red-billed hornbill.
Ruaha National Park is easily accessible by car or air travel. By land, the most direct route is from Iringa, which is about 130 km (80 miles) long. There are chartered and commercial flights from Arusha, Dodma, Kigoma and Dar-es-salaam.
When is the best time to visit Ruaha National Park?
The dry season at Ruaha National Park falls between the months of May and December, which is also the best time for viewing large mammals and predators. The wet season, which runs from January to April, is the best time for bird watching and to experience the flourishing vegetation and plant life.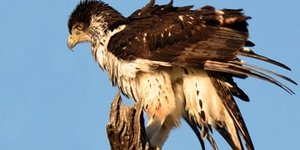 Visited: Jan. 2015
Reviewed: Feb. 27, 2015
Having visited Ruaha last September during the dry season, I was eager to return after the rains had come as I know what a dramatic change it can be in Southern Tanzania. While the animals tend to concentrate along the river during the dry season making for a prolific game drive, there are still many animals to be seen during the green season. However, with the trees in full-leaf and the grass much taller, you have to be more tuned into your surroundings in order to spot the animals. You see one or two elephants and suddenly 3-4 materialize out of the bush so silently. The colors of the animals also seem more vibrant against the green landscape. Overall, I would recommend that one should try to visit the park in both seasons, and if I had to choose, I would definitely go in Jan or Feb. I stayed at a lodge in the park and had a mixed experience given that the windows were only screened therefore when there was heavy rain during the night, the wind & rain blew into the room. As well during the wet season, it is best to check your bed sheets for spiders etc. As the lodge is situated on the Ruaha River, the nocturnal sounds of the hippos can either be exciting or disturbing as they continue throughout the night calling and snorting amongst each other. However the morning brings a brilliant sunrise over the mountains along with hippos, birds and occasional lions returning from the hunt. If you like to be away from the crowds and not in a convoy of safari vehicles then this is a park for you!
* Crowded parks have a lower rating
---
Safari guru

Tanzania
Visited: Jan. 2015
Reviewed: Feb. 27, 2015
Domestic flights to Ruaha
Although it is possible to drive to Ruaha from Dar es Salaam, the drive is around 10 hours. As daily flights are available, most people opt to fly-in and make the most of their time.
The following airlines travel to Ruaha National Park