Mgahinga Gorilla National Park
Safari suitability:

6/10
Find your tour
No big five sightings, but gorilla trekking is a phenomenal experience. This is done on foot/hiking and can take 3-8 hours.
Total area:
33.7 km² (13 miles²).
Anti-malarial:
Not required
---
What YAS members think
Most-visited month:
November
* Crowded parks have a lower rating
---
Highlights
Mgahinga National Park is the smallest park in Uganda
The park encompasses the peaks of the extinct Virunga volcanoes
The park is home to over 150 bird species and 75 mammal species, providing a refuge to the endangered mountain gorilla
The most common route to the park requires a full day's travel
June, July and August are the driest and best times to visit
About Mgahinga Gorilla National Park
Located in the farthest southwestern corner of Uganda, at an altitude between 2,227 meters (1.4 miles) and 4,127 meters (2.6 miles) above sea level, Mgahinga National Park is the country's smallest park, covering only 33.7 km² (13 miles²). Set against a breathtaking backdrop of the three northernmost peaks of the now extinct Virunga volcanoes—Mount Muhavura, Mount Gahinga, and Mount Sabinyo—Mgahinga National Park is made up of heath vegetation, montane forest and savannah woodland.

In the past, much of the park's natural habitat was destroyed as a result of population growth and poaching. In 1930, Mgahinga National Park was declared a game sanctuary and in 1991 it was gazetted and made a part of the Virunga Conservation Area. The park is one of only two locations in the country that offers refuge to the endangered mountain gorilla. Over the course of history, the park has also been considered to be of great biological importance for its ability to provide shelter for mountain plants and animals that migrate along the slopes due to climatic changes. Mgahinga National Park is home to over 75 species of mammals, including elephants, side striped jackals, forest buffalo and the endangered golden monkey. It is also recorded to have over 150 bird species, including the crowned crane, blue-headed coucal and white-naped raven.
There are different options of travel to the park; however, the most common route runs through Kibale and Kisoro from Kampala (540 km, or 335 miles, away) at an estimated 8 hours of travel time—including 80 km (50 miles) stretch of winding mountainous roads. There are also air travel options from Entebbe International Airport to Kisoro.
When to visit Mgahinga National Park
The park has two wet seasons, one from February through May and the second from September through December, during which temperatures are generally cooler, averaging 15 C (59 F) and dropping to about 10 C (50 F) at night. The drier months are the best times to go, especially for gorilla trekking.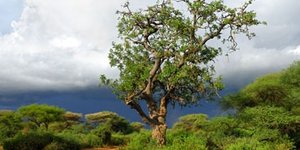 Visited: Jul. 2015
Reviewed: Aug. 11, 2015
Visiting the mountain gorillas has been my life-long dream, and thanks to KWSS, the experience was thrilling and full of wonder for me, my husband, and two teen sons. We walked for about 1 hour and spent 1 hour observing 10 gorillas grazing, climbing, playing, relaxing, and generally doing what they like to do. One of the gorillas actually approached my husband's camera to touch the microphone. The gorillas are incredibly gentle, human-like, and comfortable with their human observers. I am so happy KWSS suggested we visit the gorilla family in Mgahinga--a well kept secret. Many books suggest that the Mgahinga family moves into Rwanda and the DRC, but the extremely knowledgeable park ranger informed us that is no longer the case due to the family acquiring a new female from the other two wild gorilla families that live in the same park. As with Bwindi, a siting is "guaranteed." Our only regret is that we did not plan another night or two at Travelers Rest to go on the Mgahinga Batwa Trail or track the Golden Monkeys. This was one of our favorite places on our 15 day Kenya/Uganda safari. The many benefits of Mgahinga--close to Travelers Rest, borders Rwanda and the DRC, at the foot of the Virunga Mountains, easy walk to the gorillas, friendly family and rangers, still feels "undiscovered"
* Crowded parks have a lower rating
---
Safari enthusiast

United States
Visited: Jul. 2015
Reviewed: Aug. 11, 2015
Mgahinga is contiguous with Volcanoes National Park in Rwanda and is easily accessible from this park. It is about 1.5 hours away, in car, not including border crossing times. The nearest international airport is in Kigali, Rwanda.