Kgalagadi Transfrontier Park
Safari suitability:

7/10
Find your tour
For those interested in the mannerisms of large cats—including the magnificent black-maned lion—and the migratory movements of ungulates
Total area:
38,000 km² (15,000 mile²)
Anti-malarial:
Not required
---
What YAS members think
* Crowded parks have a lower rating
---
Highlights
Amalgam of South Africa's Kalahari Gemsbok National Park and Botwana's Gemsbok National Park
The black-maned lion and other large mammalian predators
All of the large felines
Seasonal migratory movements of large herbivores
904 km (562 miles) from Johannesburg and 250 km (155 miles) from Ipington
Savannahs and grasslands, dunes and riverbeds
Only two of the big five: lion and leopard
About Kgalagadi Transfrontier Park
Located on the border of South Africa and Botswana in the southern part of the Kalahari Desert, wildlife conserve Kgalagadi Transfrontier Park comprises South Africa's Kalahari Gemsbok National Park and Botwana's Gemsbok National Park. Established as Africa's first formal peace park in 2000, Kgalagadi is jointly managed by the wildlife authorities of South Africa and Botswana. The 38,000 km² (15,000 mile²) park—three-quarters of which lie in Botswana—is 904 km (562 miles) from Johannesburg and 250 km (155 miles) from Ipington, where its blue skies and red dunes chase the generally dry riverbeds of the Auob and Nossob Rivers.
Known far and wide for its game, large, fenceless Kgalagadi is among the best-known parks for safari. The sparse vegetation and the profusion of animals along its riverbeds and pans makes for nigh-unparalleled game viewing, and its open, barrierless terrain allows those who visit its savannah and grasslands to witness the predatory maneuvers of large mammalian carnivores (cheetah, leopard, hyena and the kingly black-maned lion) and spy the large-scale seasonal migratory movements of large herbivores (blue wildebeest, springbok, eland and red hartebeest). Birders have the opportunity to spy some 300 species of bird, including the flights and carrion-related fancies of many a raptor. Spotting closer-to-the-ground pangolin, honey badger, ground squirrel and meerkat rounds out the experience.
The park takes great care to support its conservation efforts by enforcing strict limits on the number of vehicles and people visiting, so planning ahead is key. 4x4 vehicles are strongly recommended (self-drive and mobile tours), and routes on the Botswana side require a convoy of no fewer than two vehicles (travel limited to daylight hours and on-road driving). If traveling from one country to another, visitors must stay in the park for at least two nights.
When to visit Kgalagadi Transfrontier Park
Recommended winter (May to August) is cool and dry, with sunny days and cold nights; summer (October to February) temperatures can reach 42 degrees C (108 degrees F) in the shade. This arid region sees annual rainfall of 200 mm (7.8 inches) between January and April, with dramatic thunderstorms between November and April.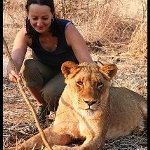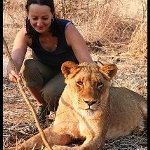 Safari enthusiast
Top contributor
Safari guru
African traveller

Australia
551 kudus
Photos (0)
Reviews (15)
Visited: Dec. 2010
Reviewed: May. 10, 2013
As far as animal viewing is concerned, you really can't go wrong in southern Africa. The Kgalagadi Transfrontier Park is absolutely massive and chock full of superlative wildlife. The list would be shorter if I mentioned what we didn't see! Plenty of zebras, gazelles, gnus, lions and springbok, as well as hartebeest. We even managed to score a cheetah mum with cubs. Just super! The park itself is really gorgeous, those red rolling dunes glowing a crimson red as the sun starts to set. The amazing thing about the Kgalagadi is that there are still plenty of indigenous communities who live here, which gives it a very unique feel, especially when compared to other parks where the only things you see is other 4WDs packed with tourists. We entered from Botswana with our own truck, so didn't need to stop at any of the lodges; we did take advantage of the free bush campsites, at least to replenish our fresh water supplies. I'm sure all the lodges would be very nice to stay in, but I do recommend organizing a bush-camp trip here if you're game. Falling asleep in a tent to the sounds of howling hyenas is just mind-blowing. This would have to be one of the last unspoilt parks in Africa and experiencing it sans the luxury of mod-cons is a superb way to really absorb this unique corner of the continent. You really don't need a ranger to 'guide' you around the Kgalagadi, the animals just about jump on your bonnet so if you've ever dreamt of flying to Africa, renting a 4WD and going off into the endless savannah...this would be my top pick.
* Crowded parks have a lower rating
---
Safari guru

Australia
Visited: Dec. 2010
Reviewed: May. 10, 2013
Although Kgalagadi straddles two countries, Botswana and South Africa, it is possible to access the park through five gates in three different countries! From South Africa access is through the Twee Rivieren gate, from Namibia through the Mata-Mata gate, and from Botswana through the Two Rivers, Mabuasehube and Kaa gates. Passports are not required for entry, unless departure is planned through a different gate into another country, but Your African Safari encourages all travelers to have theirs on them.
Internal flights to Kgalagadi
It is possible to take a charter flight into the park from Cape Town, Johannesburg, Upington and Maun, but this will need to be arranged in advance. There are also scheduled flights to Upington on several domestic carriers, where you can hire a car and drive the remaining distance.
Traveling distances to Kgalagadi Transfrontier Park
Upington to Twee Rivieren: 265 km
Kuruman to Twee Rivieren: 383 km Kimberley to Twee Rivieren: 621 km Cape Town to Twee Rivieren: 1 076 km Johannesburg to Twee Rivieren: 1 090 km Durban to Twee Rivieren: 1 463 km Mata-Mata to Keetmanshoop: 280 km Kaa gate to Maun: 797 km Mabuasehube gate to Gaborone: 533 km Mabuasehube gate to Maun: 787 km Mabuasehube gate to Tsabong: 115 km Two Rivers to Gaborone: 810 km Two Rivers to Tsabong: 310 km
Traveling distances within Kgalagadi Transfrontier Park
Twee Rivieren—Nossob: 3.5 hrs Twee Rivieren—Mata-Mata: 2.5 hrs Twee Rivieren—Kalahari Tent Camp: 2.5 hrs Twee Rivieren—Grootkolk: 6 hrs Nossob—Union's End: 3 hrs Nossob—Mata-Mata (over Kamqua dune road): 3.5 hrs Nossob—Bitterpan: 2.5 hrs Bitterpan—Mata-Mata: 2 hrs Nossob—Grootkolk: 2.5 hrs Mata-Mata—Kalahari Tent Camp: 4 km
The following airlines travel to Kgalagadi Transfrontier Park
---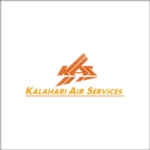 Established in 1968, Kalahari Air Services is Botswana's most experienced commercial maintenance and air charter service provider. With our dedicated fleet and crew, we offer safe, reliable and efficient private charters throughout Southern Africa. A flexible and dynamic company, we offer a wide range of aircraft services to meet your needs. Please see our services page for further details on all our services, such as medical rescue, freight and aircraft acquisition, and sales. Visit website
Also flies to: