Namib-Naukluft National Park
Safari suitability:

7/10
Find your tour
For the intrepid traveler, visiting this glorious landscape is like celebrating Halloween on the moon. With zebras.
Total area:
50,000 km² (19,000 mile²)
Anti-malarial:
Not required
---
What YAS members think
Most-visited month:
March
* Crowded parks have a lower rating
---
Highlights
Home to the Namib—the world's oldest desert
Largest conservation park in Africa
For the bird enthusiasts and ornithologists, Sandwich Harbour a key wetland for waterbirds, flamingoes and cormorants among them
Orange sand dunes of Sossusvlei, the forest of Dead Vlei and the Naukluft Mountains
Large mammals include Hartmann's mountain zebra, giraffe, gemsbok, springbok, leopard and cheetah
About Namib-Naukluft National Park
Situated on the west coast of Namibia, beautiful, orange-duned Namib-Naukluft National Park is home to the Namib, considered by many to be the world's most ancient desert. Established in 1907, vast, 50,000 km² (19,000 mile²) Namib-Naukluft is the largest conservation park in Africa. Its wetlands couch bird-wealthy marine sanctuary Sandwich Harbour, and its deserts boast the magnificent sand dunes of Sossusvlei, the haunting, clay-bed-based forest of Dead Vlei, the Naukluft mountain range and several cutting canyons.
Not to be missed are spectacular Sossusvlei's haunting, rust-colored dunes—among the world's tallest and most spectacular--and its leafless forest of dead, sun-scorched camel thorn trees. Fog blown in off the Atlantic Ocean accounts for most of the desert's moisture and the winds that blow it for the dunes' oxidized hue. Jackal, hyena, raptors, snakes, scorpions and myriad other tough beasts, birds, reptiles and insects have adapted to living in the region's desert, and lichens, succulents and grasses contribute to the park's botanical abundance. Large mammals protected in this park include Hartmann's mountain zebra, giraffe, gemsbok, springbok, leopard and cheetah.
While much of the park is not accessible, visitors to this wondrous place can plan to slide down sand dunes, embark on rugged hikes, photograph, 4x4, stargaze and camp (the park's only in-house accommodations are basic campsites). The dunes' colors are finest at sunrise and sunset.
When is the best time of year to visit Namib-Naukluft National Park?
Most consider April to October the best months to visit, followed by the dry winter months of July to September. High summer temperatures mean that hiking is only permitted between March and October, and the park receives 106 mm (4.1 inches) of rainfall each year, generally in February and April. Sandwich Harbour does not allow camping and is open to visitors—4x4 vehicles only—before and after dark. No angling is allowed between the end of January and mid-April.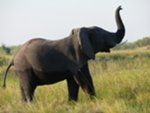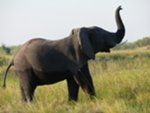 Top contributor
Safari guru
African traveller

Namibia
94 kudus
Reviews (10)
Visited: Mar. 2019
Reviewed: Apr. 12, 2019
The Namib Desert in my opinion is one of the world's most beautiful landscapes. This desert is home to towering red dunes, craggy mountains, huge skies, iconic vistas and a surprising array of hardy wildlife. The Namib-Naukluft National Park is huge, sprawling over 50,000 square kilometres. Luckily, parts of it are surprisingly accessible. There are a number of accommodation options close to Sesriem and one can also camp just within the park. This forms the ideal base to explore the park's most famous sites including Deadvlei, Sossusvlei, Dune 45, and Sesriem Canyon. Visiting Deadvlei, where the skeletons of dead trees stand guard eerily over cracked white clay and towering red dunes, requires a 20-minute walk from the parking area. Big Daddy is a dune towering high over Deadvlei. Many people climb it for sunrise or sunset photo opportunities. Nearby Sossusvlei is also worth a stop. It's a large pan that very occasionally fills with water. Like Deadvlei, it's surrounded by towering dunes, and it's fun to climb one for an amazingly expansive view of dune fields that seem to go on forever. One can self-drive the route, but doing a tour with an experienced guide will give you more insight into the area and also open your eyes to the amazing array of wildlife that calls the desert home. The park offers great photographic opportunities of the amazing landscape, and the area is also home to Hartmann's zebra, giraffe, brown hyaena, springbok, bat-eared fox, cape fox, klipspringer and oryx. Birding the park offers the opportunity to see some of Namibia's special desert adapted birds, with dune lark being seen in the park - this is Namibia's only true endemic bird and the park is a good place to see this bird. Other species include Ruppell's korhaan, Ludwig's bustard, Namaqua sandgrouse, Monteiro's hornbill, dune lark, black-eared sparrow-lark, scaly-feathered finch and dusky sunbird. Ensure you have plenty of water for any of the walks, take your camera and fall in love with the amazing desert. This is a must stop on a tour of Namibia.
* Crowded parks have a lower rating
---
Safari guru

Namibia
Visited: Mar. 2019
Reviewed: Apr. 12, 2019
Driving to Namib-Naukluft
If you are arriving at Windhoek's international airport and planning on hiring a car, the drive will take you around four hours and 40 minutes, in normal conditions.
The following airlines travel to Namib-Naukluft National Park
---

The company is registered as Nomad Aviation (Pty) Ltd trading as Bay Air Aviation, with administrative offices in the coastal town of Walvis Bay and the operational hub at Eros Airport, Windhoek. The company is known to offer charters and scheduled flights, transporting of passengers and freight in Namibia and neighboring states, using light to medium class aircraft. In addition to operating in Namibia the company has completed contract work in Angola, Congo, Niger as well as South Africa using mostly King Air 200's, Beechcraft 1900's and Cessna Grand Caravan's. Bay Air has been operating scheduled air services between Walvis Bay and Windhoek Eros as well as Windhoek and Johannesburg for the past 8 years. It is an aircraft charter company specializing in scheduled and non-scheduled air transport. The two directors, its founding members, have been in business since 1989. Visit website
Also flies to:



---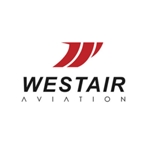 Westair Aviation is a fully integrated aviation service provider and airline based in Windhoek, Namibia. Having started out as an aircraft maintenance facility 50 years ago in 1967, Westair Aviation has grown to become the most experienced aviation company in Namibia. Today the Westair Aviation fleet consists of more than 30 aircraft suitable to conduct any mission across Africa. Offering a wide range of specialised aviation services, Westair Aviation provides tailored aviation solutions of the highest standards to discerning customers. Westair Aviation offers the following services: • Aircraft Charters • Aircraft Leasing • Specialised Aviation Services • Medical Evacuation and Air Ambulance • Geophysical Surveys • Flight Training • Aircraft Management and Consulting • Offshore Support Visit website
Also flies to:


---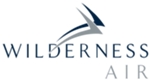 Wilderness Air is proud to be the air partner of Wilderness Safaris, a responsible ecotourism and conservation company with private access to the finest wilderness and wildlife areas of southern Africa. Wilderness Air began operating in 1991, with one aircraft based in Botswana servicing two camps in the Okavango Delta. Today, Wilderness Air is also based in Namibia, Zambia and Zimbabwe, operating over 35 aircraft and employing over 50 pilots. Throughout its time, it has maintained its excellent reputation for safety and guest service. We operate a varied fleet of light aircraft, chosen for their ability to transport visitors comfortably to remote wilderness destinations with dirt airstrips. Each aircraft type has been selected based on its ability to transport different numbers of passengers, over different ranges. Our fleet operates on a daily circuit within the regions. Wilderness Air is privileged to fly into some of the most pristine wilderness areas in the world. We believe that flying is an integral part of each guest's travel experience and that our pilots' passion and professionalism can make a genuine contribution to journeys that change lives. Visit website
Also flies to: