Safari suitability:

9/10
Find your tour
Of the big five, only the buffalo don't roam here. This park has a great tourist infrastructure.
Total area:
22,270 km² (8600 mi²)
Anti-malarial:
Not required
---
What YAS members think
* Crowded parks have a lower rating
---
Highlights
Best time to visit is between May and September
Self-drive safaris are permitted
Arid, pleasant climate makes for a comfortable safari
About Etosha National Park
Established in 1907, Etosha National Park is located in the northwest corner of Namibia. Etosha is 22,270 km² (8600 mi²), making it the sixth largest national park in Africa. The name 'Etosha' means 'place of dry water' or 'huge white area' which can be attributed to the fact that roughly 20 – 25% of the park is covered by a great salt pan. Etosha is an excellent destination for game viewing and four of the big five can be spotted here – elephant, leopard, lion and rhino (both black and white). Only the buffalo is absent.
While Etosha may be one of more established national parks in Africa, it offers a limited number of lodging options inside the park boundaries. Only a handful of camps exist, most of which are situated around a permanent waterhole for game viewing opportunities. Many guests choose to stay outside the park boundaries, where there is a wider range of accommodation. However, because the park's entrances are closed from dusk until dawn, those staying outside the park will not be able to partake in any night drive safaris and may wish to consider this when booking their accommodation.
Etosha is a well-established national park that offers excellent game viewing opportunities all year round. Although it does not have an extensive range of lodging options inside the park, the camps that are inside the park are of good standards and are ideally situated for wildlife encounters. Etosha is recommended for all levels of travelers.
When is the best time of year to visit Etosha National Park?
The game viewing in Etosha National Park is excellent year-round, with the best times to visit coinciding with the dry, cooler season. From May to September the extremely low levels of precipitation force wildlife around the few remaining water sources, making game viewing in Etosha spectacular. The daytime temperatures are also more tolerable during this time of year although, with the low levels of humidity, Etosha's climate is very agreeable at any time of the year. The arid conditions mean the flora of Etosha is mainly grass, savannah and smaller trees. Two of the more prevalent species of trees in Etosha are Mopane and Moringa. The Mopane thrives in a high alkaline environment and the Moringa, a hardy tree with nutritious leaves, is drought-resistant and grows in dry, sandy soils.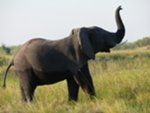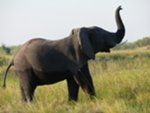 Top contributor
Safari guru
African traveller

Namibia
94 kudus
Reviews (10)
Visited: Jan. 2019
Reviewed: Mar. 30, 2019
One of Nature Travel Namibia's guides who loves exploring the Etosha National Park writes the following review about this spectacular Namibian National Park: "In my opinion, Etosha is one of Africa's greatest National Parks. It covers more than 20,000 km2, is one of the world's great wildlife-viewing venues. The Etosha Pan, meaning " The Great White Place", is believed to be formed over 100 million years ago and it is 130km's long and up to 50km's wide, which covers a quarter of the whole park. The dramatic open landscapes with the white soil from the Etosha pan set a scene that only a photographer can dream of. The sheer vastness of the Park and its great diversity make for an awesome safari. In all of my visits to the park I have yet to be disappointed. Etosha known as the great white place really has something for everyone. From the majestic big cats like Lion, Leopard and of course Cheetah. By the way probably one of the best places in Southern Africa to see the beautiful Cheetah. Large herds of Zebra, with both Burchell's and Hartmann's Zebra occurring-the only place in the world where this is possible. Large herds Elephants roam the massive park and the experience of seeing these large gentle giants coming down to drink is breath-taking. Antelope are abundant with Oryx (Gemsbok), Springbok, Kudu, Impala, Black-faced Impala (endemic to Etosha), Blue Wildebeest, Damara Dik-dik( Endemic), Eland, and Red Haartebeest being some of the species seen over my trips to the Park. Etosha is home to both White and Black Rhino and in my experience from travelling all across the continent it's the best place to see the rare and endangered Black Rhino. Other special sightings I have had in the park have been: Caracal, Serval, brown Hyena, Bat eared Fox and Honey Badger. This park is truly amazing and a must for any wild life enthusiast. The park also offers some amazing birding for the twitchers, with just over 380 bird species recorded in the Park, some of the highlight on my trips have been: Blue Crane, Secretarybird, Red-necked Falcon, Kori Bustard, Burchell's Sandgrouse, Monteiro's Hornbill, Bradfield's Hornbill, Crimson-breasted Shrike, Violet Wood Hoopoe, Barred Wren Warbler, Caspian Plover, numerous Larks, Double-banded Courser and Rufous-eared Warbler to name a few. I have had many visits to this amazing national Park and I can assure you, that you won't be disappointed."
* Crowded parks have a lower rating
---
Safari guru

Namibia
Visited: Jan. 2019
Reviewed: Mar. 30, 2019
Show more
Driving to Etosha from Windhoek
The drive from the international airport in Windhoek to Etosha is around 4 to 4.5 hours, in normal conditions. Many people hire their own cars in Namibia and do a self-drive safari.
Flying to Etosha National Park
Air Namibia offers daily flights from Eros Airport to Ondangwa Airport. Ondangwa is just north of Etosha. The flight is one hour in duration.
The following airlines travel to Etosha National Park