Tanzania Serengeti Adventure
Main focus:
Luxury safaris
Languages:
English, German, Italian, Spanish
---
---
About Tanzania Serengeti Adventure
We are proud to be one of the pioneering and reputable safari company in Tanzania with over years of experience in creating guaranteed and tailor-made expeditions throughout East Africa – Tanzania, Kenya, Uganda and Rwanda. We offer the finest selection of trips capturing the famed Serengeti and Masai Mara migration, Ngorongoro Crater and Gorilla treks, climbs to the peaks of Mt. Kilimanjaro, beach getaways to islands of Zanzibar. Our team of dedicated staff has been committed to wildlife conservation, the environment and corporate social responsibility. With the years we have perfected the skills needed to serve you best and ensure an adventure of a lifetime. Since 1990, we active member of the Tanzania Association of Tour Operators and Tanzania Tourist Board. The Association recommends you use licensed tour operators as their membership assures the highest standards of quality and service. Our services are based on trust and reliability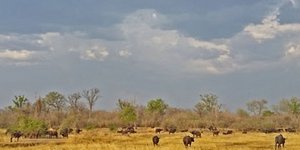 Visited: Dec. 2018
Reviewed: Oct. 17, 2020
I decided to do a second safari with Tanzania Serengeti Adventure (TSA) but with my wife this time. I had fond memories of a marvellous safari trip I did alone in 2016.

I contacted Iris and Jordan of TSA about three weeks before leaving for Tanzania and indicated the national parks we wanted to visit on a private tour and staying at Serena Lodges. Quickly, I got reply by email from Iris with a full trip schedule proposal for the 5 days 4 nights safari trip with the suggestion of staying the night before at the Serena Lodge near Arusha. In addition, we will have James as our guide who had more than 17 years of guiding experience with TSA.

Our trip was very successful on all aspects with my wife very impressed with the numbers and wide range of animals seen during the safari, including the "big five". We had plenty of time to see a maximum of the land animals, birds, plants and flowers present and view the grand migration of the wildebeests in the Serengeti park. My wife and I also enjoyed talking with James about the culture and traditions of the people of Tanzania as well as of the politic of the day.

We were greatly impressed by the quality of the services provided by the staff of Tanzania Serengeti Adventure in organizing our very successful safari trip.
---
{{ review.user.profile.user_type_display }}

Guyana
Countries visited:

Visited: Dec. 2018
Reviewed: Jan. 04, 2019
Show more