Main focus:
Budget safaris
Languages:
Dutch, English, French, German, Italian, Japanese, Mandarin, Portuguese, Russian, Spanish
---
---
About Shadows of Africa
We are proud to be the 2014 winners of the World Travel Awards for Leading Travel Agency and Tour Company in Tanzania! We offer custom safari tours to Tanzania and Kenya as well as gorilla tracking in Rwanda and beach holidays on Zanzibar. Choose us for your very own African experience and make your enguiry now! +255-77-796-2403 USA & CAN 1-800-559-9144 UK 0-808-189-0077 We speak English as well as Slovenian, Croatian, Serbian and Swahili along with French, German and Mandarin!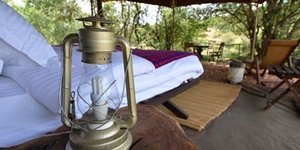 Visited: Jan. 2015
Reviewed: Jul. 07, 2018
While planning a 3-month multi-country trip with my granddaughter, beginning in January, I felt at a loss at where to begin to find a wildlife safari to kick off our trip. Turning to the Internet, I began to read top reviews for Shadows of Africa, so decided to contact them first, expecting to wait a few days for an answer as it was a weekend. The response came within hours from Stacy (in California) and that was the beginning of a beautiful friendship! From then on, all questions and concerns were addressed almost immediately.

Our timing was critical as we needed to be at our first volunteer program within a certain time frame, I wanted to arrive two days early to reduce jet lag, and I wanted to know what would happen after we arrived at an unfamiliar airport. I needn't have been concerned about any of these things. Stacy assured me that everything could be handled nicely, and she was so right! She made arrangements for us at a clean, comfortable hotel, an airport pickup and drop-off, and made provisions for our extra luggage while we would be on safari. Knowing all that beforehand eliminated a lot of potential travel stress.

As we were checking into the hotel after a morning arrival, we met not only Richard, who would be our guide/driver, but also Natasha, the owner of Shadows of Africa. What a wonderful and personal welcome! We headed to our room shortly after for some much-needed sleep. Richard would be meeting us the following morning for a day tour of Arusha. Stacy had mentioned a possible visit to an orphanage that the company supports, but we hadn't expected to have the extra day of attention. Richard gave us time at a museum, then strolled the streets of Arusha with us so that we could get a feel for local activity. Even though it took him an hour and a half to drive home, due to Arusha traffic, he wanted us to have a full day. The day included a visit, not only to the orphanage, but also to Natasha's home for another visit with her. She assured us that we could keep our extra luggage there, which helped us immensely. We felt we were in the hands of friends more than a commercial outfit.

From the time we met Richard, through our day tour, then our 4-day safari, I constantly peppered Richard with questions, not only about the parks, but about life, customs, behaviors, current events, and even personal opinions. Richard always responded graciously, even when felt I was being a nuisance and apologized. Our days were full of wonder as we saw all the beautiful animals, even being within a stone's toss of 27 elephants crossing in front of us and stared in awe at two magnificent male lions within whispering distance. We saw everything we could have possibly seen. But just as important to me was the chance to exchange thoughts and opinions with Richard, an outstanding host (guide/driver)! The only negative note to the experience was that Godi, our cook, thought we didn't like his cooking. We could never convince him that our appetites couldn't handle his overly-generous portions of wonderfully-prepared food.

I have already recommended Shadows of Africa to one of the volunteers at our next destination, and I will continue to do so, every chance I get.
---
{{ review.user.profile.user_type_display }}

United States
Countries visited:


Visited: Jan. 2015
Reviewed: Feb. 22, 2015
Show more
---
Overall rating
Cleanliness of vehicle
Meet and greet team
Quality of itinerary
Responsiveness of staff