Safari suitability:

6/10
Find your tour
Scenic, small park of important biodiversity. No elephants or rhinos.
Total area:
260 kilometers² (100 mi²)
Anti-malarial:
Not required
---
What YAS members think
Most-visited month:
November
* Crowded parks have a lower rating
---
Highlights
A small park that offers great wildlife viewing.
Home to three of the big five: buffalo, lions and leopards.
Supports a wide array of antelopes and is the only place in Uganda that has impalas.
Is small in size and should be combined with other parks
About Lake Mburo National Park
Lake Mburo National Park is located in the west of Uganda, in the Kiruhura district, 240 kilometers (150 miles) west of the capital, Kampala, and 30 kilometers (19 miles) from the region's biggest city, Mbarara. At 260 kilometers² (100 miles²), this is a relatively small park, but it harbors some animal and plant species that cannot be found anywhere else in Uganda and is an important place of biodiversity. Lake Mburo is at the centre of the park, and is a part of a wetland ecosystem consisting of 14 lakes, five of which are within the park's boundaries. Alongside lakes, there are other types of habitat: forests, hills, woodlands and grasslands, which provide for a wide variety of wildlife. The park used to have an extensive savannah, but due to the absence of elephants and their grazing, this is now shrinking and is being replaced by wetland.
Wildlife of Lake Mburo National Park
Of the three of the big five that reside within the park, herds of buffalo can be regularly seen, while lions and leopards are more difficult to spot. Burchell's zebra and impala are specific to this park. Eland, Defassa waterbuck, oribi, topi and warthog all live here and are among the more commonly viewed species. Over 300 hippos dwell in the lakes so you are sure to spot them on a boat safari. Bird watchers can enjoy around 350 bird species, including the rare red-faced barbet, African finfoot and the shoebill.
Activities to do in Lake Mburo National Park
The national park offers great forest walks and nature trails, and game can be viewed on foot here. To see aquatic animal and plant species, you are recommended to take a boat trip on Lake Mburo and enjoy the company of crocodiles, hippopotami, pelicans, cormorants and fish eagles. You can also opt for one of the horseback safaris, which enable you to get close to the wild animals, while enjoying being chauffeured by a tamed one! If you feel in need of some pampering, the Mihingo lodge offers a full-body massage, the proceeds of which go to the leopard conservation program.
When is the best time of year to visit Lake Mburo?
The park can be visited all year round. The best time for viewing game is during the two dry seasons: from June to August, and from December to February. Most precipitation is expected in April and November, while July and August are the hottest months.
Driving to Lake Mburo National Park from Entebbe or Kampala
If you're flying in to Entebbe, the drive is just under four hours, in normal traffic conditions. It's about one hour longer from Kampala.
Lake Mburo is not normally a primary destination on safari. Its location between Bwindi and/or Queen Elizabeth NP and Entebbe make it a convenient place to stop en route. At present, aside from private charter flights, there are not many domestic flight options.
The following airlines travel to Lake Mburo National Park
---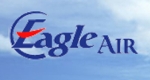 Based in Kampala, operates scheduled and charter services across eastern and central Africa. Eagle Air is a Private Ltd Company specialising in the provision of Charter and Schedule Air services both within Uganda and around the East & Central Africa Region. Eagle Air was incorporated as an air operator in June 1994. Visit website
Also flies to: