Safari suitability:

8/10
Find your tour
Now has all of the big five! Be mesmerized by the scenic wetlands and take a boat safari. This is a park with a vision!
Total area:
1,122 km² (433 mi²)
Anti-malarial:
Not required
---
What YAS members think
Most-visited month:
August
* Crowded parks have a lower rating
---
Highlights
Small park with much wildlife and vegetation
One of the most scenic savannah reserves
Home to the big five
Excellent bird watching: 500 bird species live in the park
Tsetse flies can be a nuisance
About Akagera National Park
Akagera National Park lies at the northeast corner of Rwanda, 110 kilometers (68 miles) from the capital, Kigali. The park is named after the Akagera River, the most remote source of the Nile, which flows at the park's eastern frontier, on the border with Tanzania. Akagera's size was reduced in 1997 from the original 2,500 km² (965 miles²) to 1,122 km² (433 miles²), in order to provide land for returning refugees after the end of the Civil War. The park presents Central Africa's largest protected wetland, and is a scenic labyrinth of lakes, papyrus swamps, savannahs and rolling hills. Different ecosystems complement one another, and provide a habitat for an array of mammal and bird species.
Akagera National Park wildlife
Akagera is known for its big game. Buffalo, zebras, Masai giraffes, defassa waterbucks and cape elands, can be seen grazing in the savannah. Elephants have been reintroduced, and their numbers are now estimated at around 120. These magnificent giants can be sometimes spotted at the waterholes. Once the fence at the park's western boundary is completed, there is also a plan to reintroduce lions and black rhinos.
***Update***In 2015, lions were reintroduced to this park and in 2017, rhinos were added, making Akagara the only park in Rwanda where the big five can be seen.
Baboons and vervet monkeys are among the commonly sighted primates. Leopards and hyenas, the predominate large predators found in the park, can sometimes be spotted during a night drive. If you decide to go on a boat trip on Akagera's largest lake, Lake Ihema, you are bound to encounter hippos and crocodiles. The papyrus swamps shelter a wide variety of water bird species, and are much loved by ornithologists, who are attracted by nearly 500 bird species living in the park.
Safari activities in Akagera
Guided game drives are available, as well as bird safaris and boat safaris. The guides can advise you on areas of most dense wildlife and scenic spots.
When is the best time of year to visit Akagera National Park?
The dry seasons run from June to September, and January to February, and this is usually the best time to visit. During the wet months, some roads can become impassable, although a lot of effort has been recently put into road development.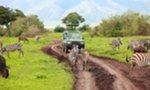 Visited: Jun. 2014
Reviewed: Jul. 23, 2014
My family and I have just returned from a great time in Africa. This was my first time to Rwanda and I wanted to see as much as possible. Although there are no gorillas here, we did see quite a few big animals like giraffe and elephants. It wasn't too crowded and lodging was nice. I would recommend for a day.
* Crowded parks have a lower rating
---
Safari enthusiast

Germany
Visited: Jun. 2014
Reviewed: Jul. 23, 2014
Getting to Akagera National Park from Kigali, Rwanda
It is roughly a two-hour drive from the airport to the park gate. It is also possible to take public buses and minibuses, such as SOTRA, to Akagera from Kigali.
The following airlines travel to Akagera National Park
---

We are a Rwandan based aviation company specializing in helicopter solutions,pilot training among other services tailored to your every need. We offer aerial excursions within Rwanda and her neighbors in the East Africa community. Our top destinations are Akagera, Nyungwe, Volcanoes National Park and Bisate Lodge. Visit website
Also flies to: