Safari suitability:

8/10
Find your tour
Often considered the gateway to Kenya's northern frontier, the plateau is known to harbor endangered mammals and be off the beaten path.
Total area:
8,000 km² (3,000 mi²)
Anti-malarial:
Not required
---
What YAS members think
* Crowded parks have a lower rating
---
Highlights
Conservation and sustainability efforts
Exclusive, luxurious accommodations
A last stronghold of the black rhino
An isolated wilderness
Mount Kenya and the Rift Valley
About Laikipia Plateau
While the remote Laikipia Plateau, located on the eastern escarpment of Kenya's Rift Valley, is not officially protected by the Kenyan government, its collective of cooperating private ranches and farms has created a functioning game reserve, complete with exclusive lodges. Laikipia Wildlife Forum, founded in 1992 with a mandate to conserve, sustain and manage the area's ecosystem and wildlife, seeks a "healthy and productive natural environment for people and wildlife for the future of Laikipia and Kenya," including ethical trade and commercial relationships with the area's residents.

Pastoralists, farmers, local communities and wild game coexist in the area's grasslands, hills and forests, which extend from Mount Kenya to the Rift Valley. The isolated area is beginning to be known for its luxurious private accommodations and its wild wilds—black rhino, Grevy zebra, wild dog, reticulated giraffe, gazelle, lion, leopard, cheetah and buffalo all make their home in this infrequently visited wilderness.
When is the best time of year to visit Laikipia?
Warm and dry, July to October are the best, most pleasant months for visiting the Laikipia Plateau and viewing game; January to March are dry but hot, and rains characterize April to June and November and December.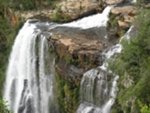 Visited: May. 2013
Reviewed: May. 24, 2013
We made our last stop In Kenya at the Laikipia Plateau National Reserve. It's found in a remote and truly wild corner of Kenya on part of the renowned Masai Mara ecosystem on Laikipia plateau. We got there by sunrise and quickly began our walking safari for our one-day adventure. We were greeted by one of the friendly tour guides who was going to show us around the spectacularly beautiful setting of the reserve. Through the walk we saw two main rivers found in the reserve the Ewaso Ng'iro and ewasa narok that run through the area attracting a rich variety of wildlife, including the second largest population of elephants in Kenya. There was also a variety of rare and endangered species which include African wild dog, Grevy's zebra and the semi-aquatic sitatunga antelope, to see this unique wildlife was definitely a special moment. The vast open plains in the shadow of the snow-capped silhouette of mount Kenya created a tranquil and secluded setting, where we encountered abundant wildlife. This was like a wild yet romantic haven. After enjoying the vast wildlife we went on an enthusiastic, exhilarating horse ride through one of Kenya's most breathtaking landscapes. Each horse had been selected for its steady temperament and expertly trained, making adventure suitable for even the most inexperience riders. The view of the Mount Kenya was spectacular. After the exhilarating horse ride, we spent the rest of the evening at the carnivore which a found to be a very jovial venue which was hailed as the ultimate "Beast of a feast". I, being barbecue lover, enjoyed their very best roasted meat which was properly done to perfection on Masai swords over huge charcoal pit and served onto cast iron plates. All in all the Laikipia national reserve is a spectacular place.
* Crowded parks have a lower rating
---
Safari enthusiast

Kenya
Visited: May. 2013
Reviewed: May. 24, 2013
Driving to Laikipia from Nairobi
It is just under a six-hour drive to the park gate from Nairobi's international airport.
Domestic flights to Loisaba (Laikipia) from Nairobi
Domestic airlines such as Safarilink offer daily flights from Nairobi. The flight is 55 minutes in duration.
This excerpt is taken from their site
"In Laikipia in the foothills of Mt Kenya, Loisaba has a combination of grassy plains, valleys, cliffs, escarpments and two major rivers, and is home to over 50 species of animals and 260 species of birds. It also offers luxurious accommodation and possibly the most diverse and exciting range of activities in Kenya."