Safari suitability:

9/10
Find your tour
Four of the big five and ample variety and quantity of wildlife make this a great choice.
Total area:
10,566 km² (4080 mi²),
Anti-malarial:
Not required
---
What YAS members think
Most-visited month:
October
* Crowded parks have a lower rating
---
Highlights
Chobe gates are open 6am to 18h30 from 1 April to 30 September
Chobe gates are open 5:30am to 19h00 from 1 October to 31 March
Close proximity to Victoria Falls National Park
One of the greatest concentrations of elephants in all of Africa
Best time to visit runs between November and March
Savuti Canal offers great wildlife viewing.
About Chobe National Park
Located in northern Botswana and established in 1967, Chobe National Park offers a stunning array of wildlife. At 10,566 km² (4080 mi²), Chobe is Africa's 13th largest national park and the third largest in Botswana after Central Kalahari and Gemsbok. The park is named after the Chobe River, which runs through the park and is a lure for the large concentrations of herbivores that come to drink, especially elephants.
Chobe wildlife
Chobe is home to several large animals and one can find four of the five big five here, with the rhino being the only one that has rarely been seen in this area. One of the greatest concentrations of elephants in all of Africa can be found in Chobe, and a safari here is guaranteed to have several elephant viewing opportunities. It is also possible to see lions, leopards and cheetahs in Chobe along with countless species of birds.

Botswana has a very well-developed safari infrastructure and offers a high-standard of safari accommodation. Because it is a national park, its gates are closed before sunrise and after sunset. This means game drives before dawn or after sunset are not allowed, which has resulted in most lodges being located outside the park. It is highly recommended for beginner and expert safari goers alike. Its proximity to other major tourist destinations, including: Okavango Delta, Central Kalahari and/or Victoria Falls, make it a highly desirable travel destination.
Of notable mention is the Linyanti Game Reserve or Concession. This small area of land is in the north western corner of the Chobe National Park, northeast of the Okavango Delta in Botswana. Eponymously named by the river that runs through it, Linyanti is best known for the large numbers of elephant that roam the reserve. It has recently become one of the best places to see theAfrican wild dog, driven virtually to the edge of extinction—roughly 6600 exist in the wild today. Safaris here promise the true Botswana experience.
Savute Channel | Savuti Canal
The Savuti Marsh is located in the western portion of Chobe and is fed by the Savuti Canal, also referred to as the Savute Channel. The flow of water in this canal feeds the marsh. The flow is erratic and the channel can remain dry for years. Savute is known for its spotted hyenas and lions. It also has excellent birdlife and a wide variety of herbivores. To the west of Savuti is the private Kwando Concession, which is listed under Okavango Delta on YAS.
When to visit Chobe National Park
Chobe National Park has two distinct seasons: a wet season and a dry season. The wet season starts around mid-October and runs through mid-March. As many of the safaris in Chobe are in a boat along the Chobe River, the increased precipitation often has no impact on ease of accessibility. The wet season does mean the concentration of animals is lower as water supplies become more abundant. The dry season, which runs from November through March means lower water levels and higher concentrations of wildlife.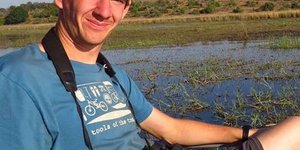 Visited: Jul. 2014
Reviewed: Feb. 07, 2018
Savuti is a great place to experience the African savannah. It has a variety of landscapes from open plains, river beds and rivers, to more bushy areas.In this review, I'm writing about my experiences around the Savuti Campsite and general wildlife spottings in Chobe. Savuti, Chobe's plains, are full of wildlife Overall, Savuti in Chobe National Park is what I expected from a safari park in Africa: some sandy roads, tones of wildlife, great sceneries, and much more. There are also ancient rock paintings here--for those who are willing to look. Obviously, I had to go and check it out, but it was very small. We also mat a couple of people who went searching for it but didn't find it. It's also not really crowded and it has a decent road system (sandy roads), which allow you to find areas which are quite remote. They also have impressive baobab trees (although I can't compare to other areas), but they are just a great addition to the semi-open landscape. The Savuti campsite is a very nice place with the ability to drive in a lot of different directions. As the camp is not fenced, you have the ability to already see wildlife in the camp. Near the restrooms, I've spotted a mongoose. On one of the days, we had elephants in the camp. At first, it was a pleasant sighting, but some of the tourists left some food hanging around, and the elephants were exploring their camping area. Just take it in mind when you go out camping. You are in the living space of the wild animals, do your best not to interact with them. Close to the Savuti campsite, there is a bridge over the Savuti canal, around there we were lucky to see some wild dogs. We were just too late to see the kill, but we could observe them nicely. Although the park rangers were a bit more sceptical, as the kill was very close to their office. They decided it was better to scare them away. Not too pleasant for the tourists, although we all could have a very good sight of them. But in the end the park rangers did a good job, they should try and keep the distance between the animals and the people. Overall, the Rangers are very friendly. South of the Savuti Campsite, you have amazing possibilities to spot wildlife. You can follow a trail along the Savuti Canal and hope to see some animals near the water. This area is a bit bushier but was very good for herbivores. Going South on the Sandridge Road will bring you to a more open area. These areas are amazing for spotting impala, greater kudu, elephants, giraffes, and much more. We even spotted lions and a civet on the road. Maribou Pan is another great place to spot some wildlife. Chobe is known for its large density of elephants, and it will not let you down. We've seen plenty of elephants, sometimes large groups. We had an amazing time here, enjoying the wildlife to its fullest. Our next stop was Chobe Riverfront.
* Crowded parks have a lower rating
---
Safari enthusiast

Belgium
Visited: Jul. 2014
Reviewed: Feb. 07, 2018
Show more
Chobe is accessible via 4x4 vehicle and by airplane. It is roughly 70km / 44 miles from Victoria Falls, Zimbabwe and will take roughly an hour. This makes Chobe a popular safari destination for those visiting Victoria Falls. Air Botswana flies to Kasane, the local airstrip for Chobe.
Entrance gates for Chobe
There are a number of different gates where you can pay your park fees and enter the park. The main entrance is at Sedudu Gate in the north-east of the park near the town of Kasane. Then there is Ngoma gate near Namibia, which can be accessed by the public road that runs for 54 kilometres through the park and is used by visitors from Namibia and those stating in the Chobe Enclave. The southern entrance to the park is at Mababe gate along a route that connects with Moremi Game Reserve. This gate is 56km south of Savute.
Many visitors use charter companies based in Maun to fly to the various lodges in Botswana. These include Delta Air, Mack Air, Moremi Air Services, Wilderness Air, Wildlife Helicopters and Kalahari Air Services. It is also possible to drive from Maun to Chobe, and take between 8.5 and 13 hours. You will want to ensure you've plenty of fuel, as there are no stations between the two parks.
The following airlines travel to Chobe National Park