Addo Elephant National Park
Safari suitability:

8/10
Find your tour
Africa's southern cape is considered malaria-free. Big five. Elephants galore!
Total area:
1,640 km² (630 miles²)
Anti-malarial:
Not required
---
What YAS members think
* Crowded parks have a lower rating
---
Highlights
Easy to reach—a few hours' drive to the north of Port Elizabeth
Home to more than 450 elephants
Boasts the big five plus the southern right whale and the great white shark
The third largest of Africa's national parks at 1,640 km² (630 miles²)
Tremendous biodiversity—a conservationist's paradise
About Addo Elephant National Park
Addo Elephant National Park is located in the Sundays River region of South Africa's Eastern Cape, 75 km (47 miles) to the north of Port Elizabeth. Addo, the third largest of Africa's national parks at 1,640 km² (630 miles²), is characterized by tremendous biodiversity. It boasts the Bird and St. Croix Islands, coastline, plains and mountains, and within them thickets, forests, shrubland ("fynbos") and semi-desert ("nama-karoo").
Wildlife of Addo Elephant Park
Following the heavy hunting of African wildlife in the 1800s, the park was founded in 1931 to safeguard the area's remaining elephants, which numbered less than 20. Since then, the park has expanded its mandate and conservation efforts beyond its eponymous animal to other facets of the region's rich biodiversity and history. Today, Addo is home to more than 450 elephants as well as the other four big five game animals—rhino, buffalo, lion and leopard. Spotted hyena, antelope and zebra also thrive within its borders, and the southern right whale and the great white shark swim off its coast. Park expansion plans include a proposed marine reserve that would include five of the world's seven major biomes and work to conserve the Cape gannet and the African penguin.
Those seeking to visit the array of wildlife in this expansive park have their pick of activities, including guided game drives, "hop-on" guides, self-drive game viewing, horse trails, 4x4 trails and hiking. Elephants can often be seen by water holes on hot days, and visitors to the main Addo camp may enjoy a floodlit water hole for elephant-peeping. Swimming, too, is available for overnight guests who care to make like swimming beasts.
When is the best time of year to visit Addo Elephant National Park?
Weather varies across the park's myriad locations, depending on height above sea level and proximity to the coast. The Addo section is semi-arid to arid, with rainfall distributed fairly evenly throughout the year (though peak rain occurs from February to March and October to November). Frost crops up in winter months (June through September).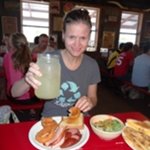 Visited: Sep. 2012
Reviewed: Apr. 23, 2013
Located on the Garden Route of South Africa, Addo Elephant Park, the reserve has both lush vegetation and semi-arid desert like conditions. While you may think that this park is elephants only, you can also see black rhino's, lions, zebras, blue duikers and spotted hyenas. If you are lucky, you may even spot a leopard or two. It's also great to track the mighty dung beetles. On hot days, you will see elephants cooling down in the watering holes, it's great to watch them play around in the water. If you can get accommodation near a watering hole, do so – it is worth it. There's a number of lodges in the area ranging from uber luxury, to basic accommodations Bear in mind that over the November to December period, the temperatures can get to well over 100 Farenheit/40 Degrees Celcius, so ensure that you dress accordingly. This area is malaria free, so there is no need for anti malarial medication like there is in the northern areas of South Africa. There's plenty to do at Addo, game drives morning and night are best, you can also take a horse trail. If you are self-driving, you can do a 4x4 trail, and if you go around September/October, you may even be able to spot some whales out at sea.
* Crowded parks have a lower rating
---
Safari guru

United States
Visited: Sep. 2012
Reviewed: Apr. 23, 2013
Driving to Addo Elephant National Park
The closest international airport in South Africa is in Cape Town. The drive from it is over seven hours, but there is the option to take a route along the coast. If you are considering driving from Johannesburg, the drive is around 9.5 hours.
Domestic flights to Addo Elephant National Park
There are daily flights from Johannesburg to Addo Elephant park for those who don't have the time or desire to drive over nine hours.