Main focus:
Budget safaris
---
---
About Nature Travel Namibia
Nature Travel Namibia is a Namibian based Safari Company operating throughout Southern Africa. With years of tourism experience Nature Travel Namibia is perfect is assisting you to plan and experience your dream African safari. We specialise in guiding and planning safaris throughout Namibia, Botswana, Zambia, Zimbabwe and South Africa. We offer guided, fly-in and self-drive safaris focussing on game viewing, cultural or birding depending on your interest.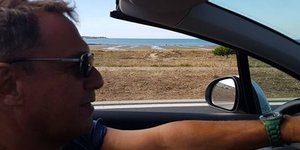 Visited: Oct. 2019
Reviewed: Nov. 08, 2020
This 2 weeks birds and mammals trip in Southern Africa was our second trip with Nick Buys. We have been already with him in Namibia 4 years ago in a very succesful trip.
We visited South of Zambia (Nkanga River Conservation Area, South Kafue and Livingstone surroundings), the Caprivi Strip (Kwando River and Mahango Game Reserve) and Northern Botswana (Okavango Panhandle and northern Chobe).

The places we visited were wonderful. We felt the privilege to be the only ones in the middle of the bush and his fauna in the very preserved Nanzhila Plains-Kafue National Park. We had excellent boat trips on Zambezi, Chobe, Okavango and Kwando Rivers. Sunsets were stunning!
We stayed in very comfortable and peaceful lodgings were we could appreciate the magic of wild Africa.

This trip was focused on a list of possible life's firsts, for both birds and mammals. The lists was not so long, as we have been already in various trips in eastern and southern Africa. It consisted most of all in specialties and endemics, as Black-cheeked Lovebird, Schalow's Turaco, Pel's Fishing-owl, Bradfield's Hornbill, Chaplin's Barbet, African Broadbill, Miombo Tit, Copper Sunbird, Black-eared Seed-eater...

We managed to see more than 300 bird species, and almost all the possible species on our list that occurs in the area.
We only failed for 3 species of Miombo forest, certainly because of the severe drought that occurred this year. Actually forests were very quiet, and Nick had to work hard to find us some difficult birds in that conditions. On the other hand, and certainly because of the drought, this trip was very successful for small raptors as African Cuckoo-hawk, Lizard Buzzard, Western Banded Snake Eagle, African Goshawk, Ovambo Sparrowhawk, Little Sparrowhawk, Eurasian Hobby, Dickinson's Kestrel... We had excellent sightings of a Lanner hunting a Cape Turtle Dove, a Dickinson's Kestrel drinking at a water hole and a pair of Little Sparrowhawks breeding.

Mammals sightings were also great, with 45 species.

The best was the day spent with a pack of 21 wild dogs in Kafue (10 adults and 11 puppies): they spent the day resting and playing at the side of a water hole in the company of many herbivores (surprisingly very relaxed) and birds who came to drink, including black-cheeked lovebirds. At the end of the afternoon, we could follow them one hour hunting in the bush. At the end, we didn't see them catching anything, but a pair of breeding leopards managed to catch an impala that was running away from the wild dogs!

Thanks to some night drives and night walks, we also had a good selection of nocturnal mammals, with 2 species of galago, common genet, African civet, bush pig, South African porcupine...

We want to thank Nick warmly for this trip. Again we really appreciated his qualities as a guide, his professionalism, his excellent knowings in the species and the habitats, his sens of respect of nature, his organisation, his patience and his excellent sense of humor.

We hope to come back soon in Africa for another such successful trip with him.
---
{{ review.user.profile.user_type_display }}

France
Countries visited:



Visited: Oct. 2019
Reviewed: Nov. 15, 2019
Show more
---
Overall rating
Cleanliness of vehicle
Meet and greet team
Quality of itinerary
Responsiveness of staff