Main focus:
Budget safaris
Languages:
English, French, German, Italian, Spanish
---
---
About Maasai Wanderings
Maasai Wanderings offers unique African wildlife safaris, mountaineering treks, cultural experiences, historical site visits and beach holiday escapes exclusively in Tanzania. We are passionate about our wildlife, tribal cultures and all of the mystical treasures that Tanzania has to offer and this makes us proud to present it to you. The combined experiences of the Maasai Wanderings team demonstrates a concise understanding of wildlife behaviours, practical local knowledge of culture and history and dedication to each individual adventure – all of which create a 'special' experience!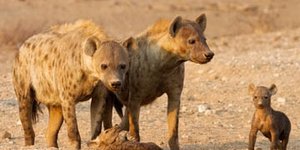 Visited: Dec. 2015
Reviewed: Jun. 22, 2020
A friend recommended Maasai Wanderings for their high level of service, ease of communication when making plans, quality of guides, accommodations and value. We couldn't agree more!

Donna customized our itinerary around our daughter's schedule as a volunteer in Mwanza and our wish list for safari. The amount of time we spent intimately observing wild animals exceeded our expectations and the thousands of photos we took bring back the emotions, sights, sounds and smells (the rain in the Serengeti smells so wonderful!) of this amazing family vacation. Our guide Godwin's experience and passion put us in the right place at the right time!

Highlights include: Finding a leopard resting in a tree who spotted prey and then witnessing the kill - the circle of life. Listening to hyena laugh and lion roar from the comfort of our luxury tent camp, then observing the picked clean remains of their nighttime revelry when we left camp in the morning. Having a herd of elephants walk behind our parked truck and coming upon a journey of more than 50 giraffe, way too many to count. Not to mention the endless stream of migration from sun up to sundown! To decompress from our travels, Donna arranged a few days on the white sand beaches of Zanzibar. A perfect ending!

We are grateful we seized the opportunity to use Maasai Wanderings when we joined our daughter in Tanzania.
---
{{ review.user.profile.user_type_display }}

United States
Countries visited:

Visited: Dec. 2015
Reviewed: Aug. 23, 2016
Show more