English, French, German, Italian, Spanish
---
---
Contact info
About Maasai Wanderings
Maasai Wanderings offers unique African wildlife safaris, mountaineering treks, cultural experiences, historical site visits and beach holiday escapes exclusively in Tanzania. We are passionate about our wildlife, tribal cultures and all of the mystical treasures that Tanzania has to offer and this makes us proud to present it to you. The combined experiences of the Maasai Wanderings team demonstrates a concise understanding of wildlife behaviours, practical local knowledge of culture and history and dedication to each individual adventure – all of which create a 'special' experience!
About our safari vehicles
At Maasai Wanderings, we have a fleet of Toyota Landcruiser 4WD vehicles, modified for game driving and wildlife viewing. These include extended 8 seater and normal 6 seater versions, including driver's seat. Each vehicle has a pop top roofs (or can be modified for photographers with rollback canvas roof and windows), large windows, charging system, first aid kits, Simba jack, fire extinguisher, reflector triangles, tool kits, refrigerators and is driven by an individual driver. We have our own garage and mechanics on-site for services and repairs and they can even convert our own vehicles to the extended version when required. Upon request, we also include tea/coffee basket for the clients free of charge. Our team of guides speak English, French, Spanish, Italian and Swahili; as well as their own tribal languages. All members have a minimum of eight years guiding experience, with a minimum of Certificate of Wildlife & Guiding (two year course). Each guide has guide books and binoculars to offer for use by the clients. However, if clients would like exclusive use of binoculars, they should bring or hire their own. The guide teams are recognizable by their khaki & orange polo shirts, khaki short or long sleeve dress shirts, khaki short or long trousers, cap, black vest or sweater; all embroidered with our uniform logo. We pay above award wages and work together as a family, sharing good times and bad.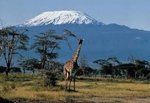 Visited: Jun. 2014
Reviewed: Sep. 16, 2019
This review concerns our private trip in Tanzania with Maasai Wanderings in June 2014 (2 weeks).

It was our first time in this country. We came there mainly to enjoy wildlife, nature, landscapes and good sightseeing.
And the least one can say is that we really enjoyed all what we saw.

From Tarangire and its huge herds of elephants (we also spotted a leopard) to the magic landscapes and animals of N'Gorongoro Crater and the greatness of Serengeti and the millions of wildebeests and Zebras, everything has been above our expectations.
And what about the cheetahs, giraffes, lion cubs playing, eagles, antelopes, buffaloes, hippopotamus, sunsets...
Even meeting Masaai tribes and knowing a bit more how they live was interesting.

Our guide was very kind. He gave us a lot of information on wild life and his country and always in a friendly way.
He was moreover constantly ready to adapt to us (safaris time, pause for restroom, moving back or forwarding on demand to let us having the best possible view to watch animals)...

We were initially a bit anxious experimenting tented camps but we finally decided trying Nasikia Tented Camp after being advised by Donna.

It was a great, completely different of classic lodges and safe experience in immersion in the middle of the bush.
Listening all the noise of the bush at night while you are in your bed is pretty existing.
Our kids are still talking about those nights where we heard lions roaring, hyenas away.

More generally you are closer to the nature in tented camp and still get all expected accommodations (true bed, private shower, private flush toilette, very kind staff, cooked meals etc.).
Now that we know what tented camp is, if we have to go back one day in Tanzania for safaris we will book more nights in tented camps.

Our final days to Zanzibar were a good idea to relax, chill out. Warm temperatures, sun, white sand, palm trees, turquoise water and amazing diving spots to continue your safari under water this time.
We also did the 'spice tour' and 'dolphin tour'.

To conclude, we saw a lot of wild animals, were perfectly guided (in a friendly atmosphere), experimented and enjoyed tented camps and finally relaxed in Zanzibar.
Thank you again to all Masaai Wanderings' staff for this great and unforgettable experience.
---

France
Countries visited:

Visited: Jun. 2014
Reviewed: Nov. 25, 2014
Show more
---
Overall rating
Cleanliness of vehicle
Meet and greet team
Quality of itinerary
Responsiveness of staff