Lights on Africa Destinations
English, French, Italian, Spanish
---
---
Contact info
About Lights on Africa Destinations
Lights on Africa Destinations is a Tanzanian Based Tour Company, Specialize in programs offering comfortable lodges Safaris set on scenic sites and permanent Tented Camps for those who prefer luxury. We also organize budget camping safaris for individuals and groups, Students packages, honeymooners packages, MT. Kilimanjaro climbing and Zanzibar Beach Holiday. All of our guides are qualified in their chosen field and attend in-house training in Customer Service and English.
About our safari vehicles
While on safaris, we use special 4 x 4 vehicles, Land Rovers or Land Cruisers. Our own mechanics do all the necessary service and adjustments on the vehicles before and after the safari to ensure your safety and comfort. Our Driver Guides are charming, experienced, knowledgeable and caring...
Visited: Dec. 2015
Reviewed: Jun. 29, 2020
I and my sisters did a 2-day safari to Tarangire National Park and Ngorongoro Crater with Lights on Africa. We saw a lots of big Elephants in Tarangire and were very lucky that the two lions came very close to our vehicle. Ngorongoro was amazing. We saw 6 lions with a cub and the rhino for about 20 meters. It was our first time to safari and we had a very fabulous trip. Our guide, Silas, was very knowledgeable and charming. He can spot the animals even before we can, he was so helpful even when we had forgotten our camera at lodge. He managed to communicate with the lodge manager and some one brought us our camera in the Crater.

We are planning to go for Serengeti next year and we will definitely contact Lights on Africa to arrange our trip.

---

Kenya
Countries visited:

Visited: Dec. 2015
Reviewed: Feb. 08, 2016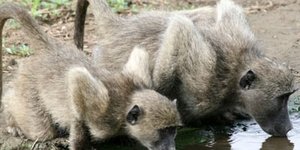 Visited: Dec. 2014
Reviewed: Mar. 26, 2018
This was our first trip to the heart of Africa even though we are Egyptians living in the same continent! We picked Tanzania because of its beautiful scenery and amazing array of wildlife. I began to make some inquiries through the internet and Mr Peniel, the owner of Lights on Africa Destination, quickly responded to me. He gave me all the necessary details and swiftly changed the itinerary to fit our schedule. I was amazed to find out he was a Tanzanian gentleman, originally a Masai, so no one can really compete with him in his deep love for his country or his hands on knowledge of it.
The four wheel drive he got for us was excellent and all the accomodations were very comfortable, clean and luxurious. Our wildlife guide, Mr Huruma,was superbly experienced, charming and geniunely kind hearted. His former work as a warden in the Serengeti Park provided him with such depth of knowledge and love for nature. He provided us not only with the identification of species (which is difficult in itself), but also with interpretation of their behaviour.

My husband, my son and I have enjoyed this trip like no other we had in our life. We are looking forward to go back to Tanzania in August to witness with Mr Peniel and Mr Huruma the saga of wildebeest while crossing the river in the dry season. We also want to come back for Zanzibar and the southern national parks. In short, Lights on Africa Destination made us want to come back again and again!
---

Egypt
Countries visited:

Visited: Dec. 2014
Reviewed: Apr. 13, 2015
---
Overall rating
Cleanliness of vehicle
Meet and greet team
Quality of itinerary
Responsiveness of staff
Park reviews written by None