Summit of Kilimanjaro | Eco-Africa Climbing

Taking Diamox to reach the roof of Africa
Highlights
Kilimanjaro is 5895m above sea level

High altitude: 4,900 to 11,500ft (1,500 to 3,500m)

Very high altitude: 11,500 to 18,000ft (3,500 to 5,500m)

Extreme altitude: 18,000ft and above (5,500m and above)

Diamox was approved on July 27, 1953

Two-thirds of Kilimanjaro outfitters advocate the use of Diamox

Staying hydrated to avoid altitude sickness is the top piece of advice from over 100 tour operators
Taking Diamox to reach the roof of Africa
In August and September 2018, Your African Safari surveyed over 150 Kilimanjaro tour operators and several climbers to solicit their feedback on Diamox usage for altitude sickness. Two-thirds of tour operators surveyed said they advocate the usage of Diamox. Jump to survey results.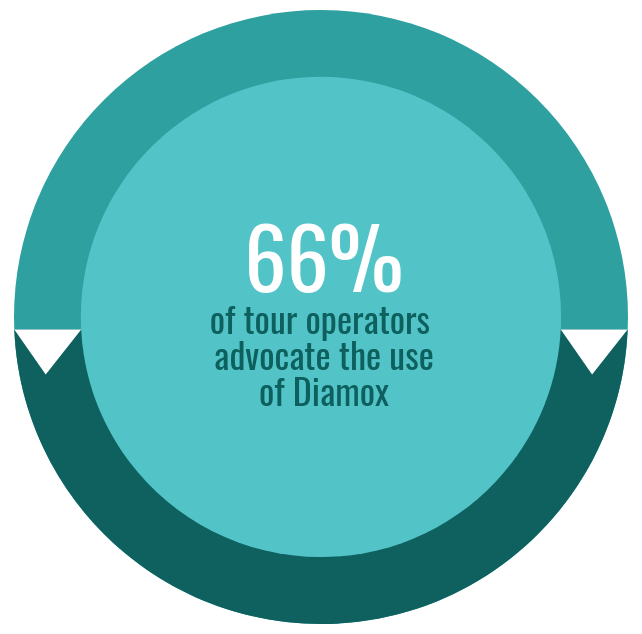 Kilimanjaro—Tanzania's top tourist attraction
Kilimanjaro, the highest mountain in Africa, attracts an increasing number of hopeful climbers each year. As of 2017, an estimated 60,000 people attempt to summit Kilimanjaro each year, making it Tanzania's top tourist attraction 1. Technical climbing skills aren't needed for most routes and, while the summit is at 5895m/19340ft, the trek commences at 4900m, for a total ascent of around 1,100m/3300ft. Despite the short ascent, the summit is at extreme altitude. Each year, over 1,000 people must be evacuated 2 and an average of seven people die, mainly due to high altitude issues. See climbing Kilimanjaro reviews.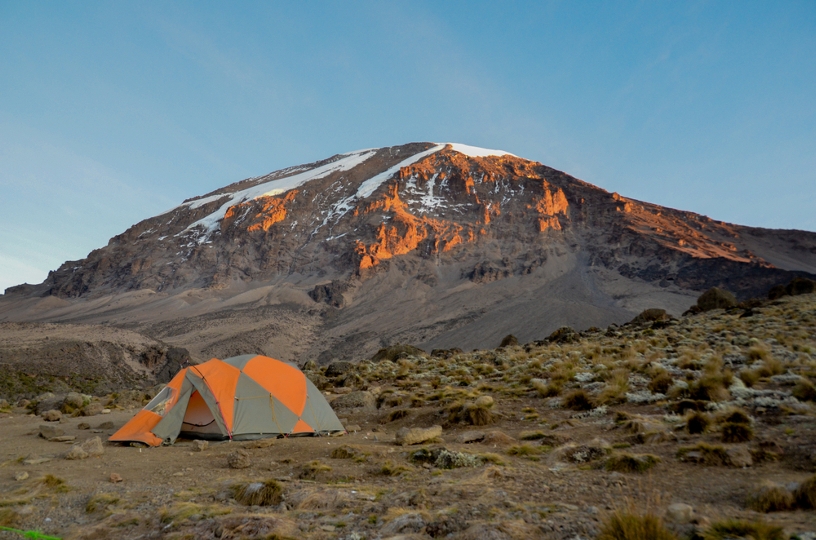 High altitude sickness | Acute mountain sickness
It is generally agreed that going too high, too fast is a primary cause for altitude sickness. Symptoms of altitude sickness usually develop between 6 and 24 hours after reaching altitudes of more than 3,000m (9,842 feet) above sea level. These symptoms are not unlike those of a hangover: throbbing headache, nausea, dizziness, lethargy, a feeling of pressure on one's chest, especially when recumbent and shortness of breath. As more people review their experience of Kilimanjaro, more of them mention the use of Diamox.
About Diamox
Manufactured by Teva Pharmaceutical Industries, an Israeli company, and initially approved on July 27, 19533, 125 mg and 250 mg Diamox tablets were originally created to treat patients with glaucoma. Diamox (acetazolamide) suppresses carbonic anhydrase, and it was soon discovered that these inhibitors have been shown to lessen acute mountain sickness symptoms. A slow-release version, called Diamox Sequels, was also marketed but has since been discontinued 4.
Kilimanjaro survey results
Your African Safari reached out to over 800 Kilimanjaro outfitters and had a response rate of just over 20%. Of the 150+ tour operators that participated, half said they noticed an increase in the number of clients that use Diamox. Two-thirds of tour operators recommend Diamox to their clients and more than 60% of them have been offering trekking for five or more years.
About half of climbers surveyed used Diamox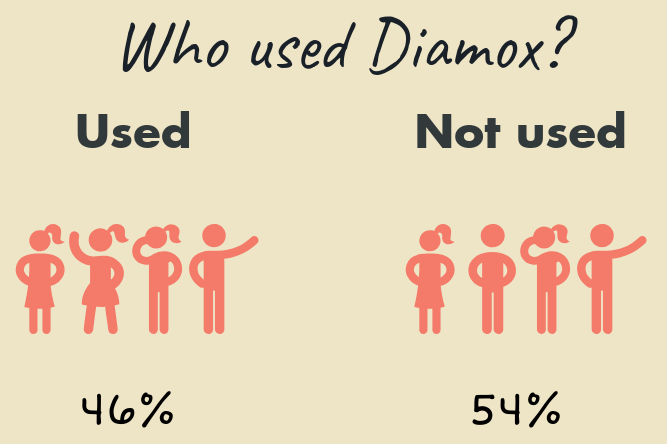 Who's climbing Kilimanjaro?
Of the members surveyed, the majority were female.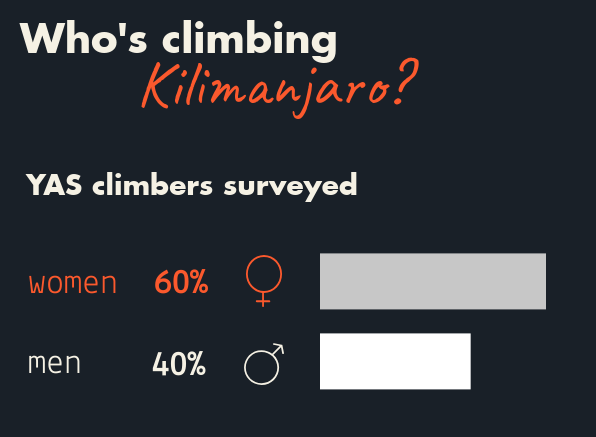 Feedback from one YAS member who climbed this year (2018).

"Of the four of us, three took the altitude pills. One of our daughters stopped taking the pills before we started. We don't know if she was ill because of the pills or not. The other three of us had no symptoms associated with the medication. We all summited, but we all felt some effects of the altitude at the basecamp, e.g. fatigue, mild nausea and shortness of breath. Our daughter who was not on the pills began having symptoms of altitude sickness at the summit, blue lips, headache, etc. She and one of our guides pretty much ran back down to basecamp and her symptoms were quickly alleviated. I would highly recommend taking altitude sickness pills to anyone hiking Kili." YAS member Laura
YAS surveyed mainly seasoned tour operators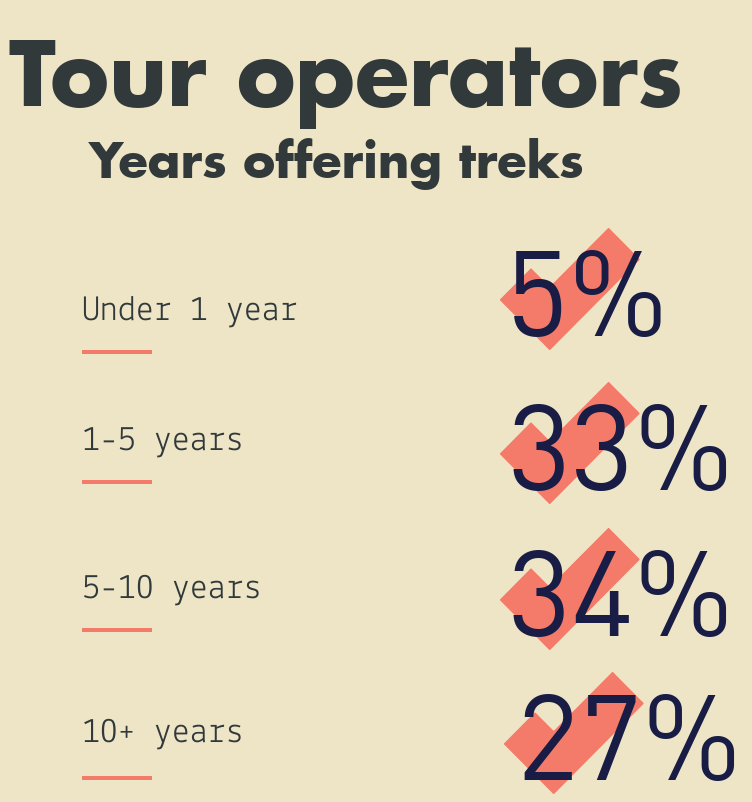 Advice for those looking to summit Kilimanjaro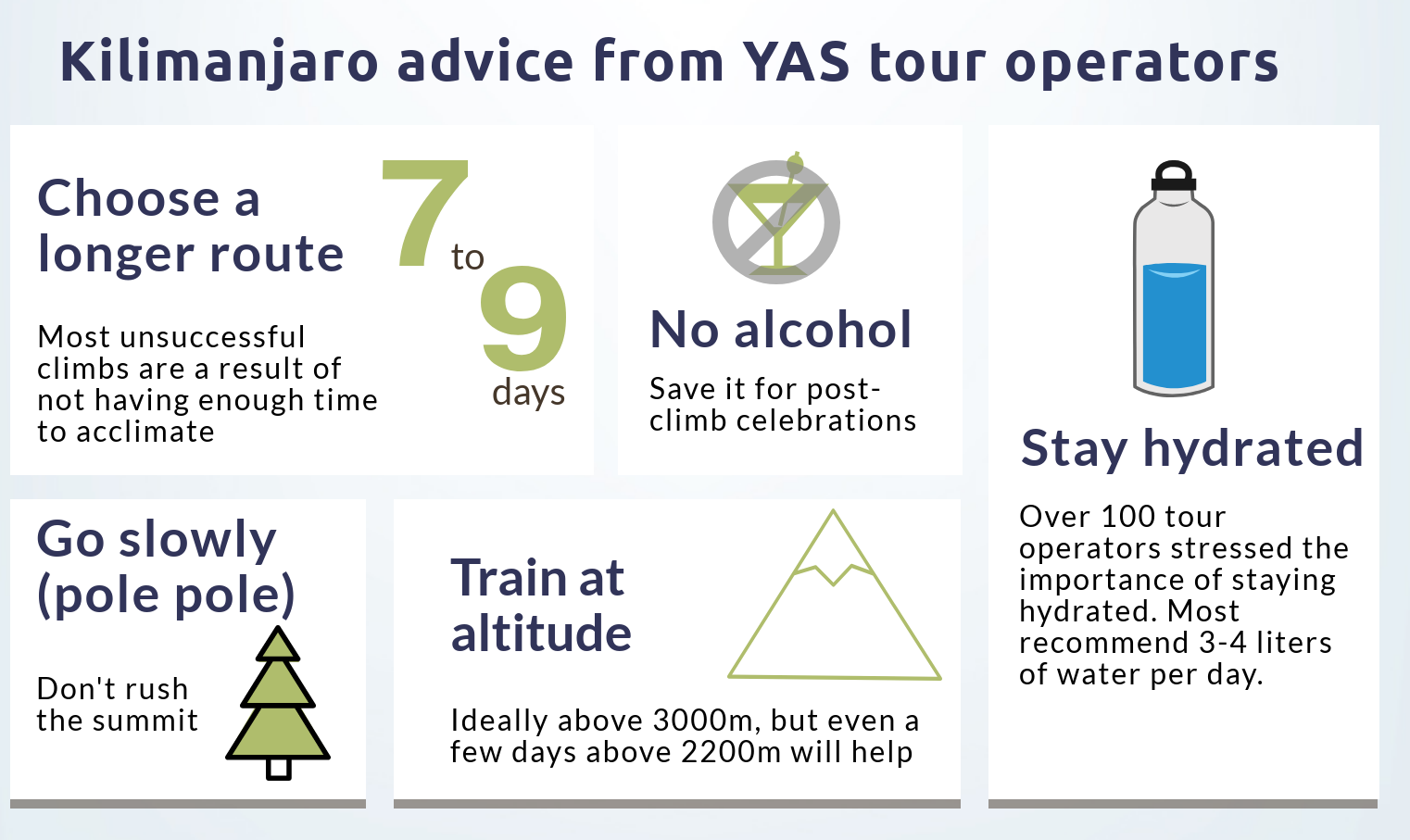 Kilimanjaro and safaris
Kilimanjaro's proximity to some of Africa's top safari destinations: Serengeti, Ngorongoro Crater, Tarangire and Lake Manyara means a safari and a Killi trek holiday can effortlessly be combined into one.
Are you considering trekking Kilimanjaro? Why not browse packages from over 250 tour operators.

For media and press queries, please contact us.
Participating tour operators
Your African Safari would like to thank all tour operators who took the time to participate in this survey. Participants had the option to remain anonymous. Below are those who wished to be named.
Adventure Savvy Africa Limited
African Route Adventures & Safaris
Beauty of Creation Tours & Safaris
Bless Africa tours and Safaris
Costo Tours & Adventure Activities
Dallago Tours Kenya Tanzania Limited
Exclusive Wilderness Trails Ltd.
Experience Zanzibar Tours & Safaris
Kilimanjaro Centre for Trekking and Ecotourism (KCTE)
Kilimanjaro Tanzanite Safaris Co.Ltd
Kilimanjaro Wonders Expedition Safari (KWESA TOURS)
Rondo Dwarf Safaris
Summit Expeditions & Nomadic Experience
Tanzania Serengeti Adventure Ltd
Wilds of Africa Tours & Travel
YHA Kenya Travel Tours and Safaris
Zanzibar Cholo Tours & Safaris
About the author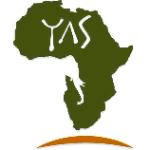 yourafricansafari.com

Has been on: 15 safaris
Your African Safari (YAS) is a safari-planning resource for anyone planning an African safari. It features information on over 2600 tour operators including company and vehicle descriptions, user reviews, safari itineraries and photos. It also features detailed information on 14 countries and 84 parks and game reserves.
Share on:
© Your African Safari Ltd, All rights reserved.
About YAS
Your African Safari is a safari-planning and safari review site. It was created to help support a healthy African wildlife population. All reviews are vetted before being approved and only ethical tours are published