Safari suitability:

5/10
Find your tour
An excellent destination for those wishing to see lemurs up close and personal. Do not expect to see any of the big five here.
Total area:
2.5 km² or 1 mi²
Anti-malarial:
Not required
---
What YAS members think
* Crowded parks have a lower rating
---
Highlights
Rare gallery and riverine forest grow in the reserve
Berenty Reserve is one of the most popular tourist destinations in Madagascar
Come for the friendly lemurs, reptiles or over 100 bird species
Visit between May and October, though be aware that July and August are peak tourist season
About Berenty Reserve
Berenty Reserve, established in 1936, only spans about 250 h (617 acres) at the southernmost point of Madagascar, along the Mandrare River. Because of the park's proximity to water, it consists in part of gallery and riverine forest, allowing for a variety of wildlife. The reserve is one of the last remaining places in Madagascar to have gallery forest; however, the majority of the reserve is made up of spiny forest.
Berenty Reserve wildlife
Berenty Reserve is one of the island's better known wildlife reserves due to guaranteed lemur sightings while visiting. The brown, ring-tailed and Sifaka lemurs are among the most popular and most abundant lemurs in the park. They have not been hunted for almost 70 years and they are usually very trusting of people. In addition to the lemur, reptiles such as the chameleon and crocodile can be seen as well as over 100 bird species, many of which are endemic to Madagascar.
Berenty Reserve is a top tourist destination. Hiking trails are flat and broad, making the reserve an appealing destination for the average traveler.
When is the best time of year to visit Berenty Reserve?
The reserve can be visited at any time of the year; however, southern Madagascar climates can alternate between hot, wet summers when the average temperature is 40 C (104 F) during the day, and cooler winters with temperatures dropping as low as 10 C (50 F). Overall, the winter months between May and October tend to be more comfortable. Rain should be anticipated at any time. July and August are considered "peak season," so travelers should plan well in advance if thinking about visiting at that time.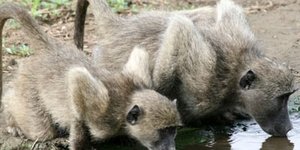 Visited: May. 2014
Reviewed: Aug. 26, 2014
I spent the month of May traveling the island of Madagascar, and there's not a day that goes by where I don't miss it! Berenty is worth the trip, even if you've only got a day or two. I flew into the small airport there. It's more expensive, but the time you save in getting there is worth it. I loved the red soil and the multitude of lemurs. So special and magical. It's also so different from the north of the island, which is why it's worth visiting many areas here.
* Crowded parks have a lower rating
---
Safari enthusiast

United States
Visited: May. 2014
Reviewed: Aug. 26, 2014
Getting to Berenty Reserve from Antananarivo, Madagascar
Berenty is located in the southern part of the island. Driving from Antananarivo will take over 24 hours, so unless you've got ample time and patience, a domestic flight is recommended. Air Madagascar offers a direct flight to Toliara a few times a week. It's worth knowing the schedule so you can plan your excursions with peace of mind.
The following airlines travel to Berenty Reserve
---

National air carrier of Madagascar. The Air Madagascar network covers 21 destinations from Madagascar to the Indian Ocean, Africa, Europe and Asia. Since 1961 Air Madagascar has been the reference airline to fly to 11 Malagasy cities. Visit website
Also flies to:

---

At evoJets, our charter specialists are available to ensure your itinerary is as personalized as possible, to suit the needs of your party. Many of the island's national parks are highly distinguished sites to fly over and observe from a bird's eye view. Visit website
Also flies to: