Main focus:
Mid-range safaris
---
Offers tours in

Tanzania
---
About Serac Adventure
We're expert at turning African safari dreams into long lasting memories. Every member of our expert staff have climbed each route we offer and have traveled the surrounding parks to provide you with the ins and outs of planning your Mt Kilimanjaro and Safari expedition. We will speak with you to address any questions or concerns you may have so your only care will be enjoying the beauties of Africa.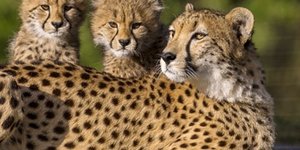 Visited: Feb. 2019
Reviewed: Sep. 07, 2020
Mostly was a great experience.
As a group of six, we did the Kili hike 7 days Lemosho route and four days of safari.

Although we did the booking in a very short notice everything was great and well organized. The porters, guides and cook were great. Our belongings were well taken care of, the food was varied and good (hot meals three times a day) so no complaints there. The equipment was very nice to handle our hiking and worked well enough. When one member of my group felt like quitting there was emergency oxygen and oximetry which help him to finalize his trip however he was very tired but fortunately we all got to the top of Africa Uhuru peak.

During our four-day safari, we had the good fortune to stay in a variety of accommodations. At the Simba camp we were delighted to find a large tent set on a raised platform. Each tent included a sitting room, large sleeping area, large bathroom, and a porch with a table and chairs, all in the middle of the Tanzanian plains. The Ngorongoro Wild camp tents were similarly situated, but with the added benefit of the porch overlooking Lake Eyasi. But our adventure would not have been complete without a stay at the Serengeti Simba camp where the rustic tents and animal noises at night brought us even closer to the natural environment we saw every day on safari.

At every stopping point we were warmly welcomed by Serac Adventure who ensured our needs were met. That same Serac Adventure hospitality was seen with our drivers/guides. They provided background information on all the animals and environment, tirelessly drove in search of the best animal viewing, and best of all, patiently answered questions. They were a large part of what made our trip such a success. We highly recommend Serac Adventure to everyone.
---
Safari guru

British Virgin Islands
Countries visited:

Visited: Feb. 2019
Reviewed: Apr. 23, 2019
Show more