Kilimanjaro Tanzanite Safaris (KITASA)
About Kilimanjaro Tanzanite Safaris (KITASA)
Kilimanjaro Tanzanite Safaris DMC Tanzania Licensed Tour Operator and have best TripAdvisor reviews. This DMC has price-reduced offers on camping safaris, Kilimanjaro trekking adventures, and wildlife safari tours. Also, have Kilimanjaro climbing trips and Machame route price-reduced offers. . Arusha is the safari city whereby most wildlife safaris begin there.  Budget travel deals are available based on certain tourism conditions such as group travel, low season, and special discount travel packages. A budget camping safari is the cheapest travel package on a Tanzania safari. Our Tanzania travel specialists provide Tanzania safari packages price and help you to compare safari price offers. Also, we have all-inclusive Kilimanjaro climbing prices, and hence you can book a Kilimanjaro trip without hidden Kilimanjaro trek costs. You have reason to trust us because we have reviews from the USA, German, Canada, etc
About our safari vehicles
Tanzania wildlife safari experience is through 4 x 4 game drive safaris on safari jeep, another way is by walking safaris nature treks. We have a small fleet of well maintained four wheel drive vehicles staffed by experienced driver/guides who have intimate knowledge of the National Parks of Tanzania. Our fleet of Land Cruisers is the best choice for us to provide reliable transport into the remote areas in which we operate. They are all equipped with a roof hatch for optimum game viewing.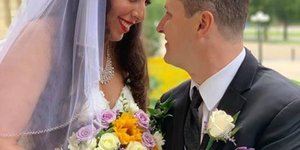 Did not go on this tour
Reviewed: Apr. 22, 2020
My husband and I booked our honeymoon in Africa. We started in Kenya landing in Nairobi.

Safari
The tour guide, Evanson, picked us up at our hotel to take us to the Masai Mara National Reserve. Because we were driving to the park we were able to see the countryside on our way. The vehicle was very nice, modern and clean. The resort on the reserve was also very nice with a great room that overlooked a watering hole in the distance so we could see the animals from afar. The food was delicious and they had lunch boxes packed for us to take on our safari trip. Evanson was very knowledgeable about the animals and did his best to make sure we got to see as many animals as possible. After our safari in the Masai Mara our guide took us to the Tanzanian boarder to transfer to our safaris in Tanzania. Evanson was really great taking us through the boarder crossing and ensuring the fastest and most efficient way to go through security and customs. He made sure he was with us until meeting our next guide.
MKoni was our safari guide in Tanzania. He was super fun and talkative. You could tell he was very passionate about what he did. He was able to tell as all sorts of things about the country, the people and the animals. We were able to go into one of the Masai villages and meet the tribes people, that was a very neat experience. He answered all our questions and told us so many fin facts about each animal we saw. He took us to the Serengeti, Ngorongoro, and Tarangire National Parks. He was very skilled at driving as it had rained and there was lots of mud. There were lots of vehicles in the parks that were getting stuck but not us, Mkoni knew how to maneuver around and where not to go due to the mud. We also were very lucky and saw the big 5 (Lion, Elephant, Leopard, Water Buffalo, and Rhino) among many other animals. I give this company 5 stars for the safari experience and would recommend them to anyone traveling to Africa.

Mt. Kilimanjaro
After the safari we had our Mt. Kilimanjaro hike. One of the hiking guides met up with us the night before to review what to expect on the trip and to ensure we had everything we needed to successfully make it to the top of the mountain. Fredy (our main guide) reviewed the itinerary with us and answered all our questions. He also looked over the items we were planning on bringing to ensure we did not over or under back. Because this hike was only a small part of our overall trip we decided to rent as much as possible so we did not have to bring everything with us. We were able to rent: Boots, Hiking poles, Rain gear, Ice cleats, Winter jackets, hats, mittens, and sleeping bags. It was very convenient and the gear was decent quality (I would recommend bringing your own hiking boots as breaking new ones in was not so great, I had blisters by the end of the trip understandably).

The next day the crew picked us up from the hotel and we were able to leave our extra bag with the manager of the company while we were on our hike. The crew was really great. We had two guides (Fredy and Temba) that both spoke English. The porters, server and cook were very friendly and spoke some English as well. The tents were very comfortable and the food was great. Hot meals with good variety and lots of tea to keep us warm. We made it to the top with constant encouragement from the guides (if you can be sure to take altitude sickness tablets before you start the hike, they made all the difference to ensure we were able to submit). The hike itself was challenging especially on days 4-6. We did very long hrs and very short resting times (if I had to do it again I would book the 7 or 8 day hike instead so the decent could be broken up a bit more). We were not quite prepared for hiking 16 hrs on the submit day with only a few hrs break to split it up. All in all our Kilimanjaro hike was a trip to remember and we had a great crew to assist us in making it to the top. We climbed the Machame Route.
---

Canada
Countries visited:


Visited: Dec. 2019
Reviewed: Feb. 23, 2020