Experience Zanzibar Tours & Safaris Ltd
English, French, German, Swahili
---
---
Contact info
About Experience Zanzibar Tours & Safaris Ltd
We are Zanzibar based tour operator specialized in arranging fully guided Tanzania Safaris and Beach Holidays on the spice islands of Zanzibar, Mafia and Pemba for individuals, small groups of relaxed and easygoing friends or family who share the same interests and who wish to travel together at a more relaxed pace, visiting some of the more unusual places and people in Tanzania and Zanzibar.
About our safari vehicles
We have an armada of well-kept up customised safari vehicles. This gets rid of the issue of sub contracting vehicles and driver-guides, which may bargain benchmarks and nature of administrations. Our safari vehicles are explicitly changed over for most extreme space and solace. Every one of them have brought forth rooftop and sliding windows to encourage good survey and helpful photography amid amusement drives and touring. Likewise we have an armada of help vehicles including SUV exchange vehicles, smaller scale transports, and outdoors supply trucks.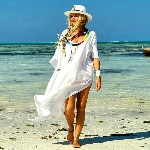 Visited: Sep. 2021
Reviewed: Nov. 11, 2021
Submitted in:

This was our second safari with Godfrey and his agency within a month.  We were extremely pleased with the organization of the first safari so we relaxedly put ourselves in his hands and made no mistake. Within 4 days we toured the Serengeti and the fascinating great migration of animals that will forever be etched in our memory. Also Ngorongoro crater and its slopes where we visited the Masai village.  Every few minutes we were surrounded and close by large groups of wild animals, elephants, lions, wildebeest, zebras, hippos, and we were able to see a leopard as well.  A visit to the Masai village was also an experience to remember, visiting school and dancing with them...and the accommodation where we slept was perfect with incredibly good logistics and food in the wild.  We are very grateful to Godfrey for making a wonderful and magic tour that we decided on at the last minute. Thank you Godfrey!
---

Croatia
Countries visited:

Visited: Sep. 2021
Reviewed: Nov. 11, 2021
Show more