East African Safari and Touring Company
Main focus:
Budget safaris
Languages:
English, French, Swahili
---
---
About East African Safari and Touring Company
EASTCO has been exploring East Africa for over 20 years, from the mountains of Uganda to the Swahili Coast of Tanzania, offering private safaris, tailored to the individual who believes that there is more to experience in Africa than the Big 5, those that are looking for the wilderness experience, the chance to get off the beaten path and explore a disappearing Africa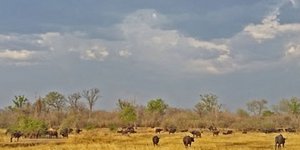 Visited: Mar. 2016
Reviewed: Aug. 28, 2020
We just completed another safari with EASTCO in March. For something different we decided to some walking safaris so visited Tarangire, Arusha National park and Mkomazi. Not being our first trip to Tanzania, we were looking for something a bit different and asked Simon to prepare a safari which combined walking and some culture.
The walk at Tarangire started near Lemoti village on the Masai steppes and we walked west towards the Tarangire Conservation Area, bush camping each night. Although very wet! It was also a great time to visit as there was lots of wildlife around, wildebeest and zebras after the first day, a couple of nights with lions grunting and roaring, and even elephants as we got closer to Tarangire.
This was a very different experience, the two days were very much a immersion in Masai culture, we saw them bring the herds into the boma in the evening, Brendan tried the blood and curdled milk mixture and we sat around a camp fire with some of the elders and children till late.

As we walked the next day we say the children collecting water from puddles beside the road, a rich reddish brown colour! Our guide Loi said it was better than walking 10 kms to fetch water!!
Each afternoon Loi and Costa, our cook, decided when we should stop and set up camp. This consisted of Loi and Brian cutting the grass and clearing as space, setting up the tents while Costa was preparing dinner.

The last two days walking was a bit exciting, with long grass we heard before we saw any of the wildlife. Coming across massive elephant prints deep in the mud, and also the large paw of a male lion along the wet sand of the track.

The last night of the Tarangire walk was at Naitolia Camp, luxury after four nights camping in the bush. Massive bed draped in net, outdoor toilet with a view and shower. It was the last night here when we heard the lions rumbling and growling. It seemed so close but was told the next day most likely a couple of kilometers away.

We then went to Arusha National park for two nights at Hatari Lodge. Fantastic views across the plains to Kilimanjaro one afternoon after a storm. Walking on the slopes of Mt Meru for half a day with a park ranger, buffalo and giraffe, bush duiker and colobus monkeys.

The next part of our adventure took us to Mkomazi National park. We had decided to do a a full day walk here, from one camp to another with the park rangers, and the guide Wilson and Costa packed up the camp and met us that afternoon at a new campsite. Scenery here was so dramatic, Mkomazi is surrounded by mountains and with the black thunderclouds, a late morning rainbow it was so spectacular. The guide Musa (I think) was very informative, we saw tracks of a puff adder in the sand, hyena and jackals. We also saw a large herd of eland in the distance, warily keeping their distance with a couple of oryx mixed in.

After two nights camping in Mkomazi, we climbed up the Pare Mountains to Tona Lodge. Perched on the edge of the mountain overlooking Mkomazi and Kenya. Brilliant location. Food and service was a bit so so! We spent two nights here and walked through the local villages along steep and winding roads. Every building seemed to cling to the edge of the mountain slope.

We drove back to Kilimanjaro the next day, and a day room at Panone Motel near Kilimanjaro. We said our goodbyes to Wilson, Costa and Brian, and had hot showers before transferring to KIA for our flight home.
Second trip with EASTCO, totally different to our first wildlife extravaganza but just as rewarding.
---
{{ review.user.profile.user_type_display }}

Australia
Countries visited:

Visited: Mar. 2016
Reviewed: May. 04, 2016