East African Safari and Touring Company
About East African Safari and Touring Company
EASTCO has been exploring East Africa for over 20 years, from the mountains of Uganda to the Swahili Coast of Tanzania, offering private safaris, tailored to the individual who believes that there is more to experience in Africa than the Big 5, those that are looking for the wilderness experience, the chance to get off the beaten path and explore a disappearing Africa
About our safari vehicles
The vehicles are all landrovers or land cruisers, modified for safaris with pop up roofs and forward facing seats, usually with engines less than three years old, and are rebuilt on a cycle of four years from the chassis up.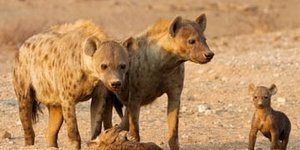 Did not go on this tour
Reviewed: Nov. 08, 2020
I have just arrived back home after a fantastic ten day safari with Eastco. After reading some of the older reviews we were a bit reluctant to travel with them again, but the communication we received was fast and they answered all our queries.

I know now the company is under new management and the trip was perfect. this new management is being reflected in well-organised safaris and operations. We spoke at length to Innocent, our guide, as some of the drives are long, and eventually the conversation comes around to the company and the new management. He also said the company is now being run a lot better than previous few years with new vehicles and better, well-paid guides.

We went on a 9 day road trip the first three days spent at Boundary Hill Lodge, Tarangire, a beautiful lodge in a beautiful location and really well managed; this lodge has fantastic views. I have stayed here years back and we could see elephants and eland from our room veranda. It was a bit chilly at night so the staff had a fire going in the dining room area. The soup, a tradition on a Tanzanian safari, with fresh baked bread, was tasty and filling. While here, we did a night game drive and saw a few smaller animals but really enjoyed the sounds of the night the girls really enjoyed this part of the trip. The road to Boundary Hill has recently been graded and the drive was really smooth unlike some other roads in the parks.

After Boundary we went to Ngorongoro Wildlife Lodge and we spent one night there. This lodge has great views and an easy road to get down into the crater. The wildlife here was easy to see as the crater itself is small. Elephants were everywhere, and we saw lions, wildebeest and oodles of gazelles.
We did 6 hours in the crater and from there drove straight to the Serengeti. One of the highlights of this drive were the superb starlings, these birds are everywhere and easily seen at Naabi Hill Gate.

We stayed 3 nights here at a new camp Pure Africa, it was fantastic, small camp with beautiful tents right in the middle of the bush. The high light of our stay in Seronera was probably the leopard we saw in the early morning along one of the streams. Gazelle's everywhere and the now usual giraffe, Impala, elephants, buffalo and hippo. Innocent was amazing with his knowledge and animal spotting, he was good company, great with kids as well during the long days.

After Seronera we drove up to the Mara River and stayed at camp called Acacia, it wasn't as nice or as new as Pure Africa but it was close to the river.
We spent two relaxing days here watching wildebeest and lions, we were not lucky enough to see a river crossing but there were wildebeest everywhere. After our stay here we said goodbye to Inncoent and flew back to Arusha in a small bush plane and we were ready for our flight home. Thanks Eastco you really went out of your way to give us another trip of a lifetime. Traveled the second time with Eastco (East African Safari and Touring Company) with hubby and two beautiful daughters one 8 and the other 6 and they loved every minute of the safari, don't let people tell you, you should not travel on safari with young kids, they love it.
---

Australia
Countries visited:




Visited: Jun. 2019
Reviewed: Jul. 05, 2019
---
Overall rating
Cleanliness of vehicle
Meet and greet team
Quality of itinerary
Responsiveness of staff