Main focus:
Budget safaris
Headquarters:
South Africa
Languages:
English, French
---
---
About Biwakwango
Biwakwango is a South African based Tour Operator with 18 years of experience in creating and running exciting and unique tours. We strongly focus on low impact tourism such as walking, hiking and small groups. Biwakwango was founded by Thierry, born in France and permanently living in South Africa for more than 20 years. His passion for Africa, wildlife, adventure travel, nature conservation and the well being of local people are his fundamental approaches for a sustainable tourism.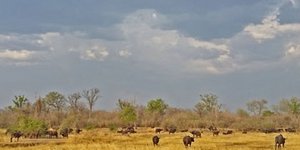 Visited: Aug. 2015
Reviewed: Mar. 19, 2019
Many mail exchanges with Thierry to build this three-week trip: 14 days driving through Namibia, two days to discover Victoria Fall falls six days and finally distributed in three destinations in Botswana. Thierry remained on high alert to answer all our questions and changes in the structures of our trip. He also offered alternatives that were ALL proven to be wonderful surprises!

The pace was perfect. The recommended car rental company was top-notch. We were surprised and amazed by the many landscapes of Namibia, its starry heavens, those roads that we believe are endless but full of surprises! The flora and fauna were on rendez-vous in Botswana ... but above all, as in Namibia, kindness and thoughtfulness of everyone we met and who made this journey is so special.

Thierry was also attentive, where possible, to offer us stops away from it all, where, thanks to solar energy, our days started at dawn and ended at sunset. Following the tiny mishap of a scheduled taxi that never came to collect us, Thierry repaid us the next day the service we initially paid for twice. A pro who loves what he does and fully knows what it offers!

Thierry, THANKS !!!!
_______________________________________________________
De nombreux échanges de mails avec Thierry pour construire ce voyage de 3 semaines : 14 jours en voiture à travers la Namibie, 2 jours pour découvrir les chutes de Victoria Fall et enfin 6 jours répartis en 3 destinations au Botswana. Thierry est resté en alerte maximum pour répondre à toutes nos questions et changements lors de la constructions de notre voyage. Il nous a aussi proposé des alternatives qui se sont TOUTES révélées être de magnifiques surprises ! Le rythme était parfait. Le loueur de voiture conseillé juste au top. Nous avons été surpris et émerveillés par les multiples paysage de la Namibie, de ses cieux étoilés, de ces routes que l'on croient interminables mais qui sont pleines de surprises ! La faune et la flore étaient au rendez-vous au Botswana... mais surtout, comme en Namibie, la gentillesse et la prévenance de tous ceux que nous avons rencontré et qui ont fait que ce voyage soit si spécial. Thierry a aussi été attentif, lorsque cela était possible, pour nous proposer des arrêts loin de tout, où, grâce à l'énergie solaire, nos journées commençaient à l'aube pour s'achever au coucher du soleil. Suite à l'infime petit dérapage d'un taxi prévu qui n'est pas passé nous prendre, Thierry nous a dès le lendemain remboursé du service que nous avions finalement du payé deux fois. Un Pro qui aime ce qu'il fait et qui connait à fond ce qu'il propose!

MERCI Thierry !!!!
---
{{ review.user.profile.user_type_display }}

France
Countries visited:




Visited: Aug. 2015
Reviewed: Aug. 31, 2015
Show more