Main focus:
Mid-range safaris
Languages:
English, French
---
Offers tours in

Tanzania
---
About Afric'Aventure
Afric'Aventure was established in 2001 and is managed by Anne Saels who was born in Congo (DRC) and has lived almost all of her life in Africa. Year after year, a small, passionate team has built up, which tries to give a professional and personalized service in a friendly environment. A new safari is planned and organized for each client. Itineraries are personalized secure scheduled or chartered flights and chosen accommodation. Companies we are working with are chosen for the service they give. Our promotion is done mainly by recommendation, and this is an excellent reason to give you the best service possible. Our aim is to be recognized as a quality safari's organizer for Southern Tanzania, and therefore, we'll give you the best!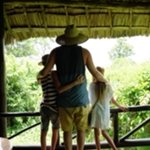 Visited: Mar. 2016
Reviewed: Apr. 09, 2020
Words can not do justice to our experience , it was wonderful, exciting , breathtaking, larger than life but also relaxing, loving, comfortable ...

It was our first trip to Africa traveling with children aged 8 & 10 and having some dietary issues we were looking forward but also a little bit concerned about what to expect.

Tanzania and Zanzibar nature and wildlife were stunning in a way we've never seen before.

The arrangements made by Anne and her team were perfect. The little stress I had about things that could go wrong disappeared completely because everything was so well taken care of. Every driver was on time, the places we stayed at were informed about the vegetarian and lactose free meals so I never had worry about that; every location was beautiful and private (something we've asked for)
The trip was so-well arranged that all we had to do was experience Africa to the fullest (and drink Dawa's :) and so we did.

If I could ask for one thing it is that they could arrange our next trip to Asia, too; but if that is impossible we will return for sure !
---
{{ review.user.profile.user_type_display }}

Belgium
Countries visited:

Visited: Mar. 2016
Reviewed: May. 04, 2016
Show more