World Tours and Safaris Tanzania
Main focus:
Budget safaris
Languages:
English, French, German, Spanish
---
Offers tours in

Tanzania
---
About World Tours and Safaris Tanzania
We have been in the safari business for over 17 years now and managed to discover exciting places and fascinating scenes in the country just for your enjoyment and pride. Our safari guides and drivers have been trained to offer exceptional safari memories for you and your team.We are the true experts when it comes to Tanzania and we arrange lodge and camping safaris as well as Mt Kilimanjaro and Mt Meru climbs, relaxing beach stays on the shores of the Indian Ocean and Zanzibar islands.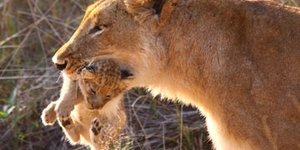 Visited: Jan. 2017
Reviewed: Nov. 13, 2020
Very unhappy with Richard Kilonzo and his Safari company:
We booked a 7- day Safari with Richard Kilonzo. To start with, we arranged that somebody from his company would pick us up at the bus station and take us to our hotel; nobody came. Someone from the bus station that didn't work for him took us to his office. The entrance to the office is embarrassing, full of mud and puddles. He showed himself very friendly the very first day. Not like that the last day when we came back from safari, that hardly had time to speak to us.

The first two days in Serengeti Park were fine.
The third day we slept in Ngorongoro campsite. The next day we were supposed to spend a full day driving in Ngorongoro Crater, from 06.00 a.m. until late in the afternoon, as it was written in the planing that he had sent to us when booking the safari.

Our surprise was that the night before going into the crater he told us that it was not possible to spend the whole day. We could only be inside the crater for 4 hours (from 06.00 until 10.00 a.m.) and then we had to go out of the park. The problem was that he should have paid one more day fees for us (we were four people in the jeep) in the crater, but he did not. He told us that "laws have changed lately" and he could not do anything, he also told us that if we wanted to stay more time in the crater, we should pay the extra charge. If you look in the Official Website of the Parks, since so many years, the entrance fee is paid for a 24-hour stay. If you want to stay longer, you have to pay another entrance. He lied to us that night, and finally we could not be in Ngorongoro Crater for longer, which is one of the best Parks in Tanzania.

Moreover, the last two nights we were supposed to sleep in a Tarangire campsite. He tried to convince us to sleep everywhere else, telling me that in that campsite there was no water (I do not know why), but finally, after my insistence, we slept there... with hot water showers.

The last day of the safari we were supposed to have a morning drive game in Tarangire before coming back to Arusha. What we really did was have breakfast in the campsite and immediately come back to the city of Arusha; no game driving our last day of Safari, as it was written in our initial planning. He told us that we didn't ask for the driving that day, and blamed the driver (he tried to force me to tell that the driver refused to do the driving; the driver did not refuse. I did not ask... Why should I ask for something I have already paid and it is included in the Itinerary?? The situation was exactly the same as in Ngorongoro two days before; he was supposed to pay the entrance fee for that morning, but probably he didn't.

Another German couple came with us for 4 days in the safari. Richard changed their plans almost everyday, even several times in only 2-3 hours. Their last day of safari was supposed to be the full-day drive in Ngorongoro... They were left in a campsite which was not in their plans at 13h00 that day.
When we came back to Arusha after the safari, we went to see him to his office, but that casually he didn't have much time to talk to us... He had to leave quickly.

I would not recommend at all this Richard Kilonzo and his company for a Safari in Tanzania. This man is absolutely untrustworthy. He felt so cheated by this man. He sold us a safari that we haven't really done. I strongly recommend every person not to waste their time and money and to look for another better and more reliable choice.
---
Safari enthusiast

Spain
Countries visited:


Visited: Jan. 2017
Reviewed: Jan. 11, 2017