Victoria Falls National Park
Anti-malarial:
Not required
---
What YAS members think
Most-visited month:
April
* Crowded parks have a lower rating
---
Highlights
UNESCO World Heritage Site
Bungee jumping and helicopter rides
Close proximity to Zambezi National Park
About Victoria Falls National Park
Victoria Falls National Park is located in Zimbabwe on the Zambian border. It is a highly-visited park due to its proximity to Victoria Falls, which attracts an estimated half- million visitors each year. A famous feature of this small park is its rain forest that has resulted from the spray / mist of the nearby falls. In this forest, one can find a wide variety of ferns and palms, as well as a wide variety of birds and smaller animals. There is also an elephant camp that can be visited here, with overnight lodging facilities. For those wishing to view larger game animals, a trip to nearby Zambezi National Park is highly recommended.
Victoria Falls: The smoke that thunders
Also known as Mosi-oa-Tunya, which means 'the smoke that thunders' in the Kololo Tribe language, Victoria Falls is the third-most visited waterfall in the world, after Niagra Falls and Iguazu Falls, respectively.
The source of the mighty Victoria Falls is the Zambezi River, which starts in Zambia, runs through Angola and on to form the northern border of Botswana and on to be the border between Zambia and Zimbabwe before getting to Mozambique. It runs through Mozambique and into the Indian Ocean.

A UNESCO World heritage site, Victoria Falls can be visited from the Zambian or Zimbabwean side. Victoria Falls National Park falls entirely in Zimbabwe.

Victoria Falls is comprised of five separate waterfalls: Armchair Falls, Devil's Cataract, Horseshoe Falls, Main Falls and Rainbow Falls. The waterfalls together measure 1700 meters wide (slightly over 1 mile wide), and the waterfall with the highest vertical drop is Rainbow Falls at 108 meters / 354 feet. The spray from Victoria Falls can be seen from Lusaka Rd in Zambia, around 30 kilometers / 50 miles away. The falls are an impressive 1700 meters wide and the deepest drop is around 100 meters.
Some main areas of attraction at the falls include:
The Devil's Cataract (Zimbabwe side)

Main falls (Zimbabwe side)

The boiling pot (Zimbabwe side)

Rainbow Falls (Zambia side)

Eastern Cataract (Zambia side)
Activities in and around Victoria Falls
Victoria Falls offers a wealth of activities for all types of visitors. It has a well-developed tourist infrastructure, and one can find lodging and dining options that range the full gamut. Helicopter rides and microlight flights over the falls are available for those wishing to get an aerial view, while bungee jumping is also available for the more adventurous.
In addition to wildlife safaris and a visit to the Falls, there are myriad items to do at this popular destination, including the following:
Horseback riding
Bungee jumping
White water rafting
Gorge swings
Microflights over the falls
Helicopter flights over the falls
Fine dining along the Zambezi River
Local village visits
Best times to visit Victoria Falls National Park
To view the falls when water levels are at their highest, it is recommended to visit them between February and May. Visiting during this time also means you will most likely be shrouded in a large cloud of mist, and may have a harder time taking photos of the falls, but the volume of water will be higher. The dry season runs from May through September and, due to the reduced volumes of mist from the falls, photography opportunities are better. It is also during the dry season that you can access pools such as the Devil's Cataracts. They are not accessible during the wet season.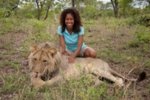 Visited: Oct. 2009
Reviewed: Mar. 16, 2014
Victoria Falls can be viewed from two different countries (Zambia and Zimbabwe). I happened to be working on an African lion research project at the time, and had some time off to take a side trip somewhere near Livingstone. I had briefly seen the falls on my way up on an overland tour, but I hadn't visited the park itself. I'd heard conflicting opinions about which country had the best views of the falls, and for the most part, residents said the view from Zimbabwe was the best. They were right. The only unfortunate aspect of my visit to the park was that it was the dry season, so the falls were not as impressive as they could have been. However, the downside to coming here in the wet season, so I've heard, is there is so much mist and moisture, it's difficult to see. So that's something to think about. The park was teeming with birds, and we came across a hilarious family of warthogs that didn't seem to mind we were so nearby. The park was almost devoid of people completely, save for a few backpackers, which was kind of nice. There are several paths that snake around the park, with signage along the way explaining the ecology of the park and facts about the 'Falls' themselves. There were plenty of fabulous look-out spots, and even though the Fall weren't as full, you could get a clear sense of their majesty in the wet season. All in all, I would definitely go back and visit them during the wet season.
* Crowded parks have a lower rating
---
Safari guru

Canada
Visited: Oct. 2009
Reviewed: Mar. 16, 2014
Show more
The most direct way to get to Victoria Falls is via Harry Mwanga Nkumbula International Airport in Zambia. The drive to the Zambian side of the falls is under 30 minutes. It is also possible to cross over to the Zimbabwean side, with border crossing times varying greatly depending on season, officers and other variables.
Driving from Lusaka to Victoria Falls
If you are planning on driving from Lusaka's international airport, the drive is around six hours, in normal conditions.
The following airlines travel to Victoria Falls National Park