Safari suitability:

5/10
Find your tour
This park does not have much of the big five. For the intrepid traveler, this is a safari paradise with oodles of unexplored territory.
Total area:
1550 km² (600 mi²)
Anti-malarial:
Not required
---
What YAS members think
* Crowded parks have a lower rating
---
Highlights
Known as the land of the surfing hippos, need we say more?
Excellent destination choice for those wishing to visit unexplored terrain.
Some of the best whale watching in all of Africa
Monkeys, chimpanzees and gorillas are all found here.
About Loango National Park
Establsihed in 2002, Loango National Park is one of the newer national parks in Africa. It is 1550 km² (600 mi²) in size and is located on the western shores of Gabon. Prior to its establishment in 2002, not much has been recorded on the dense forests and pristine beaches of western Gabon, and this park is still in its early days of tourism. While Loango does not offer a standard safari experience where one would ride in a Land Rover to view large game, it does offer a glimpse at what has been referred to as 'Africa's last Eden'. For those who are willing to trek hours in hot, humid conditions, often through dense foliage, they will be rewarded with stunning vistas of mangroves, dense forest and white, sandy beaches where one of the world's largest population of humpback whales can be observed.
Luango wildlife
The forests of Gabon are home to many species of primate and are an excellent location for those wishing to observe gorillas, monkeys and chimpanzees. This park is also known for its surfing hippos, hippos that, apparently, like riding a good wave as much as their human counterpart. Whale-watching and turtle viewing are also options in this park.

When is the best time to visit Loango National Park?
As with many other countries in Africa, Gabon has a wet and a dry season. The rainy season is from approximately September to May, with February through April being the long, wet season. October through March are the best times for turtle viewing and also for viewing any wildlife on the beaches. June through September marks the dry season, with July through November being the best months for whale watching.

Loango National Park is recommended for intrepid travelers. Most of the safaris are done on foot or by boat, and the conditions are hot, sticky and often through dense bush and foliage. Tourism is very much in its nascent stages and most lodging options are very basic in comparison to most western standards. The general infrastructure is not well-developed and travel can take much longer than anticipated. It is also advisable that people planning to visit Loango allocate a minimum of two weeks.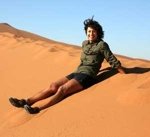 Visited: Aug. 2012
Reviewed: Feb. 13, 2015
This is a very primal unique area in Africa where chimps and gorillas lope through the jungle shadows and is within earshot of the pounding surf. Without moving your feet on the seashore, you can watch whales and elephants. As a water baby, it filled me up with the love of the sea and the love of the bush at one time.
* Crowded parks have a lower rating
---
Safari guru

United States
Visited: Aug. 2012
Reviewed: Feb. 13, 2015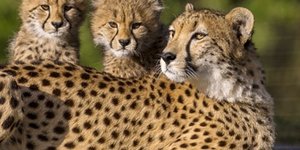 Visited: Jul. 2014
Reviewed: Nov. 21, 2014
Overall our stay in Loango National Park was a very good trip, thanks to the birds and other wildlife, mild weather (July is the best month) and very pleasant ambiance and good French cuisine at the Lodge. Bob, the owner, had renovated Loango Lodge very nicely and we were quite comfortable there (although it would be good if they would put more screens on the bungalow windows so guests can sleep with fresh air and night sounds without fighting mosquitoes).   The guides at Loango Lodge were excellent. Only Maurice knows the names of the birds in English, but the others are working on it, and it was fun for us to learn the French names of the more common birds. The lodge has a copy of Birds of Gabon on order, but it hadn't arrived yet.   Unfortunately the hotel staff, with the exception of the chef de cuisine, left a lot to be desired. Our towels and bed linens were not changed for 5 days, and we had to ask for toilet paper and soap (no shampoo was provided) and to get the hot water turned on for showers.  One day we arrived back from an excursion at 4:30 in the afternoon and our room had not been straightened up at all, even though we had left the key at the Lodge. Also, the serving staff did not show up for early breakfast a couple of times, and in general those ladies did not have a hospitable attitude. Bob went off to Port Gentil for a few days, and we concluded that Mathieu, the very nice manager, had not yet learned how to manage all the staff, although he was good with the chef and guides.  Far and away the best wildlife viewing in Loango is on the Ngove River en route to Akaka camp. We spent one overnight there and later went back on a day trip. The bird life was abundant and varied, and we saw sitatunga, forest buffalo, and many forest elephants quite close from the boat.  Akaka Camp itself is getting a bit dilapidated but it was fine for an overnight. We also saw good birds, fruit bats, and hippos on the Iguela Lagune near the lodge. The savannah across the lagoon from the Lodge was a bit sparse, but we did see forest elephant, buffalo and Red River hogs there; late afternoon was best.  We had several sightings of mustached monkeys close to the lodge and saw red-capped mangebeys along the Ngove River. Also a good number of false gharials and a couple of Nile crocs on the Ngove. Be prepared for a long transfer from Libreville to Loango Lodge: a flight on a plane primarily servicing the oil drilling industry from Libreville to Port Gentil, followed by a 4-hour trip in an open boat (bring a warm jacket) through the inland waterways to a landing, and about 1-1/2 hours by 4WD vehicle to the lodge. All part of the adventure, however.
* Crowded parks have a lower rating
---
Safari enthusiast

United States
Visited: Jul. 2014
Reviewed: Nov. 21, 2014
Getting to Loango from Libreville
Loango is definitely for the intrepid traveler. It is not easy to reach and requires several modes of transport. If you are coming in from Libreville, you will most likely bus or boat to Port Gentil. From there, you will take a boat to Loango. It is recommended that travelers allow at least two weeks for their safari.