About Kenya Turacos Safaris
Kenya Turacos Safaris is an East African world-class tour agents based in Kenya, operating in, Tanzania, Zanzibar, Uganda, Rwanda, & South Africa with itinerary built around client needs, interest and time. Allowing you to enjoy the nature of wildlife Africa has to offer. And if you interested in Africa Tour, wildlife safari, bird watching safari, cultural tour, wedding & honeymoon in Africa, hiking in Kenya and more Kenya, Turacos Safaris will be happier and glad to give you the dream of your trip safari. Kenya as the land of adventure, beauty, love and hospitality you will be longing to return. Our professional service, through reliable research and up date in travel industry, sound advice and effective back-office support relationship with our client is built on our integrity in providing high quality experience the incredible diversity in Africa from both a cultural and natural perspective. Enjoy exciting destinations rich in traditions and history.
About our safari vehicles
Once you've arrived in your African destination,you will meet Kenya Turacos staff,you'll switch from aeroplanes to safari vehicles,we use Landcruiser and mini Van,whether it's for a road transfer or game drive. The design of these vehicles is specifically to enhance your game viewing experience so you'll see features like extra large windows and pop-up roofs, and on specialist photographic safaris, padded bars or sandbags to rest your camera on. The vehicles vary depending on the type of safari you're on and the country you're in - some vehicles are completely open to the elements and others can close up to make longer distance road transfers more comfortable.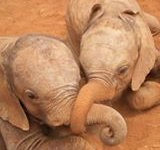 Visited: Aug. 2014
Reviewed: Dec. 20, 2018
My wife, daughter and I took a day in the Aberdares, 2 days in Samburu, one in Naivasha, and 3 in Masai Mara in August 2014. The itinerary was reasonable and very reasonably priced. I received very good advice (I tend to try and pack too much in;) beforehand, and the entire trip was excellent. Birding, game walks, hiking (Hell's Gate) and game drives all lived up to my expectations. We stayed at Amani Mara (a newer camp) just over the border from the Masai Mara Reserve itself, and about a dozen lions were within a kilometer of the camp. Saw the crossing at the Mara, and in a great spot where we weren't fighting for a view with dozens of other safari vehicles.

It all comes down to the driver/guide, and I consider Elijah not just a guide but a friend. I have used his services twice before, once in 2103 for a tenth anniversary trip a day after the fire at Jomo Kenyatta. Elijah was ready to possibly meet us at the border of Tanzania (if we flew into Arusha instead). With all the last minute worries (we were actually about to cancel) one thing I never worried about was Elijah being there regardless of the situation.

He is a good enough spotter to be able to be bouncing through rocky roads in the Mara and spot animals and birds in the distance before we were able to. He is very open to his clients' wishes and flexible in his daily planning. He also has a great way of following the main route when called for, or waiting quietly off the beaten path for something special (like a leopard we were one of the few people to spot one day).

He also has excellent, excellent people skills - at every camp/lodge we have been to with him (and it's been quite a few now) it is nothing but smiles and handshakes all around. His sense of humor and manner put everyone at ease.

I wouldn't hesitate to go on safari with Turaco again, and highly recommend this Kenyan-owned and operated venture!
---

Qatar
Countries visited:

Visited: Aug. 2014
Reviewed: Mar. 25, 2015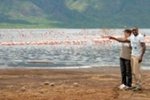 Visited: Apr. 2015
Reviewed: Sep. 10, 2020
I went in April in Kenya. Elijah is an outstanding guide who shared with me his knowledge as much for the birds as for wildlife. It was my second trip to Kenya and will remain the best but certainly not the last.
I am a photographer, so Elijah took me to the best places to capture the rhinos, monkeys, cheetahs, lions and of course the breathtaking landscapes and colorful and welcoming people.
We followed the Rift Valley from Nairobi to go to Kakamega Forest, passing by the national reserve of Nairobi, the giraffe center, the Mamba Village, Saiwa Swamp, Naivasha, Hells Gates, Crescent Island, Lake Baringo, Lake Bogoria and its thousands of flamingos, ... so many memorable places.

My meeting with the Samburu and Pokot people will forever remain in my memory and the Samburu territory is, for me, one of the most beautiful parts of Kenya. My trip was so amazing!! I just returned and I was already thinking to go again and will be going back.. soon but always with Elijah and Grace and Kenya Turacos Safaris
---

France
Countries visited:

Visited: Apr. 2015
Reviewed: Jul. 10, 2015
---
Overall rating
Cleanliness of vehicle
Meet and greet team
Quality of itinerary
Responsiveness of staff