Main focus:
Mid-range safaris
Languages:
English, Swahili
---
---
About Almighty Kilimanjaro
We are licensed class "A" tour operator located in Kilimanjaro Tanzania, specializing on East Africa safaris, cultural tourism, day trips, treks and beach excursion Our motto: Dream.Discover.Explore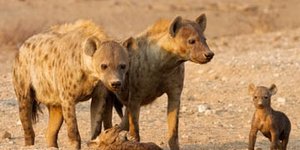 Visited: Sep. 2019
Reviewed: Nov. 19, 2020
I did the 8 day Lemosho trek with Chief Guide Mushi and Assistant Guides Deusi and Malik and their wonderful team of cooks and porters. The trek was wonderful - plenty of great walking with differing scenery and weather each day - and then each afternoon and evening being so well looked after by the team. The food was truly delicious and so unexpectedly varied. The Almighty Kilimanjaro team were always full of smiles and encouragement and despite the fact that they do this job all the time, they make you feel very special and that it is new and exciting for them too. I highly recommend Almighty Kilimanjaro and this team in particular.
---
Safari enthusiast

United Kingdom
Countries visited:

Visited: Sep. 2019
Reviewed: Dec. 08, 2019
Show more