Wildlife Photography of Etosha
10 night Namibia Guided Specialist Wildlife and Photography Safari
Safari summary
Join Kathryn Haylett, founder of Your Safari and author of "The Photographer's Guide to Etosha National Park" on this 10 night photographic tour of Namibia's iconic National Park and the Africat Foundation. Etosha is like no other African National Park with its dramatic scenery, stark beauty and spectacular wildlife. With her in-depth knowledge she will help you get the most out of your safari and with a maximum of 4 photographers in our specially adapted vehicle you will have all the space you need to get the images you are looking for.
---
About this tour
Set-date, set-itinerary, group
Easy activity
Best months:
May, June, October
---
Fine details
Safari highlights
Photography safari—with professional guide
Countries visited

Namibia
Parks visited
What's included?
Airport transfers
Private vehicle and driver
Park fees
Accommodation
What's not included?
Itinerary
Day One - Trans Kalahari Inn
You arrive at Windhoek's Hosea Kutako Airport where will be met by your guide and driven the short distance to your overnight accommodation at the Trans Kalahari Inn where you can meet the other members of the group over dinner and relax on your first night.  The Inn has lovely thatched rooms, friendly staff, a swimming pool and bar and one of the best restaurants in Windhoek - a perfect first night stop over before your adventure begins the following day.
Day Two - Okaukuejo Etosha NP
Etosha
After an early breakfast we set off, stopping en- route for lunch.  By mid-afternoon we will arrive at the Andersson Gate in Central Etosha where we begin the start of your safari in this world-famous wildlife sanctuary.  This huge park is home to an amazing diversity of wildlife and the Okaukuejo area is known for its open plains and wide vistas where vast herds of herbivores trek endlessly to the camp's floodlit waterhole followed by the ever present carnivores looking for their next meal.
Okaukuejo Rest Camp
Day Three - Etosha South
Etosha
We have the whole day to explore the open plains that surround Okaukuejo Camp and the Mopane woodlands east of the camp around Olifantsbad waterhole. We will check the sightings book twice a today & spend our morning and afternoon drives in search of Etosha's wildlife.  At the camp's own waterhole large herds of elephants often come down to drink and dust bathe before heading back into the bush and black rhinos often frequent the whole from 9pm onwards and throughout the night.
Okaukuejo Rest Camp
Day Four - Etosha National Park
This morning we travel into the wooded area surrounding Halali Camp.  Along the way we revisit the nearby Nebrowni and Olifantsbad waterholes before leaving the central plains behind and heading into the wooded area around Homob. This double waterhole has a huge reed bed and is in a natural bowl. It is very scenic and often produces interesting sightings.
Halali Resort
Day Five - Etosha National Park
Etosha
A full day today to explore this diverse sector which has both Mopani woodland and dry savannah that rolls down to the very edge of the giant salt pan.  The floodlit waterhole is a real highlight of this camp with black rhino and huge herds of elephants often seen along with porcupines, honey badgers and even the ever elusive leopard.
Halali Resort
Day Six - Etosha East
Etosha
We head east once more today towards Namutoni Camp and the wildlife rich acacia woodland around Fischer's Pan.  Not only is this area home to some of Etosha's largest lion prides, cheetah sightings here are frequent, this area is home to the majority of the park's giraffe and it is one of the best places in Africa to see the world's smallest antelope, the diminutive Damara Dik-Dik.
Namutoni Camp
Day Seven - Etosha East
Etosha
There are many key waterholes within a few kilometres of Namutoni Camp so we can spend our game drives looping back to camp for quick comfort breaks before we head off again to other areas.  The camp has a lovely pool area that sells lunchtime toasties and beers and the evening restaurant has an outside seating area and good food.
Namutoni Camp
Day Eight - Etosha East
Etosha
A slow morning drive to Twee Palms waterhole to the east of camp often rewards with good cheetah sightings as they hunt along the edges of Fischer's Pan. For our sundowner drive we  concentrate on Chudop and Klein Namutoni just a few kilometres from camp which optimises our time out in the park
Namutoni Camp
Day Nine - Okonjima
After a final game drive we leave Etosha and head south on the tar road until we reach the gates to Okonjima.  The lodge lies a further 24km into the middle of the mountains and it is here we will spend our last night searching for some of the Africa's biggest carnivores.  On our game drives out in the 54,000 reserve we will have the opportunity to track leopard and brown hyena with the aid of a telemetry and visit the Africat Foundation.  Okonjima is always a highlight of any trip to Namibia.
Okonjima Plains Camp
Day Ten - Return to Trans K Inn
We leave Okonjima this morning after our morning trail and retrace out steps back down the tar road south until we arrive once more at the Trans Kalahari Inn where we can discuss the highlights of our tour over a final sun downer on the terrace.
Trans Kalahari Inn
Here are the latest tours by Your Safari.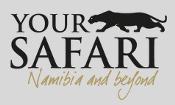 ---
Overall rating
Cleanliness of vehicle
Meet and greet team
Quality of itinerary
Responsiveness of staff