The Authentic North
7 days—The Authentic North
Safari summary
A 9 day tour including the Mountainous Northern regions of Madagascar as well as the Plantation. Tour Highlights The Amber Mountain National Park, Red Tsingy (seasonal), Diego Suarez, The Emerald Sea (seasonal), Ramena, Ankarana Massif, Lemur and Bat excursion, Ambilobe Village, Ambania, Cocoa and Essence Plantations.
---
About this tour
Custom, tailor-made, private
Moderate activity
Main focus:
Primate trekking
Best months:
May, June, July, August, September, October, November
---
Countries visited

Madagascar
Parks visited
Itinerary
Day 1
Day 1 – Antananarivo Upon your arrival at Antananarivo Airport you will be met by our representative for the transfer to your hotel. Dinner and overnight at your hotel.    
Day 2
Day 2 – Antananarivo / Diego Suarez / Joffreville Depart the hotel with an early transfer to Antananarivo Airport in time for departure of your flight to Diego Suarez (not included). Arrive at Diego Suarez from where you will depart, with your guide, to Joffreville, gate of the Amber Mountain National Park. The Amber peak reaches an impressive 1475 metres above sea level and the surrounding green forest appears as an oasis, in the middle of dry savannah. Covered by a luxuriant primary forest, the Amber Mountain is a real paradise for botanists and nature lovers. With a rainfall of over 3500 mm per year, this is the wettest area in Madagascar. Dinner and overnight at your hotel.    
Day 3
Day 3 – Joffreville / Diego Suarez: seasonal activities – The Red Tsingy or the Emerald Sea Dry season (June/November): Red Tsingy Situated 70 km from Diego Suarez, close to the Analamena reserve, the Red Tsingy are the result of erosion and their nature is totally exceptional: a mix of river sand and red clay. Enjoy a picnic lunch in these magical surroundings before return to Diego Suarez in the afternoon for a city tour. The wide streets and old houses are reminders of the colonial past of the city. In the XVII century, Diego Suarez was the site of an egalitarian pirate city called Libertalia, the first to abolish slavery. Sundowners will be enjoyed at the bay. Dinner at Allamanda. Overnight at your hotel.   Rainy season (December/May): The Emerald Sea After an early departure from the Lodge, you travel to the fishermen village of Ramena, driving on the road along Diego Suarez Bay, the second widest bay after Rio de Janeiro. Upon arrival in Ramena, board a traditional fisherman boat and depart for the Emerald sea. The peculiar colour of this area is created by the shallow water with white sand underneath. Here you will have time at leisure for snorkeling in the warm clear waters after which a picnic lunch will be enjoyed on the Nosy Suarez island, consisting of: grilled fish, cononut rice and grilled banana… In the mid-afternoon you will sail back to Ramena and return to Diego Suarez for a city tour. Sundowners will be enjoyed at the bay. Dinner at Allamanda. Overnight at your hotel.    
Day 4
Ankarana
Day 4 – Diego Suarez/Ambilobe After breakfast you depart Diego Suarez for the Ankarana Massif, known as the grey Tsingy. Lunch will be at leisure. Tsingy in Malagasy means "walk on tiptoe" and comes from the peculiar forms of these limestone formations. The afternoon will be spent in search of the crowned lemurs and various species of bat found here. Dinner and overnight at a Guesthouse.    
Day 5
Day 5 – Ambilobe / Ambanja This morning you will enjoy breakfast at the Guesthouse before departing to Ambilobe village, famous for its colourful local market and Cajun nut plantations; after which you proceed to Ambania, famous for its essences and cocoa plantations. Dinner and overnight at a Guesthouse.    
Day 6
Day 6 – Ambanja / Ankify / Nosy Be After breakfast at the guesthouse you depart on a morning visit to the plantations, discovering the secrets of cocoa plantations and of some special essences: Ravensara, Ylang Ylang and Lemon Grass, with a visit to the distillery. Lunch will be enjoyed en route to Ankify and a boat transfer will take you to helville harbour on Nosy Be Island. Transfer to your hotel for dinner and overnight.    
Day 7
Day 7 – Nosy Be / Antananarivo / Departure Enjoy breakfast at the Lodge and a morning at leisure before you transfer to Nosy Be airport for departure to Antananarivo for the connection with your onward jurney.
Here are the latest tours by African Wanderer.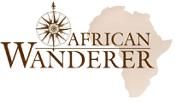 ---
Overall rating
Cleanliness of vehicle
Meet and greet team
Quality of itinerary
Responsiveness of staff