Moukalaba-Doudou National Park
Safari suitability:

5/10
Find your tour
For the hardy and the hearty—get close to gorillas and chimpanzees in this quiet paradise.
Total area:
4,500 km² (1,700 mi²)
Anti-malarial:
Absolutely!
---
What YAS members think
Most-visited month:
August
* Crowded parks have a lower rating
---
Highlights
An authentic safari experience away from the urban development and crowds
One of the highest primate densities in Gabon
A unique opportunity to observe families of chimpanzees and lowland gorillas
A remarkable region for birdwatchers
Home to the endangered forest elephants
The only place in Gabon where you can see herds of waterbuck and reedbuck
An estimated population of about 5,000 chimpanzees and gorillas
About Moukalaba-Doudou National Park
Moukalaba–Doudou is Gabon's third largest national park and receives far less visitors compared to its more famous counterparts. Located about 700 kilometers (435 miles) south of the country's capital city Libreville, this area is a paradise for anyone wishing to experience an authentic feel of the African wilderness. Moukalaba–Doudou, sometimes referred to as Moukalaba-Doudau, covers an area of 4,500 square kilometers (1,700 square miles) and its diverse habitats range from tropical rainforest and grassy savannahs to papyrus swamps. The park, which also covers some coastal areas, includes the Moukalaba River and the Ndogo Lagoon, while the Doudau Monitains are the largest mountain range in southwestern Gabon, reaching an altitude of 800 meters (2,625 feet).
The Moukalaba area was gazetted as a forest reserve in 1962 and was given the status of a national park in 2002. In 2005, the site was added to the UNESCO World Heritage List as a place of outstanding universal value.
Wildlife of Moukalaba-Doudou National Park
Thirty years ago, the Doudou Mountains were extensively logged. Now, the area is completely uninhabited and Marantaceae plants grow on the former logging sites. These leafy plants provide an important source of food for western lowland gorillas, chimpanzees and forest elephants, and contribute to their presence in the region.
Moukalaba-Doudou, sometimes written as Moukalaba-Doudau, has an estimated population of about 5,000 chimpanzees and lowland gorillas—which is one of the highest densities of primates in Gabon—and grants tourist with a unique opportunity to observe our closest animal relatives in the wild. Kyoto University is conducting a long-term survey of gorillas and chimpanzees in the park and simultaneously contributes to conservation awareness amongst the local people.
The park's savannahs are the only place in Gabon where you can find waterbuck and reedbuck, and the hippos enjoy wallowing in the rivers of the Nyanga River. Birdwatchers will be delighted with Moukalaba–Doudou, too. The park provides a habitat for over 380 species of birds, some of them unique. Vermiculated fishing owl, black-backed barbet, black-headed batis, fiery-breasted bush shrike, brown twinspot and some rare swallows, were all spotted within the boundaries of the park.
Moukalaba-Doudou National Park activities
Community-based eco-tourism initiatives exist within the park. Gorilla trekking is organized around the village of Doussala. Experienced guides take visitors deep into the rainforest. Good physical fitness, as well as the ability to appreciate basic living conditions, is required to undertake this amazing safari adventure.
When is the best time of year to visit Moukalaba-Doudou National Park?
The best time to see primates is during the dry season, which stretches from May to September. The rainy season runs from October to April and is the preferred time for bird watching.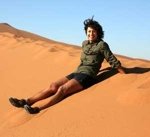 Visited: Aug. 2012
Reviewed: Mar. 27, 2015
Halfway between the national parks of Loango and Mayumba, Moukalaba-Doudou Park is in a forest and coastal environment. 4500 km2, it offers an extraordinary variety of landscapes: humid forests of mountains whose peaks reach 800 meters, among the dry savannah of the country, lakes, rivers and papyrus swamps ... a veritable Garden of Eden. Moukalaba- Doudou is known by scientists to be one of the highest densities of Gabon primates. The forests have been extensively exploited and undergrowth Marantaceae that covered these areas are a major food source for rain forest gorillas, chimpanzees and elephants. The hippopotamus, he prefers to snort in the waters of the Nyanga River, not far from the savannah going towards Doussala, the only place in Gabon where one can observe waterbuck, a large antelope with a slender body and gray dress. This is one of the better game parks in Gabon to see a variety of animals.
* Crowded parks have a lower rating
---
Safari guru

United States
Visited: Aug. 2012
Reviewed: Mar. 27, 2015
Getting to Moukalaba-Doudou National Park
Is it possible to drive to Moukalaba-Doudou National Park from Libreville, but it requires a good deal of patience. There are taxis and buses from the capital and the journey to Lambarene takes about four hours, in normal conditions. From here, you'd need to arrange another taxi or public bus to Tchibanga. The journey is given as five hours. It is in Tchibanga that most guests meet their tour operator who will then drive them another few hours to the park and to their lodge.
There are not schedule domestic flights or boats to this park as of yet.