Main focus:
Budget safaris
Headquarters:
Netherlands
---
---
About Matoke Tours
Matoke Tours has established a community based project in Kamuli district which not only supports the local people, but also provides travelers with an opportunity to take an active role in community life and to appreciate the daily lives of the Ugandan people. You can add this program into your itinerary. To see what Matoke Tours does more in sustainable tourism and to see what you can do yourself to make your trip sustainable See sustainable tourism.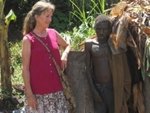 Visited: Mar. 2013
Reviewed: Aug. 07, 2019
The local people know which Tour Companies are consistently GOOD, and make their customers happy! Matoke Tours seemed to have the high quality, as well as the hands-on approach, to make everyone's safaris the best possible. I would not hesitate to recommend them.
---
{{ review.user.profile.user_type_display }}

United States
Countries visited:






Visited: Mar. 2013
Reviewed: Apr. 23, 2013