Years ago when my wife and I reserved our South African safari, our first one actually, I thought of surprising her with a special gift. I decided to buy her the best-quality binoculars. For me, my camera was more than enough to keep me occupied but she needed something to look at the wildlife closely. What could be better than a pair of binoculars for a safari?
Since I had no idea about binoculars, I found it difficult picking the right one. At first, I thought I would just need a few minutes to shop one. But, surprisingly, it took me more than a week to research on them. Reading about binoculars exposed me to a vast knowledge repository about them. So many features or qualities need examining before you zero down on the main one. I have detailed all that I found useful in buying for my wife the perfect pair of binoculars. This will help you, too, especially if you are equally as confused as to how I was.
Though many times you will be scared and shocked at how close the animals come to the vehicle, animals generally do not come that close and keep a distance. Big cats, particularly leopards and cheetahs, are notoriously elusive. Also, the camouflaging ability provided by Mother Nature makes it difficult to spot these animals easily. We were fortunate enough to be able to see some gorgeous animals while using the binoculars to scan the horizon. Even when the animals were very close to our vehicle, we used our binoculars to admire the beauty of these wild animals closely in detail. You could see their coarse leathery skin so clearly. It was a beautiful experience.
What to look for when buying binoculars for your safari?
These are some of the important things that you will have to know when looking for safari binoculars:
Weight and size: Your binoculars will have to be lightweight; you will have to be able to pack and carry them everywhere with ease.
Magnification: How much do you wish to have the images magnified? How steady are you? Animals will appear closer with higher magnification, but every tremor will also be magnified.
Relief to your eyes: There is a particular distance that you need to keep between your eyes and the eyepiece. This will prevent any straining of the eyes. For safari binoculars, 12mm is great. If you wear eyeglasses, 16mm is perfect.
Fog-proof: In certain countries, mornings are humid which can make the lenses foggy. This will make it difficult to spot the animals.
Lens coating: Coated lenses have longer life making the binoculars durable and perfect for an adventurous journey. Lenses with multi-coating may be expensive but they will provide more clarity and will last longer.
Waterproof: You need to check if you will need a binocular that is completely waterproof (IPX8), or has no protection totally (IPX0) or splash-proof. Try and get at least the splash-proof one if you do not need a fully waterproof one.
The best 5 safari binoculars in 2019
After going through the few pointers above, you are now ready to learn about the 5 best travel binoculars ideal for birdwatching, game drives, boat rides and other safari adventures.
1. Celestron 71347 Outland X | 10X25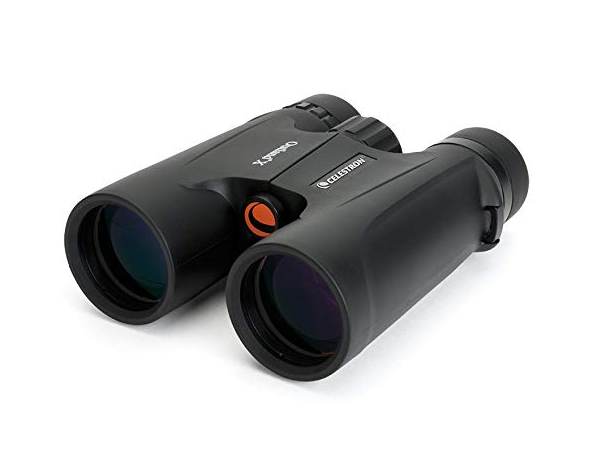 This set of binoculars are compact and hence perfect travel binoculars. These are lightweight as they weigh only 1 pound. They need very little packing space. You could slip them in your jacket pockets if you wish. Its lens size may not be the most open one at 25mm. But, its Bak-4 prism that is of high quality and its multi-colored optics make up for lens diameter shortcomings by allowing maximum light to come in.
The Celestron 71347 Outland X is a pocket binocular which is fog proof and waterproof. It is armored with a protective rubber making it quiet sturdy to withstand anything thrown its way.
2. Wingspan Optics Spectator | 8X32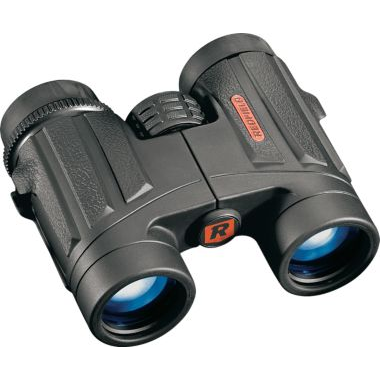 These are powerful small binoculars apt for birdwatching and safari. Their weight is below a pound at around 15.2 ounces. The Wingspan Optics 8x32 magnification is perfect for viewing long-distance while still maintaining a wide-angle needed to avoid any handshake.
The 8x is fog proof and waterproof. You will find it perfect to use on the African savanna where the mornings are humid or even on choppy water for whale watching. You get an eye relief of 14.8mm which helps you avoid any eye strain. Its grip is non-slip which lets you grab them even when in a hurry to catch some surprise sighting. These binoculars are the best in terms of money you will spend to buy them.
3. Celestron 71347 Outland X | 10X42
Their features are the same as the pocket 10x25 binoculars: fog proof, waterproof, multicolored optics, roof prism, etc. You will wonder then why have I listed these separately. Well, this is because I bought these to surprise my wife on our first African safari. This is an excellent binocular for the money.
We both loved them and have traveled the most with them on our other trips. They may be a bit on the heavy side as they weigh around 2 pounds. But this is very acceptable due to its lens size and affordable pricing. If you are looking for lightweight binoculars that is the best and have a similar strength, then read through the Bushnell's description, which the next pair on the list is.
The weight of the 10x42 didn't bother us. But we did face a little problem regarding the handshake. While standing, we kept looking for places where we could rest our elbows on and get some stability. This was not a problem when we were on our safari game drives in the car. You could go for the Outland X 8x42 to avoid many handshake issues. But we loved this pair overall. They are one of the best binoculars that fit well in our budget.
4. Bushnell H20 Waterproof | 10X42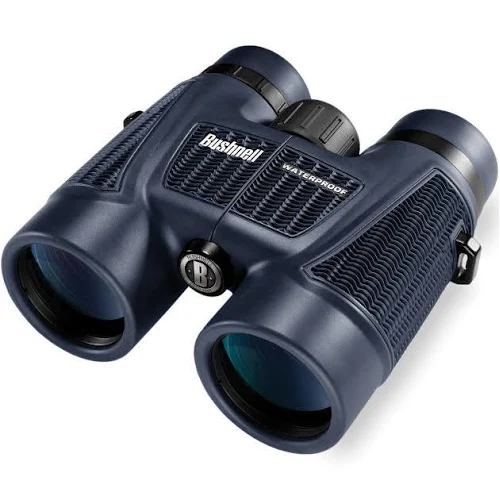 The Bushnell H2O Waterproof binoculars are very high in quality like any other Bushnell binoculars. It has improved features and its price is also high accordingly. It is perfect for bird watching. It is excellent during conditions of low light because of its 42 mm lens diameter.
The Bushnell 10x42 is very durable. Its grip is soft and textured. It lets you have a good grip even if your hands are wet. These are 100% waterproof. The Bak-4 prism assures crisp viewing. This set of binoculars may seem a bit heavy because of its large lens. But these are still lightweight at .7kg or 1.56 pounds. They are a tough pair among the best binoculars available on the market.
5. Prostaff 3S | 8X42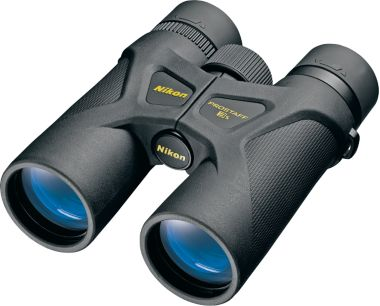 Lenses are one thing that is common between binoculars and cameras. This is the reason why you will see that some of the big names of camera makers produce powerful binoculars. These are perfect because they offer a steady, 8x magnification and a lot of light is let in by the 42 mm lens. Also, for those looking for a 10x, they also have a 10x42 option.
These binoculars are nice and compact even after having a large lens, because of their roof prism. The viewing is crisp and sans glare or reflection, thanks to multicoated optics. They are compact and lightweight, weighing just over half a kilogram, or 1.25 pounds. You cannot fit these in your pockets. However, you can travel with them with ease.