Giving the gift of light with Sababu Safaris
Highlights
Founded in 2018, Sababu Safaris focuses on creating authentic experiences that benefit local communities.

Sababu means purpose or cause in Swahili.

Solar Sister provides the solar lights that Sababu distributes to local villages.

Sababu Safaris has been distributing lights in an area called Mto wa Mbu.

Solar lights are cleaner, safer and less expensive than kerosene lamps.

Sababu Safaris now distributes water filters along with solar lights.
Why does one go on safari in Africa? To enjoy exquisite wildlife not found elsewhere? To experience magnificent vistas only seen in glossy magazines? To witness, firsthand, what Sir David Attenborough breathlessly described on television? To go on a holiday that, for decades, was primarily only enjoyed by those with money and the freedom to take off several weeks of work? Yes, is the answer to these questions, especially as recently as 15 or 20 years ago. But, while these answers still hold true in 2021, today's traveler seeks more.
Thanks to the internet and, more specifically, social media, today's traveler can witness, sometimes in real time, how others are making a difference on their safari. Whether it's volunteering their time, bringing along supplies from home, or raising money for their Kilimanjaro trek, travelers are proud of their efforts and are sharing their experiences via social media.
Today's savvy traveler doesn't want to just contribute to a cause, they want to be accountable. Accountable for where they go on safari and with whom. For most, achieving this accountability means being an active participant in whatever cause they're supporting. Sababu Safaris was created with the accountable traveler in mind.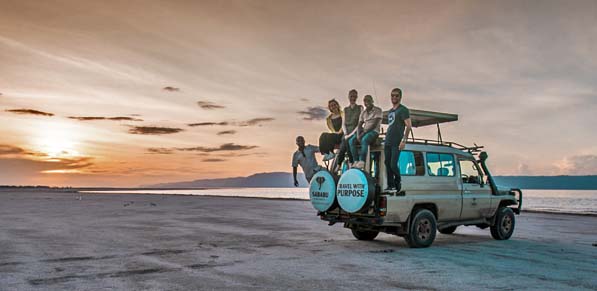 Sababu Safaris was founded by German-born Denise Brown and Tanzanian native Robert Tarimo. Robert was Denise's guide on her first visit to Tanzania. After visiting Tanzania, Denise was inspired to give back to the country where she was warmly welcomed and graciously treated. She and Robert stayed in close contact and, in early 2018, founded Sababu Safaris. Sababu means purpose or cause in Swahili, and their website encourages travelers to leave more than a footprint; it invites guests to leave a positive impact and travel with purpose. Guests can select from a variety of experiences, such as hunting with Hadzabe, taking part in local school activities or touring coffee plantations.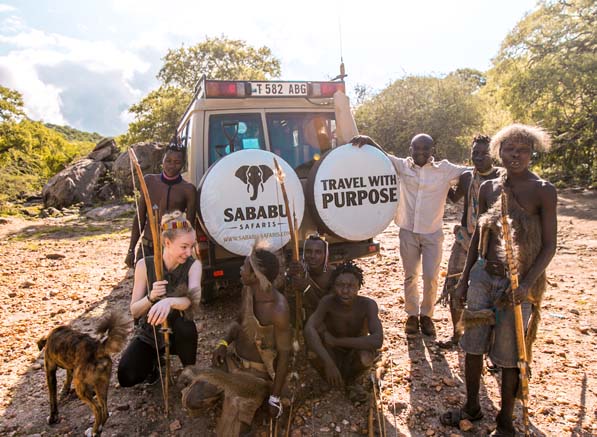 Hadzabe and Sababu Safaris
One project that every lucky guest of Sababu Safaris helps with is their solar light project. Your African Safari connected with co-founder Denise Brown to learn more about Sababu and the solar light distribution project.
Starting Sababu Safaris, did you feel there was a need to fulfill with a company that looked beyond traditional safaris?
Absolutely. I, myself, was taken to a commercialized Maasai village on my first trip and thought that this experience was almost cringeworthy. It is not authentic and not beneficial for anybody involved. Initially, I came to Tanzania to see the wildlife and nature, but fell in love with the people. I saw so much potential in engaging safari guests in certain activities that would enrich their own experience but at the same time leave a positive impact on the communities they meet along the way.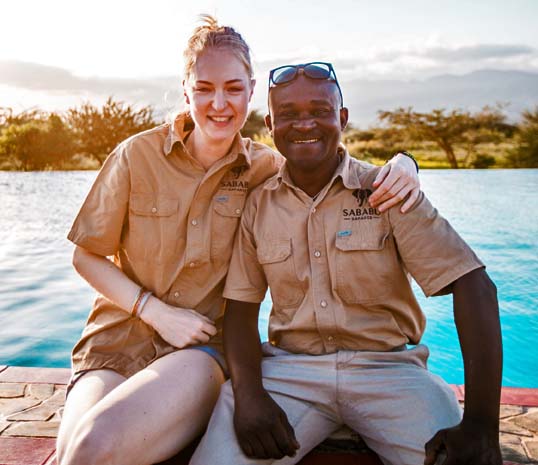 Denise Brown and Robert Tarimo, co-owners of Sababu Safaris
Tanzania's wildlife is unparalleled but, if you really want to get a feel for Tanzania, you have to meet and engage with its beautiful people. Especially after the pandemic, we should put a focus on supporting communities that didn't have a safety net like most Western countries. The livelihood of so many people in Tanzania depends on tourism. We should use it as a positive force now that we are slowly returning to travel.
What was the impetus for the solar light project?
We wanted to create authentic experiences that would not only involve the local communities but make a positive impact at the same time. There are (unfortunately) many commercialized Maasai villages that are frequently visited by tourists, because that is where they are taken for a so-called "cultural experience".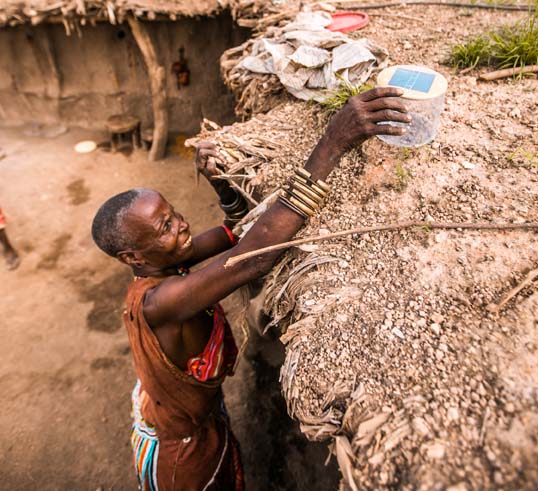 Putting solar light out to charge
But we wanted to take our guests to villages where no tourists go. We create a close connection between them and the local community where both are benefiting.
Where are the solar lights made?
We purchase the lights from a non-profit organization called Solar Sister. Solar Sister supports local women in Africa to create clean energy businesses. It is a win-win-win situation because jobs are created, Maasai families receive a clean energy source and our guests have an unforgettable personal experience.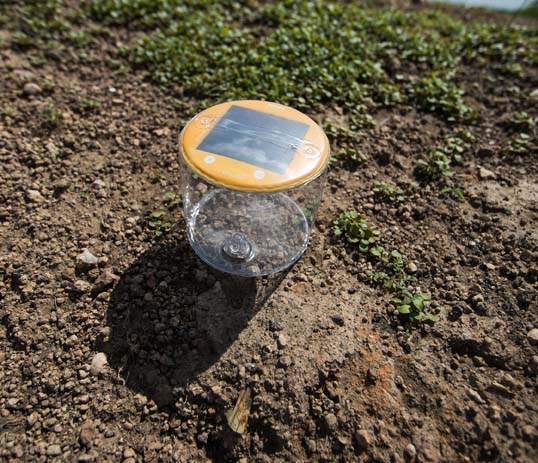 Solar light from Solar Sister
How long do solar light batteries typically last?
They typically last up to two years. Since we visit the area frequently, we often replace older ones while distributing new lights.
Where do the funds come from for the lights? Does a portion of each safari booked go towards the purchase of lights?
We include them in almost each of our safaris. Our guests pay for them and, therefore, directly contribute to the distribution of the lights—by paying for them and actually handing them out to the community themselves.
Approximately how many lights are purchased each month?
We usually purchase them in batches so we have enough for a few months. Unfortunately, in 2020, we were barely able to distribute any lights with our guests. Luckily, the bookings and distributions are going back up again, but it still greatly varies by month.
"Villages are randomly selected by our guides." What does the selection process entail?
Our guides look for huts that do not have any solar panels on their roofs.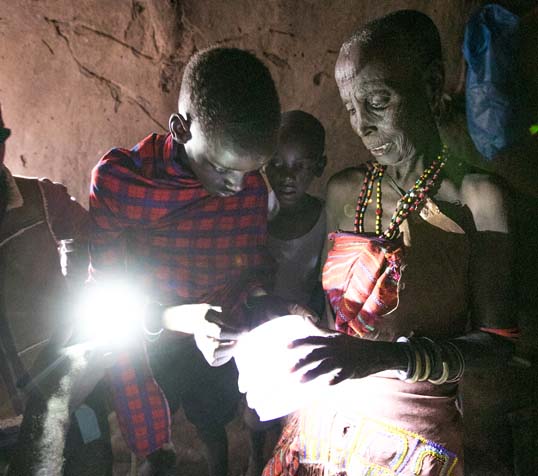 First encounter with solar lights
They then approach the village/boma and speak to the elders. We inquire about their electricity situation and explain why we are there—and that is when we usually get invited into their homes with open arms.
Do you work with villages not near the parks and tourist destinations of the northern circuit?
At this point we are focusing on villages that are at least in the vicinity of the parks to make it possible for our guests to distribute the lights themselves. We want to make it easy to include this activity in each itinerary. Most travelers, especially Americans, only have a limited amount of time in Tanzania, but we always want to ensure that lights are distributed.
What's a typical experience with the solar light distribution project for one of your guests?
We usually distribute lights on our way to the parks or in between destinations. Sometimes guests visit the Hadzabe and Datoga tribes, and that is another opportunity to bring the lights. Or, we visit one of the many villages on the way to Lake Natron. It depends on the itinerary. We do not set a specific time and just see what the situation allows for. We don't want this to feel rushed but, at the same time, we also don't want to overstay our welcome.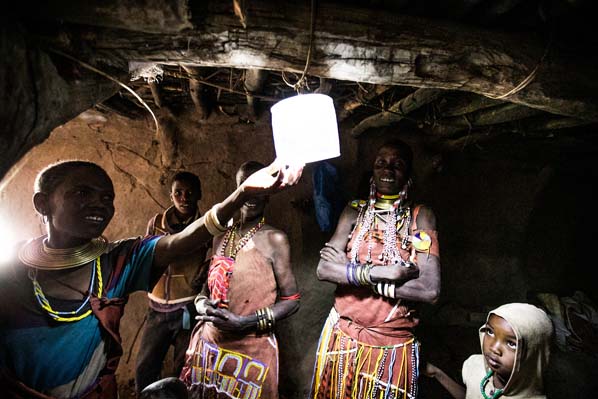 Solar lights are cleaner, safer and less expensive than kerosene lamps
How can potential guests include the solar light distribution experience in their package?
I always integrate this experience in each safari itinerary if possible; you would basically have to opt out. :)
Do you have any goals for this project?
We have been distributing the lights in and around an area called Mto wa Mbu. Whenever we show up, most people in the community recognize our car at this point and come running to ask for more "solar!"
Our goal is to have this entire area equipped with solar lights—the timeline will depend a bit on how fast tourism will come back in the next few months/years.
We have now added the option to also distribute water filters along with solar lights!
About Denise Brown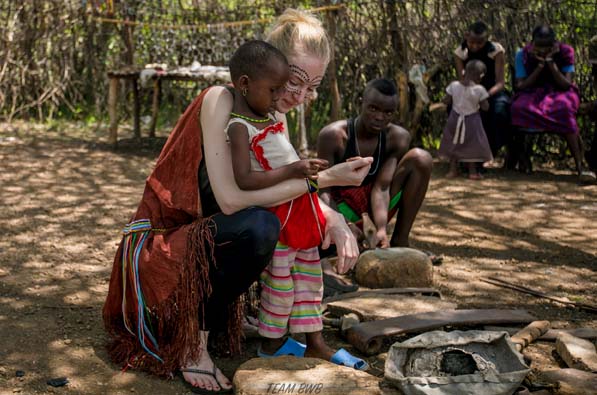 Favorite safari park or game reserve:
Serengeti National Park; nothing beats the Serengeti! :)
Best time for a game drive:
Early morning hours, when the sun starts to rise—MAGIC!
Favorite mammal:
Elephants; I could watch them all day
Favorite bird:
Lilac-breasted rollers are pretty!
Favorite animal noise:
A lion's roar—goes through your bones!
Sundowner of choice:
G&T
Where you have not been on safari but would love to go?
---
Sources and credits
About Solar Sister
Solar Sister brings energy access and economic opportunity for women entrepreneurs in sub-Saharan African "last-mile" communities. Currently working in Nigeria and Tanzania, Solar Sister delivers sustainable energy solutions through women's enterprise in these communities by providing ongoing training, mentoring, and support for a thriving network of Solar Sister Entrepreneurs (SSE's).
About the author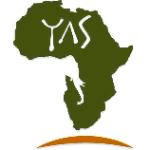 yourafricansafari.com

Has been on: 15 safaris
Your African Safari (YAS) is a safari-planning resource for anyone planning an African safari. It features information on over 2600 tour operators including company and vehicle descriptions, user reviews, safari itineraries and photos. It also features detailed information on 14 countries and 84 parks and game reserves.
Share on:
© Your African Safari Ltd, All rights reserved.
About YAS
Your African Safari is a safari-planning and safari review site. It was created to help support a healthy African wildlife population. All reviews are vetted before being approved and only ethical tours are published