Headquarters:
South Africa
Dutch, English
---
Offers tours in

South Africa
---
Contact info
About Wild Planet Safari
Wild Planet Safari offers the most exciting, personal and reliable tours through South Africa. We are experts in the field of South Africa`s wildlife and culture and offer great value for money tours that are safe and comfortable. Choose from one of our many itineraries or create your own personal safari. Whatever you may require we will strive to provide. Join us now for your true African Safari.
About our safari vehicles
Wild Planet Safari run small group tours between 2 and 8 guests. We operate our tours in minivans as well as 4x4 safari vehicles . We always make sure there is plenty of space for all our guest to enjoy their safari. For a group of up to 6 we use an 8 seat minivan and for a group of 8 to 10 we use a 12 seat minivan and for private tours of 2-3 people we use 4x4 safari vehicles.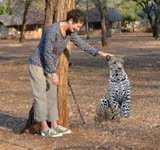 Visited: Jun. 2016
Reviewed: Sep. 10, 2019
Out of all the companies offering guided safaris in South Africa I'm so glad we chose Wild Planet Safari.

From the minute Ryan picked us up from Jo'burg airport to when we were dropped off everything was taken care of and we were very well looked after - that made the trip for me as I am disabled with limited mobility and did need extra help, which was offered with no fuss and before I even asked for it. Somehow Ryan and Lungisani knew what I required. And being a private tour I didn't feel I was holding anyone up - apart from my travelling buddy - and there was plenty of space for my mobility scooter and wheelchair!

Every drive - and we did many on our 6 day tour - was full of fantastic wildlife. We saw the Big 5 and so much more. Ryan's passion for what he does so well is infectious, and his knowledge of the wildlife, and Africa, is incredible; couple that with his and Lungisani's spotting skills and it makes for an amazing experience.

Our bungalow accommodation was very comfortable, clean and spacious, and every meal they prepared was fresh, healthy and delicious. We didn't have to lift a finger.

I can't fault anything about our trip - including our communication with Thale which was efficient and prompt - and don't let a disability put you off going on safari - just make sure you book direct with Wild Planet Safari.
---

New Zealand
Countries visited:

Visited: Jun. 2016
Reviewed: Aug. 01, 2016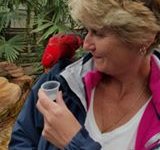 Visited: Jun. 2016
Reviewed: Dec. 23, 2018
So, when the bestie and I decided to book our holiday of a lifetime, we had no idea where to start, or even what to expect on a safari. We could have picked any company out of hundreds, but oh, thank goodness we chose Wild Planet Safari!!

From the minute Ryan collected us from the Jo'burg airport our adventure began. The first night was spent in a lovely B & B a short drive from the airport then it was up early the next day for a 7 hr drive across to Kruger. For the entire 6 days all of our needs were catered for and all we had to do was sit back and enjoy. And when I say 'our needs' I mean it.

Apart from us both being veggies, my travelling companion is disabled with extremely limited mobility - oh and lots of mobility aids! But throughout our trip, Ryan and his little helper Lungisani coped admirably. Nothing was too much trouble and they quickly began to anticipate when and where help would be needed - from opening car doors to unloading scooters. Our meals were superb, loads of freshly prepared fruit & veg dishes and BBQ's in the evenings. And they even do the washing up!

Every day was packed full of anticipation and excitement, and what Ryan doesn't know about animals simply isn't worth knowing. His determination for us to see the Big 5 paid off and we were able to tick each animal off the list – and many more. During our time together Ryan shared many amusing stories with us of his previous animal encounters, explained the safari 'etiquette' and we also learned a little about the life of young Lungisani.

It was sad to be dropped back in Joburg for the final night, we had all become good friends and it was with a heavy heart that we had to hug the big guy Ryan goodbye, knowing that he was off to do it all again with is next lucky people the next day.

Ryan, you are amazing, totally dedicated to your work and long may it continue. Lungisani, you will make a terrific guide yourself one day and maybe take us yourself! Must also mention the excellent communications from Thale during the planning of our trip and cuddles to little Felix.

Oh, and congratulations to you both, Mr & Mrs Ker!

---

United Kingdom
Countries visited:

Visited: Jun. 2016
Reviewed: Jul. 25, 2016
---
Overall rating
Cleanliness of vehicle
Meet and greet team
Quality of itinerary
Responsiveness of staff