---
Offers tours in

Kenya
---
Contact info
About Ontdek Kenya Safaris
Ontdek Kenya is specialized in walking tours, bird watching and wildlife vacations, offered as private safaris or small group departures. Ontdek is owned and operator by Peter & Anne Huysman who are practicing naturalists and not internet based African travel consultants. We use accommodation in small luxury tented camps / lodges and we prefer to stay in each place at least 2 but preferably 3 nights, making the itinerary less hectic. Our guide-drivers are very competent naturalists.
About our safari vehicles
We have three 4WD Toyota Landcruisers with pop-up roofs & cool boxes. Two vehicles have 5 window seats, one has 7.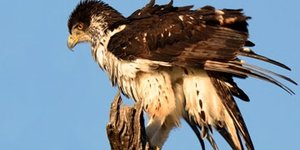 Visited: Aug. 2013
Reviewed: Oct. 22, 2016
We (myself, wife and daughter age 14), in conjunction with 2 relatives from the US, booked with Ontdek after much research had been conducted by the US couple. They were able to start sooner than we were so we ended up each taking 12 days, with a week at Naivasha, Nakuru and the Masai Mara common to both of us. Peter was unfailingly helpful at the planning stage, suggesting destinations and tactfully pointing out where our aspirations were too ambitious given the time scale (Kakamega forest). Our interest in birds as well as animals (and the country itself, of course) was one of the factors that led us to choose Ontdek.

I find it hard to believe that we could have found a better driver/guide than Mungai. His knowledge of birds and animals was seemingly bottomless and he was endlessly patient with our questions about the sights that we encountered, both natural and cultural - a really lovely man.

All of the places we stayed were of an extremely high quality. Highlights were the Oloshaiki camp in the Masai Mara, The Ark in the Aberdare National Park, and (a totally different experience) the Kiambethu Tea Farm, where Fiona was a charming host, but all the accommodations were excellent, and I feel guilty not listing them all.

If (or, more likely, when) we go back to Kenya then we would certainly use Ontdek without any hesitation.

PS I have given 5 stars in all the rating categories below, including that for the vehicle's quality and cleanliness, because that's what I think they deserved. Bear in mind that Africa is dusty and/or muddy, so that the vehicles get dirty during each day (but each morning it arrived freshly cleaned), also it's a Land Cruiser (as almost all the Safari vans are there), not a Lexus, but absolutely fit for purpose (and we saw one 'urban 4x4' totally stuck on a muddy forest road - I imagine the luxurious internal carpets might not have been much consolation for the passengers at that point).
---
Countries visited:

Visited: Aug. 2013
Reviewed: Aug. 20, 2013