Main focus:
Budget safaris
Languages:
English, French
---
---
About Mama Tembo Tours
Mama Tembo Tours is owned and operated by Leslie Nevison. MTT originated in the Canadian province of British Columbia but has found a permanent home in Lusaka, Zambia, where its focus is seeing Zambia by road with a driver/guide. MTT offers travel to Tanzania, Kenya, Rwanda, Uganda, Zambia, Zimbabwe, Botswana, Central Africa (the Republic of Congo, the Central African Republic and Cameroon) and West Africa (Gabon and Sao Tome/Principe and Benin).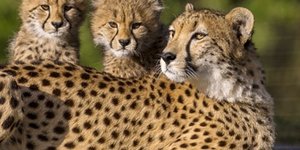 Visited: Jul. 2014
Reviewed: Jan. 30, 2016
My husband and I booked 10 days in Gabon in July 2014, primarily in North Loango NP, through Leslie Nevinson at Mama Tembo Tours. Her advice was outstanding; she gave us the straight story on the challenges of getting around in Gabon and the back story on the lodge where we stayed; she also advised us wisely on day and overnight excursions from the Lodge. She made all our travel arrangements, some of which we could never have arranged on our own, and she made sure our transfers worked. She is very hands-on and very prompt on follow-up and follow-through. I would recommend Mama Tembo Tours highly.
---
Safari enthusiast

United States
Countries visited:

Visited: Jul. 2014
Reviewed: Nov. 17, 2014