Main focus:
Luxury safaris
Headquarters:
United States
---
---
About Elevate Destinations
Elevate Destinations organizes custom luxury, eco-friendly safaris to East and Southern Africa where travelers can engage with conservation and community initiatives. The camps used are vetted for their environmental and social responsibility. In addition, Elevate's Buy A Trip, Give a Trip program means that when you book your safari through Elevate, we will sponsor an excursion for local youth to get to visit the parks and wildlife as well. Pay it forward with Elevate Destinations while receiving top service, camps and guides!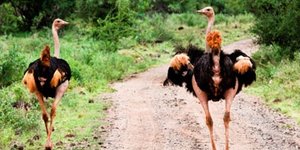 Visited: Dec. 2015
Reviewed: May. 22, 2020
My partner and I had the dream of visiting the African wilderness for many years before we decided to travel to South Africa and Zambia this winter. We are quite adventurous and like to figure out things by ourselves, so we never arrange our trips through travel agents. However, given the complexity of traveling in this part of the world, we were totally in the darkness until I spoke with Dominique.

Dominique is extremely enthusiastic and encouraging. She listened carefully, understood our style and designed the appropriate trip for us. She is extremely knowledgeable about the different cultures in Africa as well as about knowing all the options of where to see the most unspoiled wildlife. Additionally, she was extremely patient and never pushed us in any direction until we found the perfect trip for us.

Our trip exceeded above and beyond our expectations. The lodging and food were exceptional but not over the top. The guides were extremely knowledgeable and eager to share their experience. We saw abundant wildlife and learned a lot about it.

It was a truly life changing experience. I will never make another trip to Africa without talking to Dominique first. Everyone should do the same!
---
{{ review.user.profile.user_type_display }}

United States
Countries visited:


Visited: Dec. 2015
Reviewed: Jun. 28, 2016